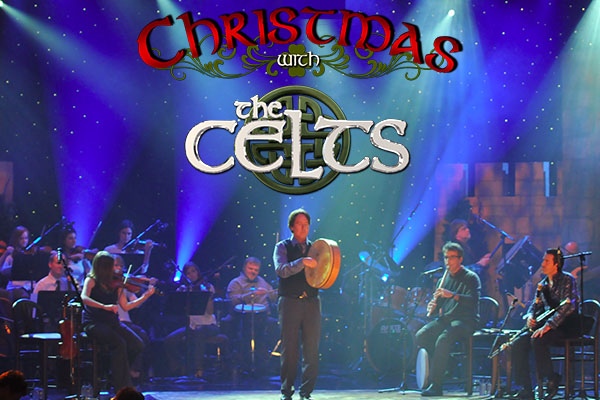 Christmas with the Celts
The original national PBS show Christmas with The Celts aired on 222 PBS channels across the U.S., Canada and on the BBC in Ireland for three years. This successful TV show was the initial spark, which created a huge demand for the production bringing them into Performing Arts Centers, Theaters and large casinos every year.
The high-stepping spirited musical selections have audiences clapping along from the first lively renditions of popular contemporary Christmas classics: 'God Rest Ye Merry Gentlemen', 'Little Drummer Boy', 'Santa Claus is Coming to Town'; also 'Count Your Blessings', 'White Christmas' and John Lennon's perennial 'Happy Christmas'. The show presents a perfect combination of modern Christmas hits, lively Irish Carols, hilarious spontaneous humor, thrilling Irish dancing, a children's choir and lush string arrangements giving audiences a most memorable interactive Christmas experience.
The Celts lineup stars, Ric Blair on vocal-guitar-bodhran & piano along with the lovely Laura McGhee from Dundee Scotland on vocal and fiddle complemented by an array of top-flight musicians on uilleann pipes, Irish whistles, bass, drums and of course the crowd pleasing Irish dancers.
Christmas with The Celts isn't just a concert; it is a celebration of the holiday spirit, people, community and common connections. It's about bringing young and old together to celebrate this special time of year. Show producer Ric Blair says, "You can't listen to Celtic music and not be happy. It is a music of the people. I think that is why this unique melding of modern Christmas hits and organic Celtic instrumentation continues to resonate and grow in popularity every year with audiences around the world."
Showtimes are 2 p.m. & 7 p.m. For ticket information visit: https://amishcountrytheater.co...
| | |
| --- | --- |
| Event Location | Amish Country Theater, 4365 State Route 39, Berlin, OH |
| Date | Monday, December 9, 2019(all day) |
| Duration | 1d |
| Repeats? | No |