David Warther Carvings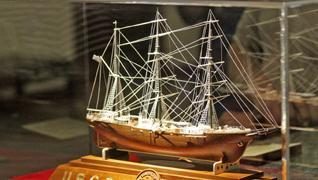 Ships that pass in the night, and speak each other in passing, only a signal shown, and a distant voice in the darkness; So on the ocean of life, we pass and speak one another, only a look and a voice, then darkness again and a silence.

Those words, written by Henry Wadsworth Longfellow, speak volumes about how many people simply come and go without much acknowledgement in life.

David Warther does not want to be one of those people. That is because David Warther has a gift he wants to share with the world. Warther hails from a long line of carvers, and his passion is with ships and ivory.

Dozens of incredibly delicate, painstakingly precise ivory carvings of boats now light up Warther's new museum, located on SR 39 between Sugarcreek and Walnut Creek, and Warther's hope is that through sharing his immense gift and bounteous knowledge of boats to visitors, he can provide some inspiration and joy to those who visit his new museum.

David Warther Carvings which houses dozens of intricate ivory carvings, encased in glass, the spotlight shining brightly upon them like a lighthouse beckoning a ship during evening tide.

"My goal is to share with people the joy that I have found in this. I am rooted in my Christian faith, and I want to let my light shine through the gift God has given me."

That gift has been with him for decades, Warther having started carving at the tender age of six. While those early carvings were much cruder, he has perfected his skills in carving, and now has built a fleet of ships that would be the envy of any armada.

Created in pure antique elephant ivory, purchased legally in the United States, Warther has put together quite a collection of historic and unbelievably accurate reconstructed ships. Included in his fleet are Christopher Columbus' Nina, Pinta and Santa Maria, The Mayflower, the H.M.S. Bounty and Endeavor, the USCGC Eagle, as well as some much older ships, like early Egyptian sailing vessels that transported pharaoh and king alike throughout Europe's waters nearly 4,000 years ago.

While the stunning beauty and elegance of the ivory ships glistening in the spotlight are something to behold, Warther wants a trip through his museum to be more than a vision of loveliness.

"I want to share the history of ships with people," said Warther. "I want this to be an educational time for visitors. So far people have really shown a genuine interest in the history of the ships themselves."

In addition to the dozens of ship carvings, there is also a wonderful gift room, and currently builders are creating a clock tower observation deck on the east side of the museum, where patrons can climb a dazzling spiral staircase and get a panoramic view of the beautiful scenery around Amish Country.

"It is a 30-foot tall structure that will have four clocks, each facing a different direction," said Warther. "We wanted to build something unique and exciting, that would also give people an opportunity to see just how amazing the scenery here is."

While the observation deck and clock won't be ready until some time in June, the museum itself is open to the public, and an ocean of astonishing ships carved in intricate fashion await.

Groups are asked to call ahead to make an appointment, although it is not necessary. Groups of 15 or more receive a tour discount. Contact David Warther Carvings at 330-852-6096 or visit their website at www.warther.org.