Not your average cup of joe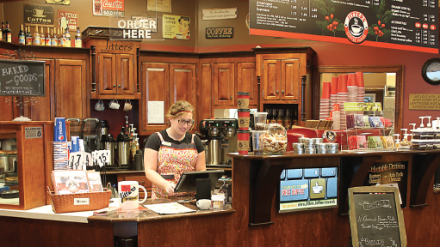 Randy L. McKee photo
Craving a really good cup of coffee while visiting the largest Amish population in the world? No problem. A trio of family-owned and operated coffeehouses is here to literally serve you.

Jitters Coffee House in Millersburg, New Grounds Café in Walnut Creek and Wallhouse Coffee in Sugarcreek all offer a wide variety of specialty coffees and food. Each business shares a unique approach with their customers.

The owners of all three coffeehouses come to their respective business with a strong Christian faith. They each want their staff to share that faith in particular approaches to customer service and product.

JITTERS COFFEE HOUSE
Millersburg

Kayla Eicher, the manager at Jitters, was straightforward with defining the method there.

"We want to bring Christ to the marketplace and give value to people's lives," Eicher said. "We do so through building relationships."

Jitters's distinctiveness is most evident on Sunday. Two church services are held during Sunday business hours. However, Eicher noted that the business and church are two separate entities. People are welcome to participate or simply come and go. The group is flexible and is not a specific set of the same people from week to week.

"People aren't judged," she said. "They are loved unconditionally."

Though not a nonprofit business, a portion of their profits goes to mission projects in Nicaragua for building a school and buying supplies. Locally Jitters provides free coffee and doughnuts to benefit auction groups,
5K benefit runs and the Love Center: a local food pantry.

Jitters serves breakfast, lunch and dinner. Besides their 7 a.m. to 4 p.m. Sunday hours the coffeehouse is open Monday through Saturday from 6 a.m. to 11 p.m. The business is located at 1545 S. Washington St., Millersburg.

NEW GROUNDS CAFE
Walnut Creek

Believe it or not, the New Grounds Café in Walnut Creek has an intentional bar ambiance about it, according to the board of trustee chairperson, Ivan Miller. By that Miller meant that the café wanted to establish a relationship with the youth, ordering food and beverage by offering a listening ear, only without the alcohol.

Originally designed as a retreat and gathering place for youth and young adults, New Grounds is now gearing its approach for folks of all ages.

"We want it to be a place where everyone feels at home," Miller said. "Our goal is to listen."
Miller said the café is a registered not-for-profit organization.

"Besides drinks and food, customers come to use Wi-Fi, watch games on TV and share wholesome music," Miller said. "Age groups don't matter."

New Grounds provides live music and shows a movie every Saturday night including free popcorn.

By focusing on relationships, New Grounds has perhaps inadvertently developed a local reputation for matchmaking. According to Miller, there are 80 to 100 couples that have met at New Grounds.

"We didn't expect these matchups as a side benefit to our purpose," Miller said.

New Grounds Café is located at 2804 state Route 39 in Walnut Creek. They are open Monday through Saturday from 8 a.m. to 11 p.m. and Sunday from 4-11 p.m.

WALLHOUSE COFFEE
Sugarcreek

Wallhouse Coffee in Sugarcreek was born of a dream of owner Wayne Weaver, according to his son Matt, who serves as the manager of the business.

"As a specialty coffeehouse we are known for providing a distinct emphasis on customer satisfaction," Matt Weaver said.

He said that starts with ingredients and service. They clean roast their coffee using an energy-efficient process. He said Wallhouse serves direct trade coffee by dealing directly with farmers in countries like Nicaragua. Coffee is roasted and packaged on premises. They prepare their own pastries and offer locally baked bread.

In addition Wallhouse makes its own ice cream, and another area of convenience for customers is having a drive-through for orders.

When it comes to missions, Matt Weaver said their approach is fairly low key. "We don't advertise about our donations because we are not marketing our generosity," he said.

Besides providing local fundraisers with free coffee and gift cards, a seven-member board determines where and how donations are distributed to local charities and foundations. Wallhouse Coffee is located at 751 Dover Road NE, Sugarcreek. They are open Monday through Friday from 7 a.m. to 10 p.m. and Saturday from 8 a.m. to 10 p.m. Wallhouse is closed on Sunday.

When it comes to delicious coffee, visitors to Ohio's Amish Country and area residents can count on specialty coffee, tasty food and the satisfaction that part of their expenditures also go to help good causes.