Ohio Amish Library is a historical resource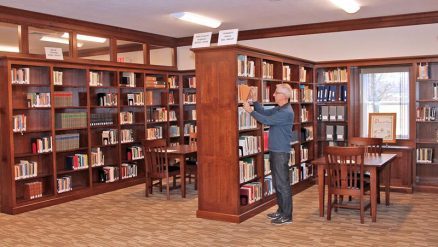 Randy L. McKee photo
Holmes County is full of hidden treasures, and one of those treasures is the Ohio Amish Library, which is housed at the Amish & Mennonite Heritage Center in Berlin. This collection was once housed at a small library behind Kline Lumber but was moved in 2016 into a new building constructed specifically to house this historic collection.

The library serves as a historical resource where one can learn more about Amish and Mennonite history as well as family genealogies.

"We have over 500 genealogy books here, and those are Amish and Mennonite related," Wayne Miller of the Amish & Mennonite Heritage Center said.

Most of these books are geared toward the local community with in-depth research into families from the Berlin and Holmes County areas. However, even those not from the area may still be able to find a few tidbits.

"We do subscribe to Ancestry.com and to the Swiss Anabaptist Genealogical Association, which has a very large database based out of Kidron, Ohio," Miller says. "So we are able to pull almost everything that is in the genealogy books here. What you are not able to do is get the stories. A lot of local genealogy books have stories in them, and those are not going to be in a database."

Even if you are not researching genealogy or Amish and Mennonite history, this library is still worth a look. There are books on display that date back centuries.

"We have a 1531 Bible, and it's on display here," Miller said. "It's the centerpiece of our collection. Our library has a climate-controlled vault. In other words the humidity and temperature is controlled, and then there is museum-quality glass on one side of the book so that visitors can look into the display."

There also is a large collection of books dating to the 1600s: Martyrs Mirror editions, which are the testimonies of Christian martyrs, particularly those important to Anabaptists.

Of course, these books are old and fragile. Preservation is a high priority. You cannot simply thumb through books as old as these, so staff at the Ohio Amish Library have been working on digitization.

"We've been working on taking digital photographs of the title pages and names or German writing," Miller said.

This isn't the only project in the works at the Ohio Amish Library. "One project that we are working on here is we are partnering with the Sugarcreek Budget newspaper and we are digitizing the Sugarcreek Budgets from the 1890s through 2006." Issues after 2006 are already digital.

To do this, they use high-quality camera equipment to create images of the newspapers. Unlike old microfilm archives this produces an easy-to-read, high-resolution digital archive of the newspapers' contents.

This digitization project was slated to take two years from start to finish. According to Miller, staff at the Ohio Amish Library have been working on digitizing papers for about a year, so the project will be nearing completion sometime within the next year.

The Ohio Amish Library is open each week from Monday through Saturday from 9 a.m. to 5 p.m. To visit, it is best to call ahead and schedule an appointment so that staff can guide you through everything the library has to offer. Staff members also are available by appointment to assist with genealogical research. The Ohio Amish Library is available at 330-893-3192. They are located at 5798 County Road 77 in Millersburg.