Amish dress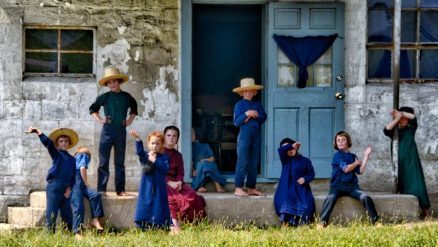 Gene Wintersole photo
Amish clothing styles encourage humility and separation from the world and are a practical expression of their faith. The Amish fashion styles are simple and meant to be functional. Clothing is made at home of plain fabrics and is primarily dark in color, including shades of purple, blue, wine, brown, grey and black. Lighter colors are used for younger children and summer shirts and dresses for adults in some groups.

Amish men wear straight-cut suits and coats without collars, lapels or pockets. They resemble the Nehru jackets of the 70's and are called mutza suits. During the summer they'll shed the coat and wear a vest to church. The fabric of choice ranges from a double knit polyester, warp knit, triple knit or Swedish knit to various gabardines based on the group they are with. Most men would wear black. There is black and then there is BLACK. A close look at a black fabric will show there are brown, blue and gray shades of black clothing in the broader market. In the Amish community it needs to be the blackest black there is. In other Amish settlements the groups vary and will use charcoal grays, light grays, navy blues or browns.

Their trousers never have creases or cuffs and are worn with suspenders. The young children have gallas (suspenders) made of the same fabric as the pants. Belts are forbidden, as are sweaters and neckties. Men's shirts fasten with traditional buttons in most orders, while suit coats and vests fasten with hooks and eyes. Their pants are made with a flap in the front held closed by buttons to avoid the use of a zipper.

Young men are clean shaven prior to marriage, while married men are required to let their beards grow. Mustaches are forbidden because they are considered to be adornment. Haircuts are typically block cut in the back and longer than most English styles. The most severe haircuts are found among the Swartzentruber Amish, the most conservative group.

The men typically wear broad brimmed felt hats in the winter and for dress year round. The width of the brim and the shape of the dome vary with the group. During the summer most groups will allow their men to wear stroh hoots or straw hats. The style of straw hat also lends a clue to the group the man is from. In the winter in some northern climates men are allowed to wear tsiple kops or knit caps.

For everyday most men and boys wear pants made of a fabric called Triblend Denim. It was used at one time by Sears to make Toughskin pants. It's high in polyester and nylon making the pants made with that fabric highly durable. The more conservative groups use a dress triblend that is a darker navy than a regular denim pant. Other groups use the medium blue triblend that is more like the typical jeans.

In the English (non Amish) community most jeans are made with 100% cotton. That allows for breathability and comfort. The fading and fraying that is common over time makes the 100% cotton denim unpopular in the Amish community. The women who have to make pants for their men don't want to tackle that task any more than they have to. If they have several boys in the family they can spend all their time sewing. The Triblend holds up better, doesn't fade and won't snag as easily. It's the perfect fabric for a working man's pants being used on the farm or in a shop of some kind.

During the summer some men will have their women make them a poly/cotton blend pant for the hotter weather. This is called a Dacron Denim after the name of the polyester fiber that is used to make it in a blend with cotton. A 65% polyester and 35% cotton blend is best. Navy blue is the most popular color although some use gray.

Most men and boys wear handmade shirts of a poly/cotton blend. They'll settle for a 50/50 blend but would rather have a broadcloth of higher polyester content. That allows for ease of drying on the wash line and no ironing. That's another hot task that most Amish women would like to avoid. The shirts will be made of oxford cloth, end on end chambrays or just plain chambrays. Again, 100% cotton fabrics are avoided because of fading and wrinkling.

Younger boys dress a lot like their fathers with the exception that they usually wear lighter colors. The men will wear navy Triblend Denim pants while the boys may wear a lighter blue version of the same fabric. If the men wear charcoal gray mutza suits, the boys will wear a lighter gray version of the fabric.

Amish women typically wear solid-color dresses with long sleeves and a full skirt, covered with a cape on the bodice. Some less conservative groups allow the women to wear short sleeved dresses but never sleeveless. Clothing is fastened with straight pins or snaps, stockings are black cotton and shoes are also black. Amish women are not permitted to wear patterned clothing or jewelry. The Ordnung or Book of Order of a specific Amish order may dictate matters of dress as explicit as the length of a skirt or the width of a seam.

Most Amish women make their own clothing, purchasing the fabric in local stores usually run by a woman in their church community. The broader fabric market is driven by the fashion industry. Mills typically don't just manufacturer a fabric without an end market in mind. For that reason the orders from the fashion industry for this season's latest styles dictate what is manufactured. After the production run of that season's garments is finished any leftover fabric is dumped into the wholesale market. There are very few manufacturers who cater just to the Amish. The market isn't large enough for them to fund their weaving machines for the necessary selection. Therefore, most of the dress fabric comes from the garment industry castoffs that the Amish stores buy from brokers.

If the colors this year from New York are lime green, hot pink or bright red forget selling it in an Amish community. Lavenders, purples, darker greens, mint greens, mauves, pinks, some yellows, white, black and beige are all colors that could be used in everyday dresses. Depending on the conservative nature of the Amish community, some colors acceptable in one community aren't acceptable in another. Sunday dresses are typically black with a white apron. Most of the dresses are polyester for ease of cleaning and faster drying. This fabric also requires little ironing. Some dresses are made of polyester and rayon blends but they tend to shrink in the laundry of a typical Amish household.

The variety of fabrics used comes in the texture and pattern of the fabric. Crinkles (not too much or it looks like it hasn't been ironed), dimples, slubs (like shantung) and some printed patterns are acceptable in most groups. If an Amish woman can ride in a van all day shopping and get out looking fresh and unwrinkled, they have found a great fabric.

The weight of the fabric is important too. Nothing too heavy, nothing too sheer. It needs to flow and hang nicely. During the summer, many Amish women will make dresses in broadcloths much like the men's shirts. They are lightweight, breathe easier than polyester and still don't wrinkle much.

What drive changes in Amish women's fashions? To some degree it is the availability of dress fabrics through their stores. Teenage girls often drive the changes and introduce new fabrics. One of the local young women will pick out a new fabric at a store and make herself a dress. Her friends will want to have one like it and the new fad is on. A typical local store will go through bolts and bolts of a new fabric line or even a single color of a new fabric, driven mostly by the younger women.
Eventually, the mothers of the young girls will pick up on the fabric and a full blown rush is on. While fashions change sometimes in the English world every season and every year, a popular fabric will last 3-5 years or more in an Amish community. Part of what determines the end of the run is the availability of the fabric in the wholesale marketplace. One of the struggles for the older Amish women is to find fabrics they have grown used to over the years. Many of them are no longer made because of the changing marketplace.

Amish women never cut their hair, typically wearing it in a braid or bun on the back of the head concealed with a small white cap called a covering. Coverings vary widely depending on the group they belong to. The variations come in the size of covering, the strings and how they are worn and the number of folds or creases in the back. An Amish woman would never be seen outside her home without her covering. When going to town or church they typically wear a stiff black bonnet over their covering.