Appointments: journey of an artist - part 2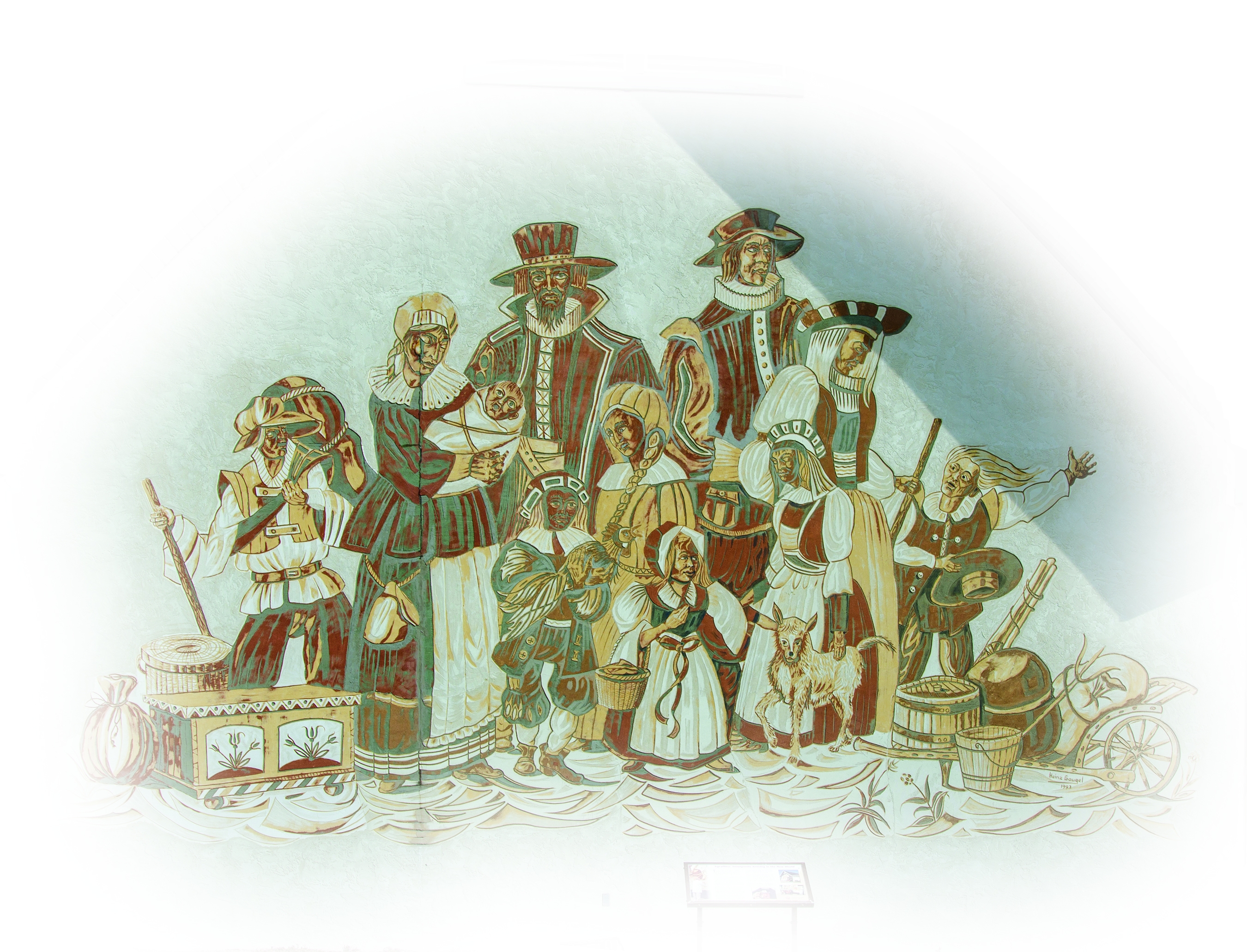 Submitted
Gaugel committed himself at that point to painting a cyclorama depicting the history of the Anabaptists and engaged in painstaking historical research toward that end.
Art is often viewed as personal, and beauty is found only in the "eye of the beholder." While there are elements of truth to that, art often conveys much more than that. That is the case of two unique pieces of art found in the middle of the Holmes County Amish community. Both pieces of work were done by a German-Canadian artist named Heinz Gaugel.
The first piece is an oil on canvas painting that is 10 feet high and 265 feet long. It is known as "Behalt" (German: stop, take note or to keep). This mural painting is unique for both its size and its content. The second piece is titled "Immigration" and is a unique medium for its size and location. This piece is a Sgraffito (from the Italian) [zgraf'fi:to]. It is 22 feet high and 34 feet wide and is located on the side of a building. This technique is produced by applying layers of plaster tinted in contrasting colors to a moistened surface. It is most often seen in small-scale work like pottery and rarely as a part of the building.
In 1962 a German-born immigrant to Canada by the name of Heinz Gaugel entered Holmes County for the first time. An artist by trade, Gaugel was in search of some glazed bricks for an art project he was working on in Fonthill, Ontario. He became fascinated with the Amish because they spoke a German dialect similar to his own and lived a unique lifestyle. He also felt a common bond with the Amish because of their strong belief in nonresistance.
Gaugel had been drafted into Hitler's army in 1944 at the age of 17 and sent to the western front after only a few weeks of training. He was part of a unit that was "sacrificed" by being thrown into a fake attack in order to draw fire away from the main troops. Almost his entire unit was shot to death; more died in the hospital. He was shot in the head and chest with near-fatal wounds and spent about a year in a U.S. prison camp in France. Through this experience he realized the horror and futility of war, and he too became a pacifist. He immigrated to Canada in 1951.
When Gaugel completed his project in Canada, he moved on to an Amish-owned farm in Holmes County in 1972. Two local businessmen had invited him to come and help create a theme park. While the scheme never materialized, he continued living on the farm for another eight years.
Tourism in Holmes County continued to increase, causing some members of the Amish faith much frustration. On a warm summer day in 1978, an Amish blacksmith relayed to Gaugel his frustration with tourists. Their constant questions and unwanted picture-taking interrupted his work, and he wasn't always able to provide an answer for their probing questions.
"I wish there was some place in the area that people could go and find out about why we live the way we do," the blacksmith said to Gaugel.
"Brother," Gaugel said, "tomorrow I will begin working toward that."
Gaugel committed himself at that point to painting a cyclorama depicting the history of the Anabaptists and engaged in painstaking historical research toward that end. His commitment to the project would see him through a number of serious challenges that might have defeated many others. His determination proved to be stronger, however, and is reflective of the same perseverance Anabaptists displayed in remaining true to their convictions.
After securing a sponsor for the project, Gaugel began to paint in 1978. A small church located on top of Bunker Hill was rented where he continued painting from 1978-80.
While Gaugel was doing some research in Europe in 1979, however, his sponsor passed away. The ownership of the painting, with 55 feet of it complete, was disputed. The painting was confiscated by the local sheriff and retained for about one year. After settling the dispute, Gaugel received the painting back. For a short while in 1981, the painting was displayed at Martin's Creek Mennonite Church. But Gaugel soon packed up the painting and shipped it to Intercourse, Pennsylvania, where he hoped to finish the work.
A new sponsor had agreed to help, and space in an old building had been rented. As the painting made its way to Pennsylvania, however, Gaugel experienced two debilitating and painful heart attacks within a two-week period. He spent half a year recuperating in an Ohio hospital.
Gaugel eventually made it to Intercourse and opened the painting to visitors. At first a fee of $1 was charged to view the painting; later donations were asked for. Still, not enough revenue was generated to keep the project alive. Behind in rent monies, the building owner museum confiscated the mural and other paintings of Gaugel's as security. After a four-month court battle, the mural and paintings were returned. Two non-Anabaptist businessmen in Intercourse appreciated Gaugel's work so much that they paid the $1,500 back rent so that the mural would be returned to Gaugel.

In the meantime, awareness of Gaugel's "Behalt" project grew among Amish and Mennonites in the Berlin, Ohio area. Some were concerned whether accurate information was being depicted about Anabaptists. Others were convinced that Gaugel's mural needed to remain in Mennonite hands and used to tell the Anabaptist story, rather than private businesses using it to acquire profit. In 1988 it became known Gaugel's painting, with about 100 feet completed, could be acquired through purchase. Gaugel was willing to sell it on the condition that a building be secured in which to display it.

Moved by the power of the painting, a group of business leaders took on an ambitious building project to construct a facility suitable to house the mural. Land was acquired, and ground was broken on March 25, 1989. Completing the mural hall in fall 1989, the mural was moved to its present location.

Gaugel roughly sketched out most of the rest of the mural in charcoal, and visitors were charged $3 to see the work in progress. It was not until late 1991, however, that Gaugel decided how to complete the last 20 feet of the mural. He continued to paint full-time until October 1992 when all 265 feet were completed. A dedication service was held that same month.

As soon as the snow disappeared the next spring, Gaugel set about creating the Sgraffito (a mixture of plaster and paint) on the outside wall of the Behalt Mural Hall. Despite a debilitating illness, Gaugel completed the Sgraffito the fall 1993. While this technique is often seen on smaller pieces, like china plates, it is rare in the United States. It is technique that is unique to each medium, and one has to go back to Renaissance Italy to note such large building Sgraffitos.

Today "Behalt" is one of four active murals in the United States. It is the only mural in use that was painted by one artist and not a team of artists. It took Gaugel 14 years to paint the mural, which is amazing considering its size and scope. There are 1,247 unique, identifiable persons depicted along crowds of people who are not identified. In addition to the people, there are 77 horses and every farm animal except for pigs in the mural.
As Gaugel intended, the mural is used today to tell the story of the Amish and Mennonite people and their history. People from at least 185 nations of the world, all 50 states and all the Canadian provinces have visited the mural hall. The Moscow Ballad, the education minister of Saudi Arabia, the singer Amy Grant, state Supreme Court justices and many others have heard the story of the Amish and Mennonite through the art of Gaugel.

While the rich and famous have seen this work, the more poignant moments come when people connect themselves to the pieces of the painting. In one scene Gaugel shows a line of people boarding a ship. The ship is the Volendam, and the people are Russian Mennonite refugees from World War II. The dramatic rescue of these people is a part of the story told to guests. As it happened, a group of Canadian tourists were visiting, and at the end of the tour, an old man, gray, wrinkled and yet strong, told the rest of the group his experience of being a 7-year-old boy on this particular ship. Suddenly the story and the art took on a significance much greater than simply history: It was living and real.

That is the power of art. It can move people into a story that is much greater than themselves and their small experiences, into a world that is interconnected and intertwined with power and movement. As a child of this community and a patron of art and story, the mural has power beyond the written word. Often I have sat and reflected on pieces of the story and been moved into considering my own story and life as part of something much bigger.

Gaugel would be delighted to hear these stories today. They are what he envisioned when he bought his first 10-by-10 piece of canvas, squeezed color onto his palette and picked up his brush to begin that first scene. Just as he could not have known all the pieces of the story and scenes he would paint, he could not have known all the people that would view and be moved by this immense piece of art.

For part one of Journey of an Artist click here. To learn more about The Amish & Mennonite Heritage Center visit https://behalt.com/.