Christmas food traditions bind us together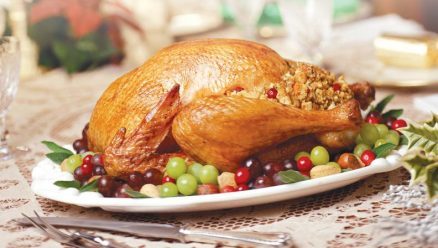 Christmas brings out the old family recipes, the ones that go back generations. They're different in each family, and they weave a culinary tale that keeps the past alive.
The American Christmas time feasts include a variety of dishes, and not all of them were born on domestic soil. Many of them came from the nations that birthed our grandparents, great-grandparents and great-great-grandparents.
A giant stuffed bird at a holiday feast has been popular for centuries because it could feed a lot of people and it was inexpensive. In early days, any farmer could raise a goose without having to buy expensive grain because the birds were grazers. Still quite popular in many European countries, the Christmas goose has been replaced by the turkey in the United States, and is often served with stuffing made from cubed bread, nuts and vegetables.
Many Italian Americans celebrate Christmas Eve with the feast of the seven fishes or festa dei sette pesci. Although no one is certain how the feast gets its name–some surmise it is because there are seven sacraments in the Roman Catholic Church, seven hills that surround Rome, the number of days it took God to create Earth according to the Bible or simply because seven is the most repeated number in the Bible. Regardless of the name, the feast consists of seven different seafood dishes and generally baccalà, or salted cod, a humble dish that was common fare in impoverished parts of southern Italy.
The Christmas stollen hails from Germany and was the inspiration for the American fruitcake. Studded with fruit and nuts, the traditional seasonal cake is made of yeast, water and flour, and flavored with citrus zest. The best stollen is said to come from Dresden. Prior to 1650, bakers were forbidden to use butter in their baked goods during the season of Advent. Prince Ernst von Sachsen, at the request of bakers in Dresden, successfully petitioned Pope Urban VIII to lift the restrictions on the use of butter during Advent. The restrictions were lifted only in Dresden and thus began a baking tradition that continues to this day. Stollen recipes that have made their way stateside are as different as the bakers that make them.
Roasted chestnuts have been popular around Christmas for a long time but before that, they were consumed for their nutritional value in places along the Mediterranean Sea where grains would not grow. Before they became a Christmas staple in the States, they were commonly consumed in Portugal for St. Martin's Day, and in Modena, Italy, for St. Simon's Day.

The popularity of convenience foods in the 1950s allowed the Campbell Soup Company to capitalize on the trend, and the now ubiquitous green bean casserole graces the tables of many American homes at Christmastime. Home cooks had been making vegetables in cream sauce for a lot longer, but Campbells made it even easier with condensed cream of mushroom soup and fried onions that came in a can.


Families still gather together to celebrate Christmas with huge feasts and plenty of revelry. Special occasions call for special meals. Food keeps us all connected, and the traditions we carry on remind of us of where come from.