Distinctive Tranquility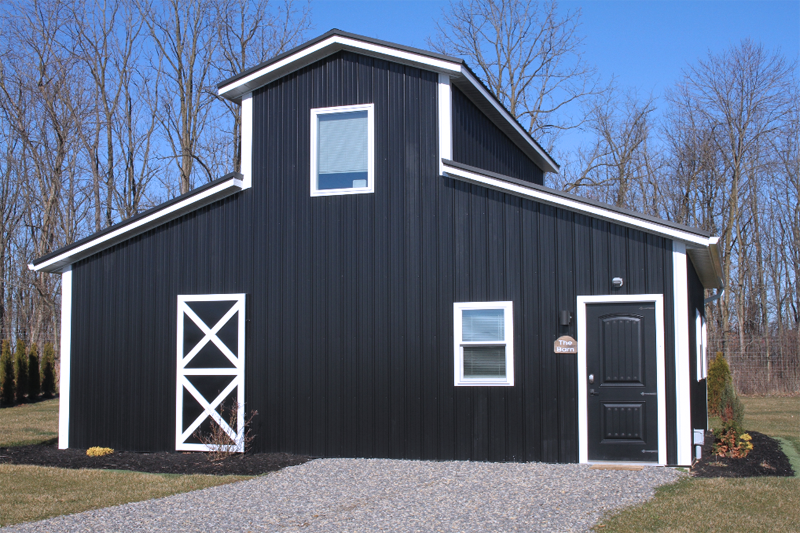 Randy L. McKee
Situated on 25 acres of picturesque Walnut Creek vistas, Floret Hill is the region's newest — and possibly most unique — boutique countryside retreat, said Diane Troyer, co-owner and manager.
The rustic, short-term vacation property, which opened in March, features seven units that include two distinctive cabins — one which resembles a barn — and five cozy "tiny home" cottages. "We're looking to accomplish a retreat-style property with a farmstead theme that is different from all the other cabins in the area," Troyer explained. "It's a calming place that takes you back to nature, yet there is free Wi-Fi and nearby food available as well."
The Floret Hill concept originated after Troyer moved back to the Walnut Creek area after spending four years around Columbus and was seeking an opportunity in hospitality or property management. Around the same time, her uncle Abe Miller purchased the vacant field adjacent to the Farm at Walnut Creek. Miller approached his niece about developing and partnering on a vacation retreat on the property.
"It was perfect timing and an ideal location," Troyer said. "Being next to the farm, you can see all the animals, which is really cool. We partnered up and came up with this concept and drew up the first phase of buildings."
The Barn, located in one of the most secluded sections of the property, is a charming two-story, three-bedroom cabin that features an ample living room, kitchenette and dining area. Outside, it offers unparalleled views, Troyer said.
The Cabin, which overlooks the Floret Hill farmstead, is a one-bedroom space, with large living and dining areas and a kitchenette.
"The Barn is an ideal size to come and enjoy with a family," Troyer said. While the tiny homes are all unique in design, they all feature convenient, modern amenities.
"The tiny homes are bigger than they appear from the outside," Troyer said. "They all have full bathrooms and full kitchens, with full-size refrigerators, stoves and microwaves. They all have a small sofa that actually pulls out into a twin bed. They all have really large decks that are actually almost as big as the tiny homes themselves, so you can sit out there and enjoy a nice view. All of them have electric fireplaces and will soon have hot tubs."

The Willow Cottage, for example, is a two lofted-bedroom tiny home with a walk-in shower, washer and dryer, and a smart TV.

Arrowwood features a first-floor bedroom and a lofted bedroom, with washer and dryer, a café table, and a smart TV.

All Floret Hill accommodations are air-conditioned, with on-demand hot water tanks. Linens, towels and blankets are all provided in the units.

With 25 acres, guests will have no problem finding ways to enjoy the outdoors.

"We have a really large communal fire pit where people can take in the peace and quiet that is out here in the country," Troyer said. "The land was originally a cornfield, and we have some little hills and valleys to explore. You can get stunning views of miles around, and the sunrise and sunset are especially beautiful." While guests are able to cook inside or outside their cabins and cottages, Troyer noted scrumptious food is a short drive away.

"Amish Country is known for its food," she said. "There are plenty of places to eat within a five-minute drive to Walnut Creek and about 10 minutes to downtown Berlin and Sugarcreek."

Troyer said the vision at Floret Hill is to create a patchwork of elegant living spaces that immerse guests in life's simple pleasures. "We're delighted to share the local hospitality, culture and scenery that has made our region one of Ohio's most popular destinations," she said.

Reservations for stays of two or more nights are available and can be made online at Florethill.com. Floret Hill is located at 3311 Township Road 157 in Sugarcreek.

You can call Floret Hill at 833-318-4751 or get more information on Facebook @stayatflorethill.