Holmes County Antique Festival ready to return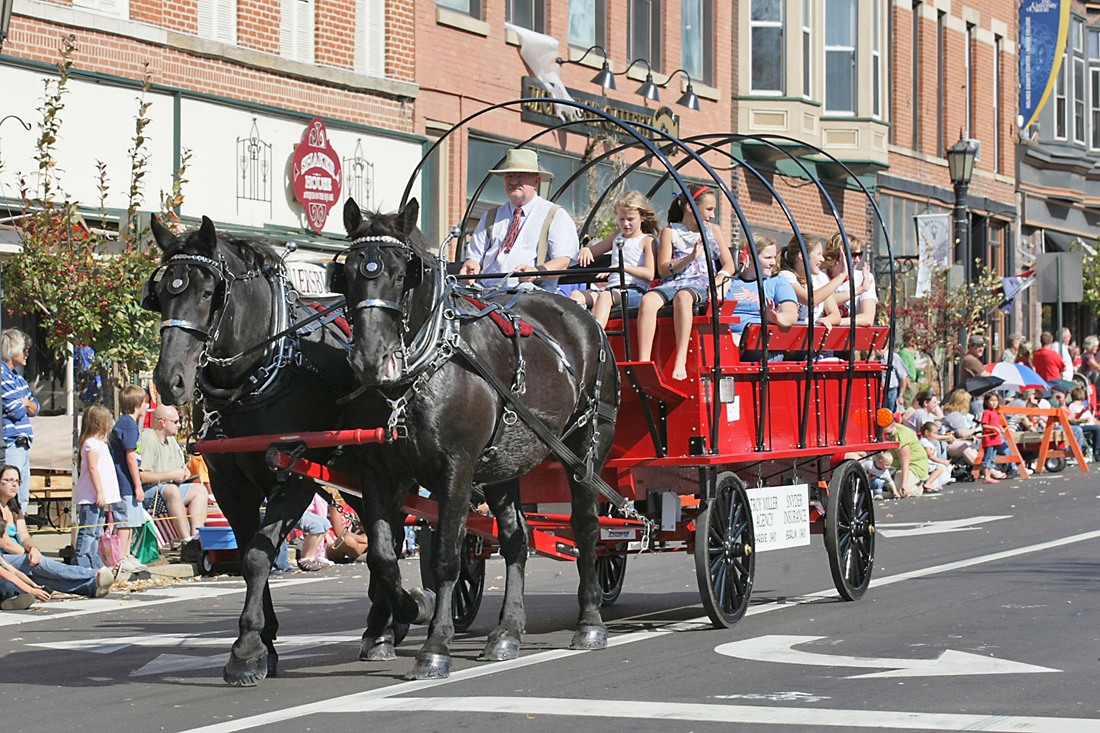 As a member of the Ohio Festival Association Board, Todd Day, who serves as the vice president of the Holmes County Antique Festival, understands the agony that accompanied the cancellation of festival after festival last year during the pandemic.
Thus, it was with great joy he and the other members of the Antique Festival board put together the 59th annual Holmes County Antique Festival schedule for Saturday and Sunday, Oct. 9-10 in Historic Downtown Millersburg.
For the two-day event, downtown will swarm with people, activities, festival food, music and more as the event returns after its one-year hiatus.
"It's going to be great to get back to normal," Day said. "Last year was tough on everyone. So many people look forward to these festivals, and every single one of our festival events were canceled last year."
He said while fans of festivals were denied their slate of activities, the vendors and entertainment groups who rely on these types of festivals were deeply hurt financially. Day said seeing them get back to business is another reason to celebrate.
As for the Antique Festival team, Day said they were waiting for the governor's office to give the go-ahead for festivals to resume, and that came in March. The group forged ahead and developed a game plan for the 59th celebration, but only after creating a plan to take necessary precautions to move forward.
"We finally got approval, and we got right down to business," Day said. "We already had many of the prior people in line to come from last year's event that didn't happen, and we reached out to a lot of new people who were eager to join us. We are excited to be able to put this festival on for the people of Holmes County and the many visitors who come."
While it missed a year, the Antique Festival returns boasting the activities and events that have made it such a big draw over the years.
Day said the two-day offerings have entertained the masses for many years, and there is no reason to alter that now.
Saturday, Oct. 9 will kick off with the Pomerene Health Foundation 5k Fall Trail Run at 8 a.m. Those interested can register at Mid Ohio Race Management. The Antique Market and Antique Craft Mall on the courthouse lawn and South Monroe Street will take place both days beginning at 10 a.m., closing Saturday at 6 p.m. and Sunday at 4 p.m.
Demonstrations will take place Saturday from 10:30 a.m. to 12:30 p.m. on the courthouse lawn and small stage. The West Holmes Chamber Choir will perform on the large stage on North Monroe Street on Saturday from 11-11:45 a.m. while Tom's Kitchen Table will perform from 1-3 p.m. Featured entertainer Adam Calvert will take the stage on Saturday from 5:30-7:30 p.m.
"We love this musical line-up," Day said. "People will be really happy, and Adam Calvert is out of Nashville, Tennessee, and he is an incredibly gifted talent. He puts on a fantastic show, and people won't be disappointed with his show."
Also featured on Saturday will be the costume contest, and the Antique Classic Car and Fireman's Parade will roll down Jackson Street at 4:30 p.m.
The Darb Snyder Memorial Classic Car Show will take place Saturday from noon to 3:30 p.m. Sponsored by attorney Jeff Kellogg, there should be plenty of automobiles that will help visitors journey back in time on a nostalgic trip on wheels.
Day said they turned to Facebook to promote this year's event, and he said the excitement over the auto show continues to grow.
"Our local car club, the Holmes County Classic Cruisers, were really helpful in getting the word out at different shows they went to, and having Jeff Kellogg on board as a sponsor was a great addition," Day said.
The show will take place in the parking lot area between the Holmes County Chamber office and the Wayne Savings Bank just north of the main square. Day said they are expecting a great turnout of both car owners and visitors.
It's nice having the show come back to the downtown area where all the action is," Day said of a show that has moved around over the years including taking place outside of the village. "This is such a great location for it because everyone can visit with ease."
Sunday, Oct. 10 will feature a performance by the Premier Dance Academy on the large stage from 11 a.m. to noon. Up River will perform on the large stage from 12:30-1:30 p.m.
Then the big daddy of the weekend, the Grand Parade, will draw thousands to Jackson Street, where more than 100 entries will parade through town, throwing candy and treats to kids and providing a perfect way for community members to say thanks to those who support them.
"That's our biggie, and we continue to see tons of people who come to watch and experience the joy of community," Day said.
Wrapping up the festival will be the introduction of visiting festival queens and royalty on the large stage, along with the annual kids tractor pull on North Monroe Street.
"I've visited several festivals this year, and people are truly happy to be back and visiting different places, so we expect this year's Antique Festival to be a really great event," Day said. "People are excited to have a chance to experience this festival and many others again."
For a full slate and more, visit www.holmescountyantiquefestival.org