Natural by design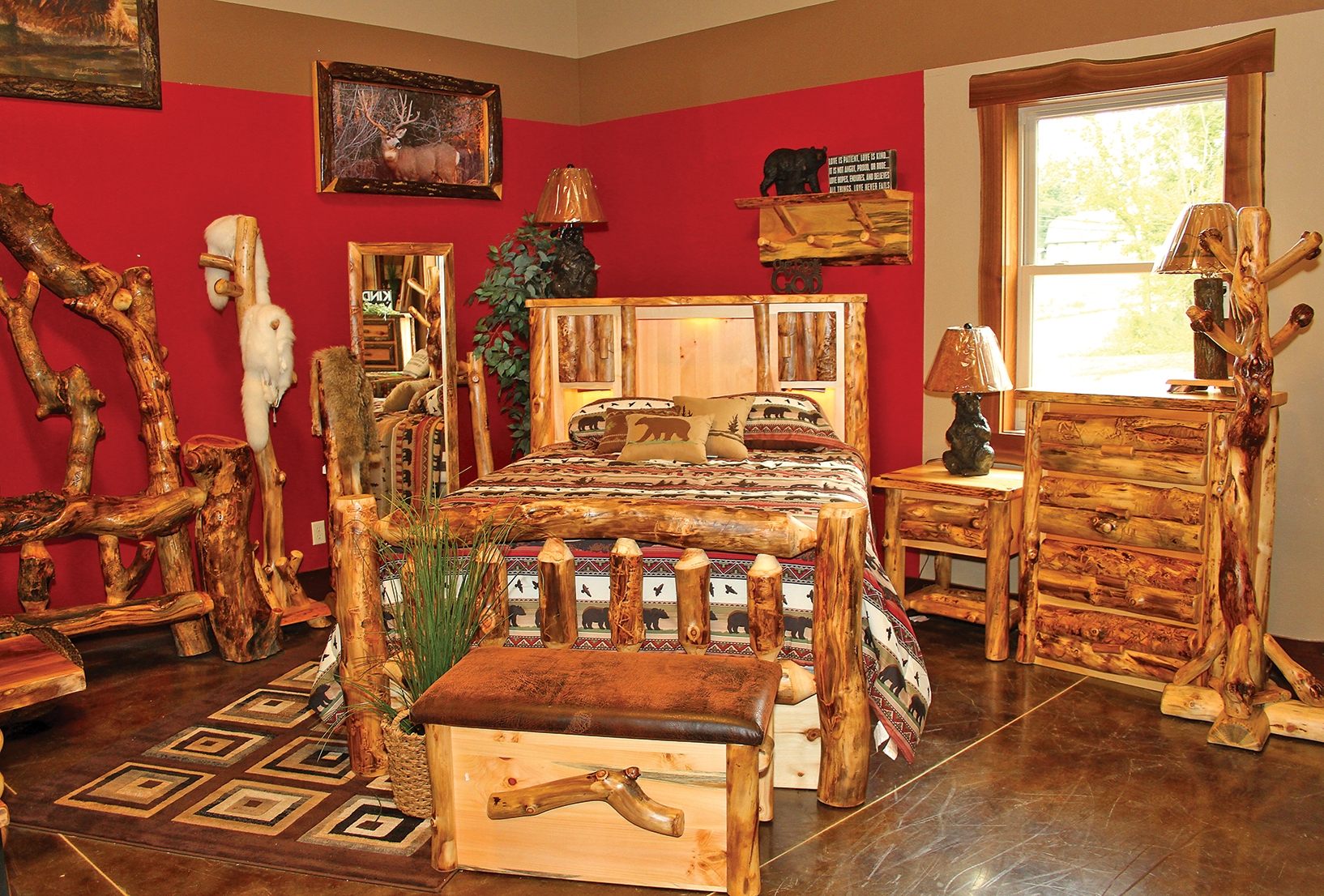 Randy McKee
Reclaimed barn wood, red cedar, Aspen and hickory have been transformed into varying pieces of rustic furniture at the Cabin Store.
For more than 20 years Junior (Ervin) Yoder worked with his sister and brother-in-law designing fine furniture, but Yoder had a vision of his own, and that vision began with a fireplace mantel. He began to carve out scenes and patterns of leaves and pinecones, turning the fireplace mantel into a beautiful piece of art.
The rustic style led to other creations and entrepreneurial spirit. In 2013, he and his wife, Marilyn, decided to open their own rustic and timber furniture store at their home in Mt. Hope. Word of mouth and traditional advertising were all it took for Yoder to see The Cabin Store grow and thrive.
Since then a few hundred individuals have come each week to see reclaimed barn wood, red cedar, Aspen and hickory that has been transformed into vanities, bedroom and dining room sets, living room chandeliers, coffee tables, and accessories. It was perfect for lodges and cabins, man caves, and anyone who loved the rustic look for their home.
Yoder himself builds live-edge tables through a process that takes nearly two years. The wood itself is air-dried for a year and a half before placed on a kiln for three months so that it will not crack. The result is a beautiful piece of furniture that retains the natural curve of the tree often resting atop white cedar stumps reminiscent of the forest they came from.
None of this can be found on a website. Yoder favors personal connections with his vendors and customers to the traffic of the internet.

"We're kind of a hidden secret, hard to find," Yoder said. "Most people just happen upon us but a good many come from referrals."

When they do, they are treated to more than the amazing pieces of furniture arranged on the storeroom floor. Yoder allows his customers to design the type of pieces they want to see in their home. With his sketchpad ready, he asks a series of questions, takes a look at any pictures they can provide, and then draws the tree stump coat rack or the kitchen set created from reclaimed barn wood with leather hinges, completed by a copper sink and a faucet to match.

He determines size and best wood for the look they want, provides an estimate, and reaches out to one of his many local vendors for creation. Of course he also utilizes vendors, mostly Amish, throughout the United States. Some of his favorite products come from out West, namely Aspen wood that retains the mark of nature including woodpecker holes, elk rubs, beaver marks and bear claws.

Aside from aesthetics, his furniture is more durable than most. The vast majority of the furniture has a finish on top that is resistant to heat, Yoder explained. "You could set a glass on the top, and you would never have to polish or oil our furniture."

From 9 a.m. to 5 p.m. Monday through Friday, he, his wife and two oldest daughters, Carolyn and Rebekah, who are training to follow in their parents' footsteps, run the store. On Saturdays, they welcome customers from 9 a.m. to 4 p.m. As a unit they work to arrange the furniture pleasing to the most discerning of interior designers and show men and women the vast possibilities for their home.

Those possibilities also are sold at a reasonable rate, Yoder said. His work is high quality; however, he is able to compete with other retail businesses because he has lower overhead. Those characteristics have gained customers from across the United States and in one instance, Germany. Most people make their own arrangements to transport furniture, but Yoder also can find a third party to assist.

For Yoder it's a dream come true. It has allowed him to spend more time with his wife and five children: Carolyn, 19; Rebekah, 17; Maynard, 15; Ruth Anne, 12 and Joel, 9. He hopes to train them to carry on the business and the tradition of providing personal service, as their furniture has a full warranty that spans generations.

Visit The Cabin Store at Mt. Hope's newly expanded showroom at 7860 SR 241. Reach them by phone at 330-674-1838.