An Experience of the Senses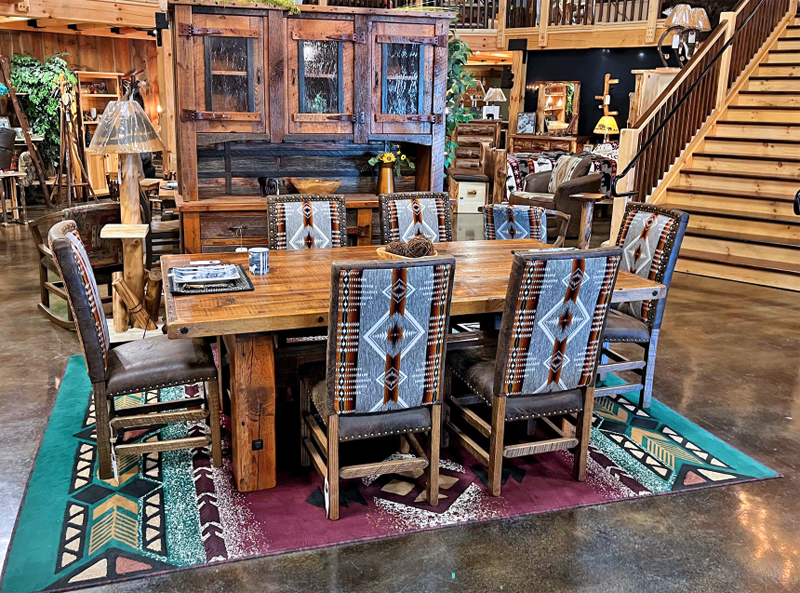 Randy L. McKee
Near Mount Hope, The Cabin Store is a showroom for solid wood furniture and fanciful decor not found anywhere else.
"We're not on Main Street — we're 5 miles north of Berlin, up County Road 77 and left on State Route 241, just down the road from Mrs. Yoder's Kitchen," said Ervin "Junior" Yoder, the store's proprietor. "Timber the Moose is standing out front."
Craftsmen transform reclaimed barn wood and other salvaged material into functional furniture in a rustic milieu and scours the countryside in search of unique, handcrafted decor with a touch of whimsy. It's more than that. Visitors can feel, touch and smell the wonderful wares inside, something only found offline. Yoder set out in 2013 to cultivate a sensory experience he hoped The Cabin Store's visitors would take with them and carry into their homes.
"It's nature — relaxing, natural, organic," Yoder said. "When you go into these rooms with log or barn wood after you've had a hard day's work, it takes the stress away. It's just natural. It doesn't have to be so formal that you can't touch anything because you're afraid to make a mark anywhere. These are very functional pieces."
His instincts were right. Visitors come from far and wide, seeking to carve out a little space for themselves to unplug and destress and have a little fun, too. The Cabin Store brims with unexpected delights.
Live-edge river rock tables glisten under trophy-size elk horn chandeliers that are matched point for point by distinctive root tree stump tables.
The wheels and pulleys of reconditioned hay trolly chandeliers create a sense of serene symmetry, with the wheels of authentic box wagon tables resting underneath.
From floor to ceiling, the furniture and decor would feel right at home in a cabin tucked away in the woods, a wood-paneled basement hideaway or a loft-top treehouse.
"It doesn't have to be the whole house," Yoder said. "If you live in a townhouse in the city, we could do just a single room in log or lodge style, and not every guy has a cabin to get away to, but maybe we could turn the basement into a man cave. That one room is sure to become your favorite."
That room doesn't need to be inside, either.

"We have grain bin gazebos," Yoder said. "They're metal, so they're pretty much maintenance-free structures. You don't have to stain them, sparrows can't hide in them as much and you never have to change shingles because there aren't any. They're very cost-effective that way, they come in different sizes and they stand
out. They're unique and different, giving the home a more country look."

Conversation starters are everywhere. Solid copper lampshades hang from the ceiling, dining room cabinet doors swing on wooden hinges and reclaimed barn wood finds a renewed purpose.

"Some people tear an old barn down and burn it," Yoder said. "We reclaim it. That way fewer trees must be cut down, but it also gives the pieces here their charm. We can use different species for the same piece of furniture. The farmer didn't drag lumber from a hundred miles away to build the barn. He used the cleared oak, cherry, maple and hickory there."

Each piece has the unmistakable mark of genuine craftsmanship.

"It'll last a lifetime, from one generation to the next," Yoder said. "The wood of barn floors and rafters has already lasted a hundred or more years. We don't make furniture out of glue and sawdust here."

Yoder finds strength in the faith based community and its family of woodworkers known for quality craftsmanship.

"Four or five people, each with their cottage industry shops, are involved in making a single piece," Yoder said.

"Everybody has their specialty, and when you put it all together, you get something extraordinary. We also do custom work. Feel free to bring in a drawing or share an idea with us, and if you make a connection with Timber the Moose, we take orders for his twin brothers, too."

Unplug and visit The Cabin Store near Mount Hope at 7860 State Route 241. Or get in touch by calling 330-674-1838.