Take Amish Country home from Dutch Valley Market.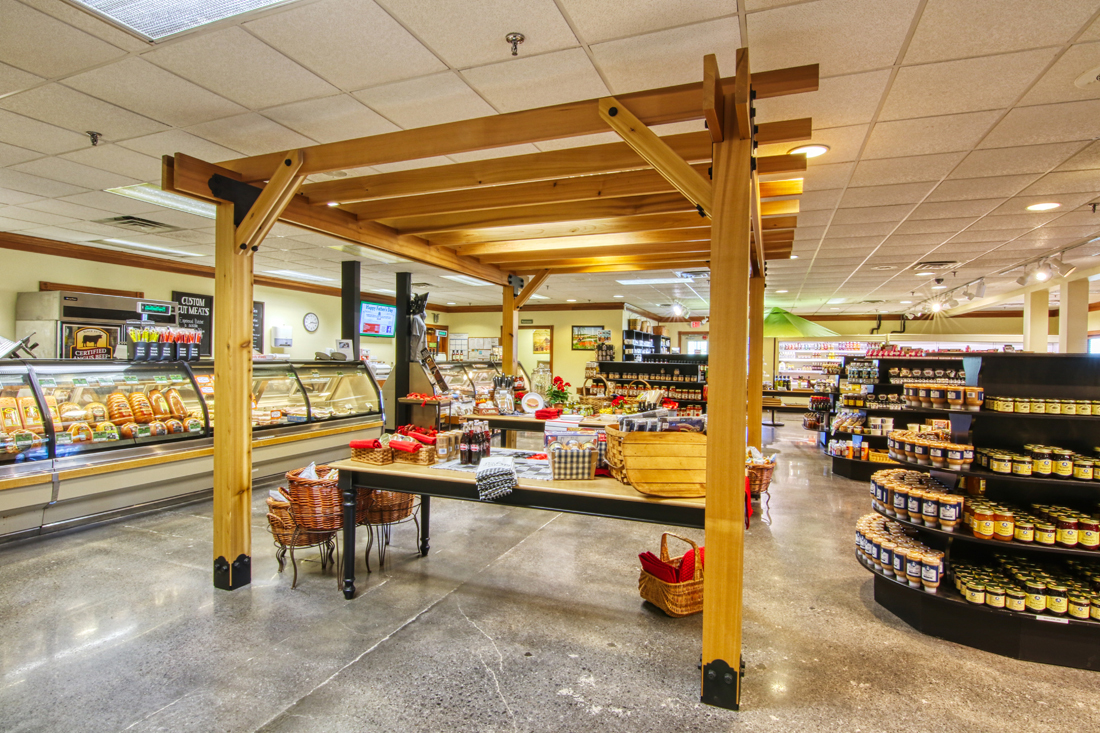 One of the best reasons to visit Dutch Valley Market, said Laurel Booher, manager of the store, is that it affords guests the opportunity to take the flavors of Amish Country home.

"You can have a delightful sit-down dinner featuring a USDA certified Angus Beef roast at our Dutch Valley restaurant, and then come to the market and purchase the same uncooked roast to take home with you," Booher shared with her trademark warmth. "People love that they can enjoy one of our delicious, restaurant-quality meat items while dining and then stop at the market on their way home and grab it to go."

In fact, the market has not one, not two, but four onsite butchers who do nothing but cut fresh meat and chicken for all Dutchman Hospitality properties, including their Der Dutchman restaurant in Walnut Creek, as well as the market. And they have their own in-house USDA inspector to ensure that every cut of meat is exceptional. "Bring a cooler with you," Booher suggested. "That way you can stock up for the holidays and beyond."

"We have people drive from all over just to get our hand-cut ribeye steaks," she shared. "They are that good."

Another destination item Booher recommended is the Berks line of hotdogs, from Pennsylvania. "People say they're the best they've ever had," she smiled.

So customer oriented is the Dutch Valley Market team that if you want, say, pork chops cut to a certain thickness, they'll gladly do it for you and have them waiting for you when you arrive. You can just call your order in ahead of time. "We'll do just about anything a customer wants," Booher assured.
Dutch Valley Market, which sells 100 choices of meats and 48 different cheeses, also serves as the main hub for the Der Dutchman line of prepared foods, like salad dressing, jams and jellies, and peanut butter spread. Love the fresh-baked cookies served at Carlisle Inn? Grab some chocolate chip or sugar cookie dough from the market to duplicate that warm and cozy feeling at home. You can do the same with the pie filling. On the day we spoke, Booher noted the culinary team was preparing peach pie filling and the place smelled amazing.

A wonderful way to gift someone this holiday season is with a basket full of goodies sold at the Market. Starting at just $6.99, it's easy to share your love of Amish Country with those you hold near and dear. "We typically have a nice variety of gift baskets ready to go in the store," she said. "But we're happy to customize."

And if your trip home doesn't leave room to fit a gift basket in the car, you can always order them online. The market will ship anywhere in the country.

Booher said that while the market does resemble a traditional grocer in some respects, it's the selection that creates the great divide. "We have a huge specialty foods offering," she shared, referencing the practically limitless selection of pancake mixes alone. Think pumpkin, apple cinnamon and blueberry, and you're on the right track.

Dutch Valley Market is located at 1411 Old Route 39 in Sugarcreek. You can find out more about this and the other properties owned by Dutchman Hospitality when you visit DutchmanHospitality.com. Hours are Monday-Saturday, 9 a.m-8 p.m.; closed Sunday. The phone number is 330-852-2631.