The lush beauty of nature is calling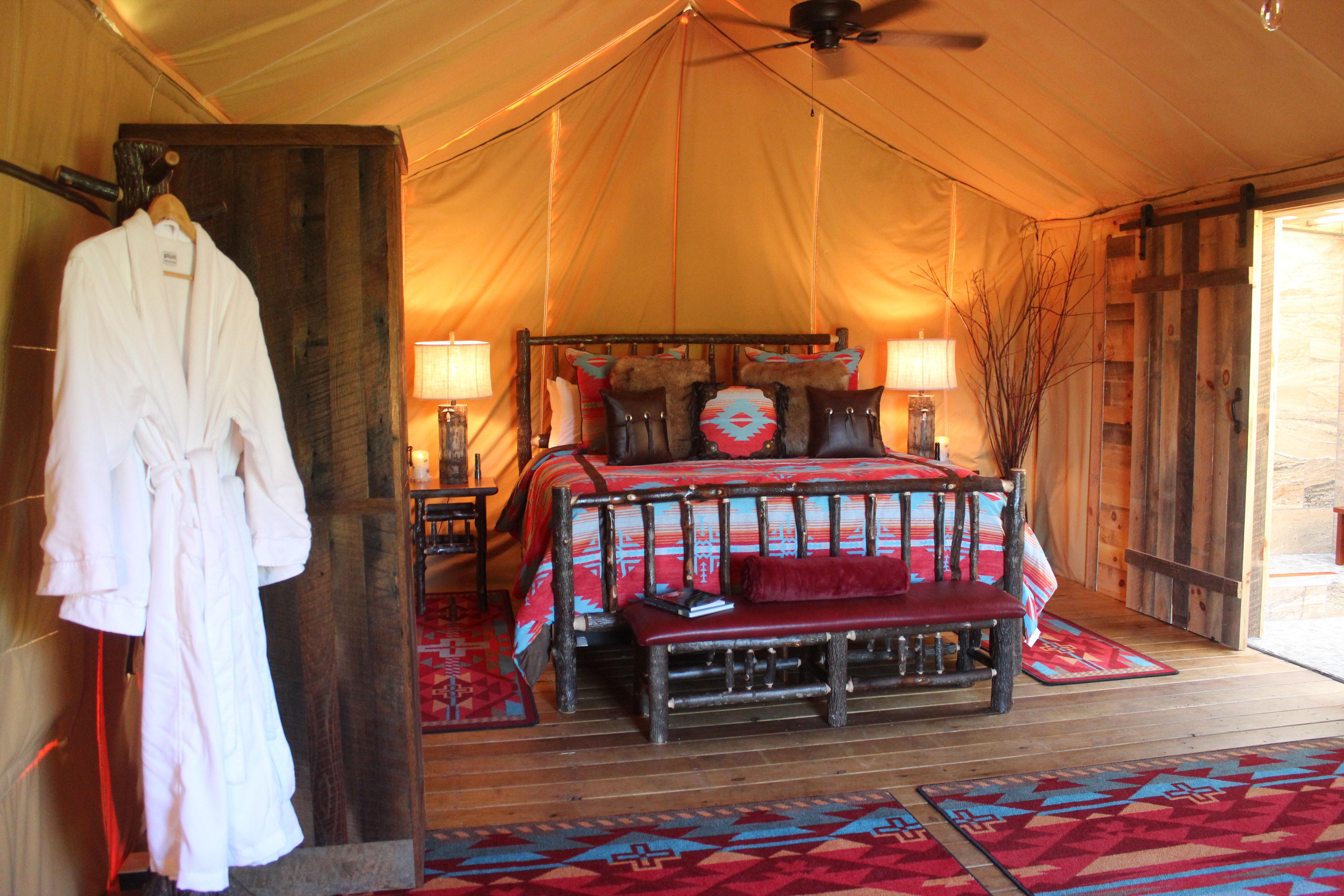 Submitted
Columbia Woodlands' glamping tents are temperature controlled and feature crystal chandeliers, marble bathrooms with showers, king-sized beds with lush linens, hardwood floors and refrigerators.
What a way to wake up in the solitude of nature. The birds are singing. The sun is beginning to peak out from over the rolling hills as the region's unique deer prance past your tent. From the comfort of your lavish king-sized bed, you begin to dream about the mouthwatering breakfast about to be delivered from the executive chef.
"Glamping is a wonderful way to experience nature without having to sleep on the ground," explained Brittany Post, lead reservation manager at Columbia Woodlands, an expansive 400-acre getaway that features posh cabins and opulent canvas tents. "It offers a nice compromise between couples when one wants to go camping and the other doesn't."
"Glamping — the fusion of glamorous accommodations and camping — is geared toward couples, families or friends who long for a quiet, peaceful escape without sacrificing the comforts and conveniences of home," said Alexa Imdorf, reservation specialist.
"Our glamping tents are like cabins on the inside and tents on the outside," Imdorf said. "They are temperature controlled. They feature crystal chandeliers and marble bathrooms with showers. They have king-sized beds with lush linens, hardwood floors and refrigerators. They are super fancy."
The one amenity the luxury tents don't have: WiFi.
"Our glamping tents invite you to be unplugged and disconnected," said Miranda Fortney, food and beverage manager at Columbia Woodlands. "It's an opportunity to unwind and notice the wildlife and spectacular landscapes instead of a picture on your cell phone."
Conveniently located off of Interstate 77, Columbia Woodlands offers four luxury tents and myriad activities, like fishing, hiking over 8 miles of trails, canoeing and swimming.
"If it's simple relaxation you're looking for, you might read a book in the Pavilion at the Meadows or enjoy a glass of wine under the stars," Fortney said.
The secluded property includes the Spring House Wedding and Event Center.
Attention to detail can be seen in every aspect of Columbia Woodlands — from the hand-carved rocking chairs to the carefully curated décor.
The four luxury tents, mounted on wooden platforms, are:
• The Red Feather Glamping Tent, made of real Native American canvas, features two king-sized beds, a cozy sitting area, en-suite with a double vanity and a custom-built front porch complete with relaxing Adirondack chairs.
• The Little Fawn Glamping Tent showcases one elaborate king-sized bed, an en-suite bathroom and an inviting front porch with a peaceful sitting area.
• The Whippoorwill Glamping Tent exudes coziness and tranquility, featuring a spacious king-sized bed and an en-suite bathroom with a stone shower that is encased by glass walls, imploring you to stare up at the night sky while you shower in luxury. The front porch sitting area is an ideal spot for bird watching or a glass of wine at sunset.
• The Eagles Nest Glamping Tent is built around a beautiful oak tree and features a majestic king-sized bed, sitting area, en-suite bath with a double vanity and a welcoming front porch with a cozy sitting area.
A fully stocked fire pit, an open-air pavilion and a common dining space are located near the tents.
"We strive to keep the property as natural as possible," Post said. "If a tree falls, it stays there. We allow wildflowers to grow. It gives our guests a genuine sense of nature."
Golf carts are included for guests who prefer a less strenuous tour around the grounds. A ride up to Ceremony Hill — which rises high above the city of Dover — is a popular Columbia Woodlands activity. The hill is an ideal place to view the sunrise or to unwind with a glass of wine.
"Columbia Woodlands is the rare venue where you can dine in nature with meals — like salmon, chicken or even boar — prepared to order and delivered by an executive chef," Fortney said.
Embrace an extended date night and experience Columbia Woodlands' rustic elegance at 6593 McKracken Drive NW in Dover, by calling 844-681-7500 and online through a virtual tour at ColumbiaWoodlands.com.