The lush beauty of nature is calling you for an outdoor adventure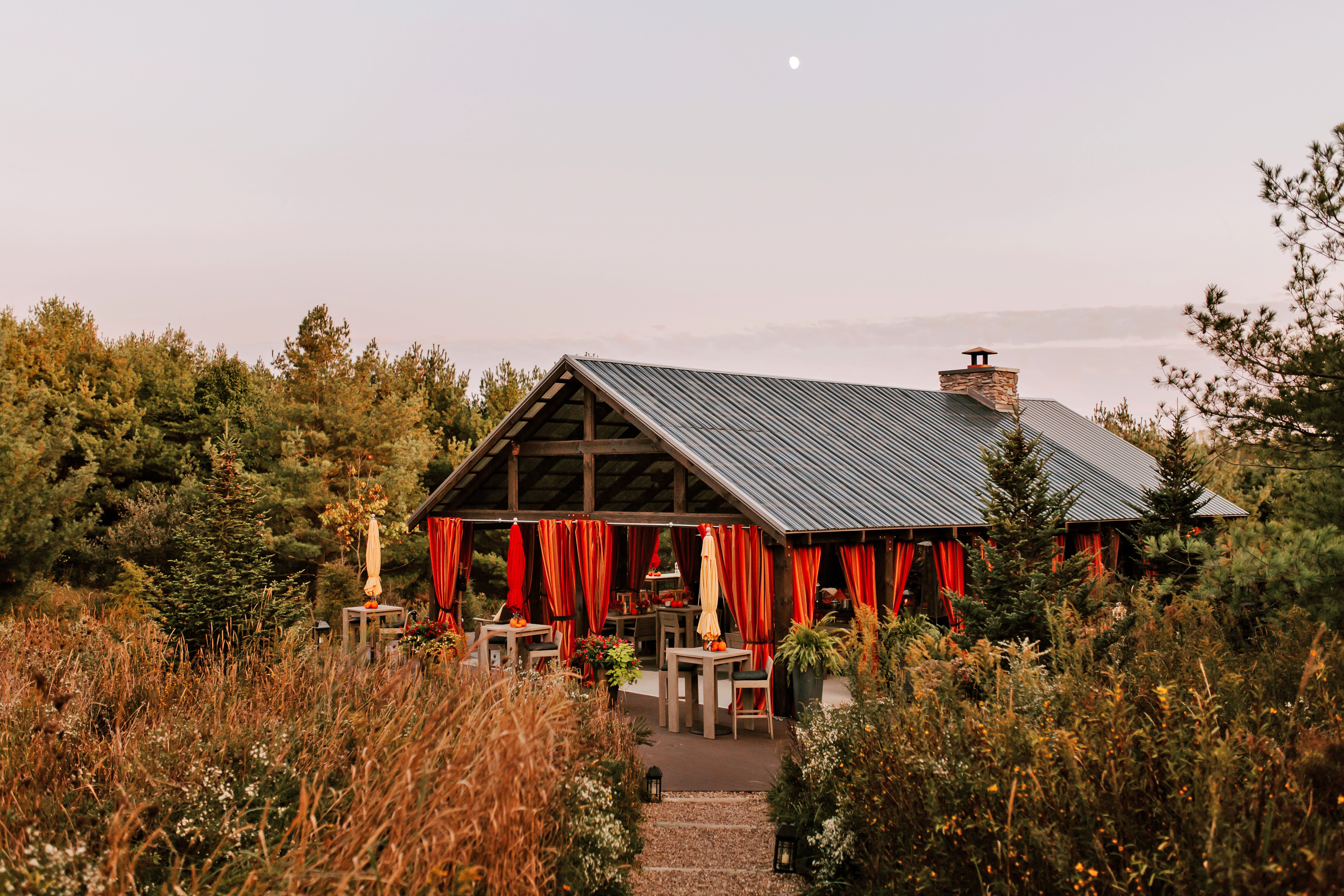 Submitted
Guests can gather at the massive open-air pavilion with leather seating and hot coffee. There's always an open hammock.
Tucked away on the edge of the small city of Dover, Ohio is a hidden gem secluded on 400 acres of lush beauty that only nature herself can create. Stashed within this natural wooded beauty are structures of luxurious rustic designs intended to blend the best of both worlds. This gem is none other than Columbia Woodlands, your all-inclusive luxury wedding resort destination. It is this place that precious memories are created and forever remembered. The rich rustic elegance is the perfect backdrop for that very special day where the closest of friends and family meet to celebrate such a joyful event.
The all-inclusive wedding resort exclusively reserves the entire 400 acres with all the amenities, services and accommodations that it has to offer for the bridal party and their selected honored guests to privately enjoy Friday through Sunday.
The luxurious turn-key cabins and glamping tents are also available for private reservations on the non-reserved wedding weekends for the general public. Many come to celebrate anniversaries, birthdays, family retreats and for some, quiet solitude. So whether the occasion is great or small, those moments will always be treasured and the enchanted Woodlands will beckon you to come back again.
"Details and cleanliness are our priority and we treat our guests like family," Woodlands' owner Lois Mason said. "Attention to detail is a priority here, all year round. Whether it be providing fishing equipment, bug spray or sunblock, chocolates, fresh cut wildflowers from the land, to our seasonal décor, wine and menu selection, every aspect of the anticipated needs and requests of our special guests is provided. We want our guests to relax and get lost in the beauty that surrounds them."
The all-inclusive wedding resort with the turn-key cabins and glamping tents can house 32 overnight guests, and the stunning Springhouse venue with its elegant outdoor pavilions accommodates 160 invited wedding guests total. Registered guests can tour the property in their personal golf cart, stopping at various chalets and ponds. They can visit the dock where there are canoes, paddle boards, fishing supplies and poles, streaming music, swimming and a covered seating area to relax and enjoy the shade.
"We have our 'beverage on a buggy' named 'BOB,' which is our own equipped golf cart fully stocked with premium liquor and two kegs that our mixologist provides on the 400 acres of property delivering to guests upon request," Woodlands' executive chef Natalie Gintz said. "We also do fireside experiences with our guests where we go to their cabin or tent and privately cook for them over their own firepit. We create a menu and serve a two- to four-course meal, starting with an appetizer such as bacon-wrapped jalapenos. Next, we bring out grilled romaine salads."
Dinner might include shrimp and salmon, charred pork-loin, strip or ribeye steaks along with sides like kettle-cooked beans or Mexican corn. Of course fireside dinners would not be complete without a campfire story. "It's a private experience where we cook, serve and entertain," Gintz said.
The glamping tents are seasonal, but the luxury cabins are available all year round. Dreamcatcher cabin is the most highly requested cabin. This sleeping beauty has a 10-foot-wide wraparound porch with a private hot tub and plenty of seating areas. Inside is a cozy great room with a beautiful stone wood-burning fireplace. It's a must see.
The largest cabin, Rockpath, comfortably sleeps 10 guests in five guest bedrooms. It also has a secluded screened-in porch with a large hot tub and beautiful stone fireplace creating a perfect combination for guests on chilly nights.
Sitting at the base of Many Springs Lake is Rising Sun cabin that sleeps four guests comfortably with a loft that overlooks a warm and cozy living room with an old-fashioned wood-burning stove. The master bedroom opens directly to a screened-in porch with a hot tub.
Lakeside cabin is another guest pleaser and comfortably sleeps four in two guest bedrooms with a loft that overlooks Many Springs Lake as well.
The luxury yet rustic glamping tents are Red Feather, which sleeps four; Little Fawn, Whippoorwill and Eagles Nest comfortably sleep two. All are spacious and have glass-ceiling en suite bathrooms welcoming the natural sunlight. All the tents surround the Meadows Pavilion, where tent guests gather to eat, cozy up on leather sofas nestled by a massive stone fireplace, and enjoy the grand outdoor views and big sky.
All tents and cabins have hammocks and access to a firepit surrounded by Adirondack chairs and their own private porch. Guests upon arrival are welcomed as family and specially treated and pampered with complimentary wine, charcuterie board, hand-crafted pastries and signature sangria.
"Our guests are our priority. We are here to serve them and make sure they have a memorable experience," Gintz said.

Embrace an extended date night and experience Columbia Woodlands' rustic elegance at 6593 McKracken Drive NW in Dover, by calling 844-681-7500 and online through a virtual tour at ColumbiaWoodlands.com.