A Shopping Adventure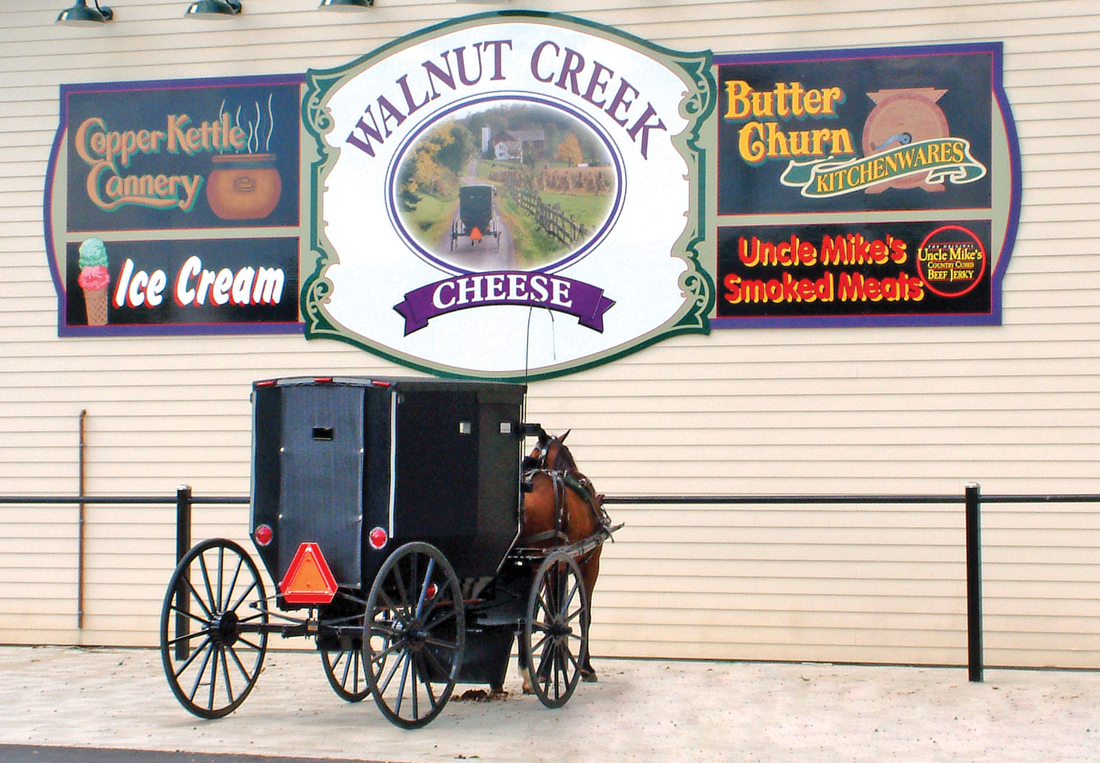 Although many visitors wouldn't consider returning home from Amish Country without an ample stash of fresh, locally made cheese, Walnut Creek Cheese isn't only about the region's most popular dairy product.

"We are a one-stop shop for any-body who is looking to indulge in all of the best things that Holmes County and the surrounding area has to offer," said Nick Blandin, manager of the Walnut Creek location. "We support our neighbors by emphasizing local products like Gerber's chicken and fresh produce — much of it from the Mt. Hope Auction. We carry just about anything you can imagine from Amish Country."

Walnut Creek Cheese, Blandin said, is more than just a place to load up with grocery items you probably won't find at home.

"It's an experience," he said. "We strive to make it an interesting and fun destination, with a lot of history and antiques spread all around. Besides our food market, we also have a fascinating Kitchenwares department where you can find some of the most unique items in Amish Country."

Another part of the Walnut Creek Cheese experience is enjoying local fare on site at the Mudd Valley Café, which features its popular Mudd Valley stacks.

"They're delicious meals in a bowl that include rice or homemade mashed potatoes covered with chicken or steak and a variety of toppings like salsa, cheese sauce or tortilla chips," Blandin said. "To be sure they are always fresh, we only serve them for a couple hours a day during lunchtime."
Mainly on weekends, authentic recipes are shared at the market's test kitchen.

"You can learn to make fantastic treats that range from simple to complex," Blandin said. "One of the most popular is one of the simplest — pulled pork using apple butter barbecue sauce from our cannery. It's wonderful for parties and tailgating — just put it in a Crock-Pot and forget about it."

Walnut Creek Foods' own Uncle Mike's beef jerky, Blandin said, is another staple of the Amish Country experience.

"It's a hot seller in more ways than one," he said. "People travel from all over the region for our locally made jerky and beef sticks."

Before your visit is complete, your nose undoubtedly will lead you to the on-site bakery, which specializes in hot cinnamon rolls and Walnut Creek's famous fry pies. More than 1,500 of the glazed, "folded pies" are sold weekly, Blandin said.

"Our bakery is a sight to see — and smell," he said. "My personal favorite is our dinner rolls — they go home with me quite often."

Blandin, who became the manager of the store in September 2019, said the energy of his enthusiastic customers make his job fun. "I enjoy meeting new customers and seeing regulars who I've come to know on a first-name basis," he said.
You can experience Walnut Creek Cheese at 2641 State Route 39 in Walnut Creek and at 4727 U.S. 62 in Berlin. You can find more information at WalnutCreekCheese.com.