Cherished & Blessed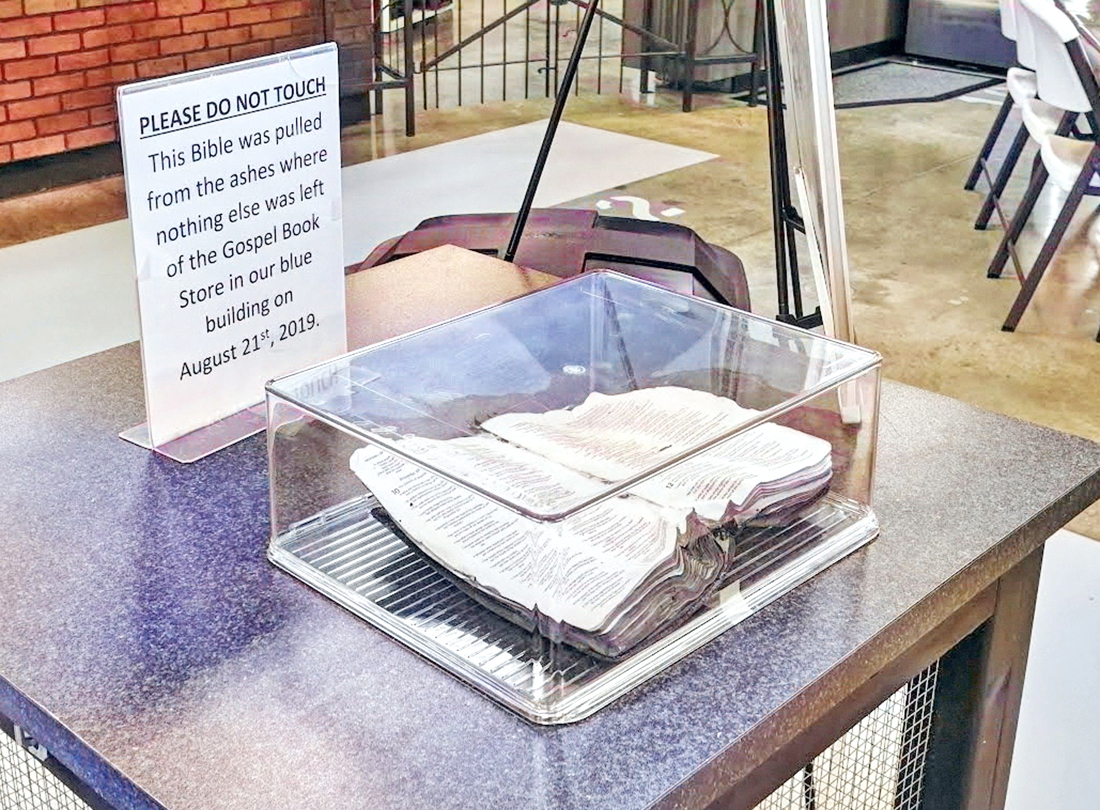 Randy L. McKee
Nothing was left except for one thing —a Bible from The Gospel Shop bookstore in Sugarcreek.
The Walnut Creek Amish Flea Market in Sugarcreek was built on faith. And when fire struck one of the market's buildings in 2019 and burned it to the ground, the flea market was able to rebuild and reopen in one year, with just one cherished memento surviving that fire and serving as a reminder that faith is all that really matters.
"The fire started after a lightning strike in August of 2019 and burned the blue building to the ground," general manager Januery Tango said. "Nothing was left except for one thing —a Bible from The Gospel Shop bookstore in Sugarcreek. It was pulled from the rubble, still readable and given to us by the owner who wanted us to have it as inspiration and encouragement for the new build process."
Visitors to the flea market can see the Bible, which is kept on display at the information desk in the Orange Building. And that Bible, along with several new vendors, is just one more reason to visit the Walnut Creek Amish Flea Market this spring. Made up of six color-named buildings with a recent expansion of 10,000 square feet, making it more than 70,000 square feet of space, the market features handmade items, specialty foods, crafts, home furnishings, toys, home and garden accessories and more.
"We reopened in September 2020, just one year after the fire," Tango said. "A year later, the Berlin flea market closed, and we absorbed many of those vendors here. We were thrilled to welcome them. They are a great asset to our market."
Tango said the most unique aspect of the Walnut Creek Amish Flea Market is with all of the vendors they try not to repeat the products and foods available. The entire market is on one level, all enclosed, heated and air-conditioned with access for visitors of all ages. Recent renovations have updated and added additional restrooms for the convenience of all visitors.
"These are all small, local businesses," Tango said. "Vendors offer one-of-a-kind products and foods, so visitors are constantly engaged, surprised and often educated by each vendor. There's always something new to see and learn."
This spring new vendors include Simply Elegant Boutique, located in the Yellow Building and specializing in Myra clothing and accessories, legging and tunics, and Aerothotic sandals and shoes. Teagan's Treasures offers home décor, and P. Graham Dunn offers faith-based signage, collectibles and antiques.
Welcoming visitors from March to mid-December, Thursday through Saturday from 9 a.m. to 5 p.m., the Walnut Creek Amish Flea Market invites you to come and shop, eat and discover the faith and perseverance that keeps this vibrant market going through hardships and setbacks, just like that Bible.

Find the Walnut Creek Amish Flea Market at 1900 OH-39 in Sugarcreek. For more information call 330-852-0181 or check the website at WalnutCreekAmishFleaMarket.com