Chestnut Ridge Sewing: for the sewing enthusiast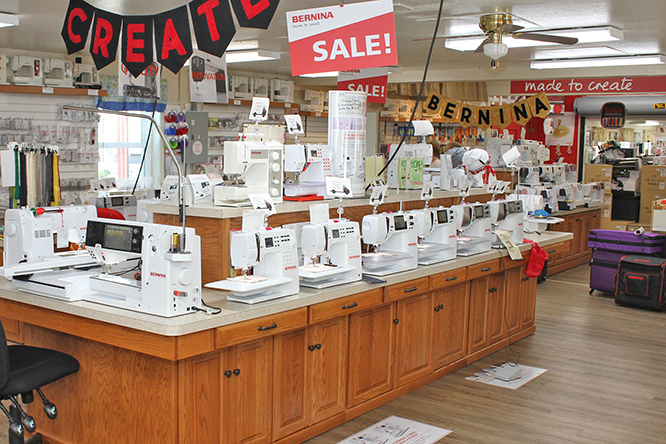 Randy L McKee
The classroom at Chestnut Ridge Sewing is flooded with natural light, which makes it an amazing place to sew. The room is filled with the hum of sewing machines as students work intently on sewing, quilting, and embroidery projects, while the instructor is there to guide them.
For the sewing enthusiast, walking into Chestnut Ridge Sewing for the first time is an unforgettable experience. Surrounded by new sewing machines waiting to be tested, everything needed to satisfy a love of sewing for the beginner or the skilled professional can be found.

From needles and thread to scissors and cutters, a full line of sewing notions and quilting fabrics are available. Chestnut Ridge Sewing also offers custom sewing chairs and locally made sewing cabinets, thread caddies and cutting tables.
While Chestnut Ridge Sewing first opened in 1985, Dawn Krier purchased the business in 2015. Since that time, Chestnut Ridge Sewing has been recognized as being one of the top 5 Bernina Dealers, 4 years in a row.
The store carries the full line of Bernina sewing machines, as well as sergers and embroidery machines, including all parts and accessories. When a customer purchases a new Bernina, they are offered complimentary classes to become familiar with their machine for up to two years.
Mike Miller heads the service department at Chestnut Ridge Sewing. Celebrating 27 years of experience and Bernina certification, Miller is the go-to guy for all service and repair needs. Hands-on experience has led Miller to develop a top-notch knowledge of his craft and has made him a much sought after technician.
While the store specializes in Bernina products, all makes and models of sewing machines can be serviced and repaired there.
When Krier and her staff aren't educating customers on the different features of the latest and greatest Bernina models, they can be found teaching or hosting special events in the 2,500 square foot classroom. They offer everything from purse and wallet making to embroidery and quilting classes and workshops taught by nationally recognized instructors.
Krier said signing up early is recommended, as classes and events often fill up quickly. Registration details are available on the website. Don't worry about bringing your machine to class. Chestnut Ridge Sewing has several classroom machines available to rent.
"Customers often bring in their latest projects to show us. It's really a warm and inviting atmosphere here. It's a happy place and a fun way to spend the day," Krier said.
The store hosts an annual Black Friday sale, this year on Friday, Nov. 27, along with its Small Business Saturday sale on Saturday, Nov. 28. During the event, enjoy some hot chocolate and cookies while saving 15% storewide (some exclusions apply), 25% off Bernina feet and accessories, and 25% off quilting fabric. Save up to 50% off MSRP on select Bernina and Bernette machines. See the store website for more details and savings. w
Chestnut Ridge Sewing is located at 5079 TR 401 between Walnut Creek and Berlin, just 3 miles east of Berlin. Regular store hours are Monday through Friday from 9 a.m. to 5 p.m., Saturday from 9 a.m. to 1 p.m. and closed on Sunday. The phone number is 330-893-3359, and the web address is www.chestnutridgesewing.com. Find them on Facebook and Instagram under the same name.