Crossing Paths With Perfection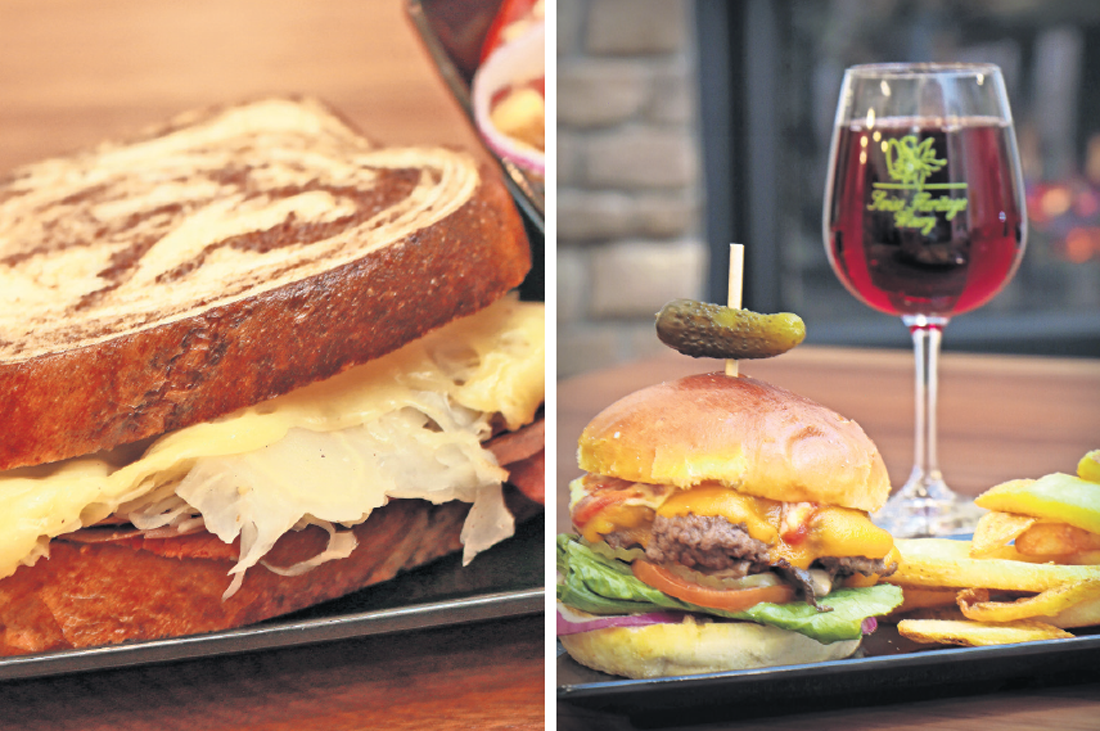 Some say Old Route 39 and Broad Run Dairy Road cross paths with perfection, and they might be right. At Hans' Place at Broad Run Corner, alongside the renowned Broad Run Cheesehouse and the award-winning Swiss Heritage Winery, you'll find something you don't come across too often in Amish Country — the perfect burger — and it comes with a side of thick-cut steak fries.
True, many come to Amish Country in pursuit of the best food, fresh from the farm, direct from the dairy. While they're never far off the mark, a good burger has remained elusive.
Not anymore. Just make a beeline for Broad Run Corner and head to Hans' Place. The burger is far from fast food.
"Our burgers are handmade, not the preformed frozen patties, and that makes the difference," Broad Run Corner President Chad Schindler said.
Broad Run Corner is the perfect place to stop for a bite to eat. After you've had your fill, you can still get locally grown fruits and vegetables, Troyer's Traditional Trail Bologna, and the handcrafted Swiss cheese that you visit Broad Run Cheesehouse for, and pick up a bottle of Swiss Heritage Winery's refreshing American Peach Wine.
Indeed, there's something for everyone at Broad Run Corner, including a finery shop, selling Amish curtains and lace.
"We're a cheese house, we're a winery, we're a restaurant, we serve beer and soft drinks, and everybody can find something on the menu, and we have an atmosphere — inside and out," Schindler said.
The deck at Hans' Place has atmosphere in abundance. Food always tastes better outside.
"People say when they're on the deck, they feel like they're in a treehouse," Schindler said. "The deck is tucked into something almost like a natural amphitheater, so instead of looking out, people look up and into the woods and waterfall."
Dining al fresco enlivens the senses, and every Saturday from 6:30-9:30 p.m., the deck becomes a venue for live music.
But, as always, Broad Run Corner invites you to relax, explore the grounds, savor the food and soak up the experience.
In addition to its American Peach Wine, the Swiss Heritage Winery has 17 other varieties of wine, including its Doggone Good wine, which beat out many California wineries to take home two platinum awards from the 2018 Monterey International Wine Competition.
The addition of the founder's namesake tavern, Hans' Place, and the Swiss Heritage Winery expanded the experience at Broad Run Corner, yet the feeling remains the same. Schindler preserves his father's legacy by committing to the same standards of quality.
And a day at Broad Run Corner will tell you, Broad Run Cheesehouse, the Swiss Heritage Winery and Hans' Place border on perfection.

Make a day of Broad Run Corner, 6011 Old Route 39 NW, Dover (330-343-4108). Broad Run Cheese's hours are Monday through Saturday from 9 a.m. to 6 p.m. Sample BroadRunCheese.com. Hans' Place and Swiss Heritage Winery's hours are Monday through Thursday 10 a.m. to 8 p.m. and Friday through Saturday 10 a.m. to 10 p.m.