Dutchman Hospitality reopens with fresh, new feel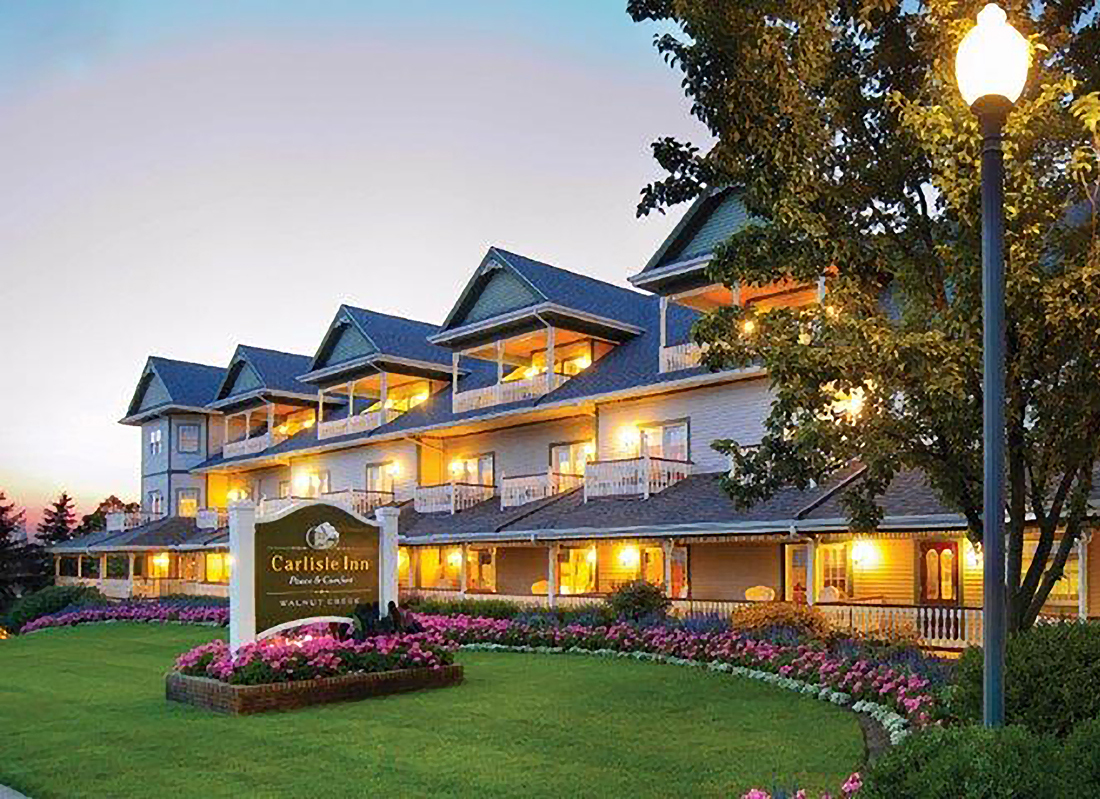 Jim Celuch
While many businesses struggled to navigate the pandemic, Dutchman Hospitality, owner of the Carlisle Inn Walnut Creek, decided to create an
opportunity.
"Staying at the Carlisle Inn Walnut Creek is an important part of many people's visit to Amish Country," said Jeanne Snyder, marketing director for the company. "And we're always trying to keep things fresh and inviting."

That's why during the pandemic, the team at Dutchman Hospitality opted to temporarily close the 56-room inn for re-modeling. And judging by the spectacular end result, the downtime was well spent.

"We've redesigned our lobby area and refreshed the look and feel through-out," Snyder said. Everything that's been touched was done with guest comfort and enjoyment in mind."

We've stayed true to our roots and the community by keeping classic elements, but added some modern conveniences as well."

Artwork throughout the inn was lovingly curated and represents the handcraft traditions that characterize rural life in America. "Our collection of quilts, quilt blocks, crochet and cross stitch combined with vintage glass and woodworking is a tribute to the artisans of the area and expresses nostalgia for a simpler time of hospitality," Snyder said.

Of particular note is the Basket Quilt. Rescued from an Amish Country antique store, this quilt is likely an 1890s southern quilt and features a rare teal color. "It's very unusual to find an antique quilt with such striking colors," Snyder said. "In fact, the block pattern with four baskets turned in is very rare."
Along with curating just the right art, the team made sure to include modern amenities in every spacious room, like enhanced WiFi and updated furnishings.

"Being at the Carlisle Inn really affects people," Snyder said. "They love coming here to unwind and get away from it all." And while the fresh, relaxing new touches throughout are lovely, nothing inside can rival the view outside. "It's really breathtaking," she said. "There's nothing else like it in the area. Our guests love spending quiet time on the patio outside, just immersing themselves in the view. It's such a special place to be."


People travel from all parts of Ohio and beyond to immerse themselves in those gorgeous views, the attentive service and now the fabulous, fresh look. Evening snacks along with a deluxe continental breakfast, take the experience to an entirely different level.

Within steps of the inn, you'll find the company's other flagship properties, Der Dutchman Restaurant and Carlisle Gifts, as well as other shops to explore.
To plan your visit to one of Dutchman Hospitality's inns, restaurants or the theater, call 1-855-400-2275. The web address to locate all properties owned and operated by Dutchman Hospitality Group is DHGroup.com. For updates on business hours and current operational practices, please call the number listed here. Dutchman is committed to offering an extraordinary guest experience with safety at the forefront.