Experience the Hartville Tradition & Create Memories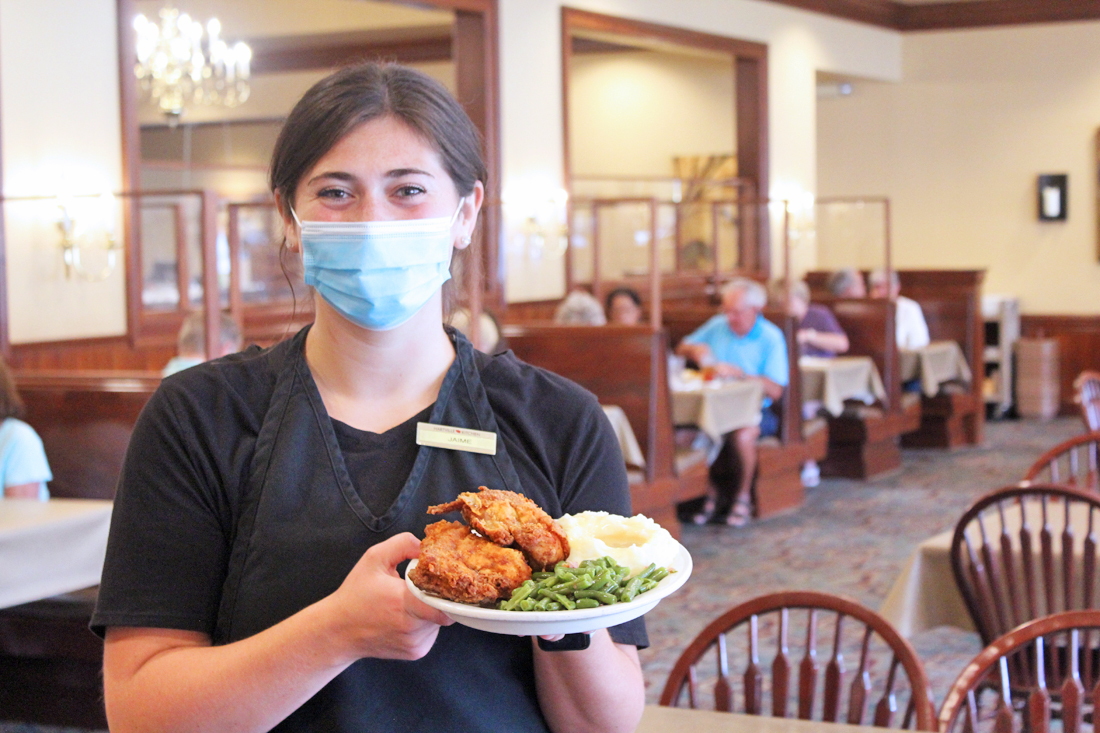 Perfectly situated on 200 generous acres, a trip to the Experience Hartville campus is like no other. Here you'll find the Hartville Marketplace & Flea Market, Hartville Hardware, and Hartville Kitchen Restaurant, Bakery and The Shops.

"My great grandfather started the business as a livestock auction," said Seth Coblentz, fourth-generation owner and general manager of the Marketplace. "Over the years we've grown to include an outdoor fl ea market, indoor shops and eateries, an enormous hardware store and so much more. This is the perfect place to experience all of the area's quaint traditions while creating new family memories." And no matter when you decide to visit, it's never the same experience twice. The award-winning Comfort Suites right next door offers guests a perfect overnight stay option to extend their visit over more than one day.
Outdoor Flea Market
12 acres of treasures and delights for collectors and bargain hunters alike, Hartville Outdoor Flea Market features hundreds of vendors with everything from new to antiques to garage sale finds. " On Saturdays, we also have a farmers market with fresh local produce and plants," Coblentz said. The outdoor flea market features everything from new items to antiques to garage sale treasures.

Hartville Marketplace
Boasting three acres of indoor shopping, the Hartville Marketplace features items you won't find anywhere else. "Shopping here is an experience like no other." Coblentz said. "These aren't the same stores you'll find in the mall: they are all locally owned and operated, with something for everyone."
Hartville Kitchen Restaurant, Bakery and The Shops
Once you've finished exploring every corner of the property, you'll want to bring your appetite straight to the Hartville Kitchen Restaurant with seating for over 400 that is naturally designed for social distancing. "Our homestyle cooking is widely appreciated because everything is made from scratch. We even peel all of the potatoes by hand for our mashed potatoes and make our own salad dressings," shared Christa Kozy, Marketing and Group Tours coordinator for the family-owned restaurant. Hartville Kitchen also boasts eight banquet rooms, with dinner concerts taking place throughout the year. The Hartville Bakery is front and center offering fresh-baked goodies available for purchase to enjoy at home.
Whether before or after your meal, a visit to The Shops at Hartville Kitchen is an absolute must. The Shops offer an elevated level of shopping that includes name brands in gifts and fashion, a candy store, home decor shop and upstairs toy store with a children's play area.
Hartville Hardware & Lumber
"People often marvel that our hardware store is like the FAO Schwarz of home improvement," said Katherine Merkle, Marketing Director for the store.
The magnificent 305-thousand-plus square feet of home improvement and enrichment goods is enough to make even the most basic home improvement or decorating enthusiast feel like a kid in a candy shop. If you're like me, you'll find yourself marveling over the sheer variety in each category. Things you didn't even realize existed can be found here. "People love to touch, feel and experience what they're buying, particularly when it's going into their home. A visit here is as immersive as it is satisfying," Merkle added.
Take, for example, the 1,830-square-foot Idea House located inside the store (yes, inside the store). It's fully outfitted with items you can find right in the store and has been created to provide inspiration.

"Our focus is on creating customers for life," Merkle said. "Everything we do centers around our business philosophy of putting God first and treating others the way we want to be treated. We go above and beyond to cater to the over half-million guests we serve each year, and we look forward to welcoming them back for years to come."

Safe Special Events
The list of special events on the Experience Hartville campus is always changing - check websites for current activities. One thing every guest can count on is the opportunity to safely capture their memories and share them with family and friends. To help you celebrate your Hartville experience, photo opportunities around the campus abound. For example, the giant Adirondack chair outside the Hardware is a memory-making must. And, inside the restaurant, an oversized heart represents the perfect selfe spot.

"Our guests love immersing themselves in everything we have to offer here, and we look forward to welcoming them on their next visit."

The Experience Hartville campus is located at 1015 Edison Street in Hartville. The phone number is 330-877-9353 and the web address is ExperienceHartville.com. Hours and more information can be found online.