Kick off the holidays right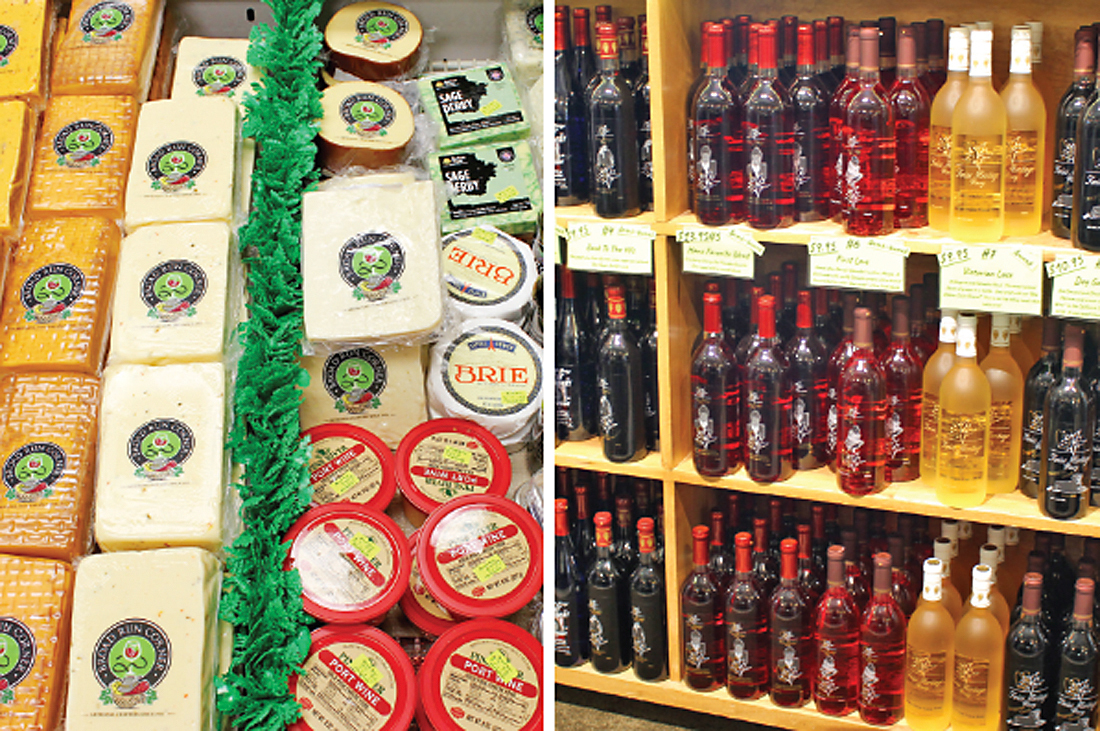 Randy L. McKee
You may know the award-winning cheese house, the equally noteworthy winery and the crowd-pleasing tavern at Old Route 39 and Broad Run Dairy Road, but a peek around Broad Run Corner reveals there's more in store.

"I always encourage folks to take a look at the gift shop," said Chad Schindler, president of Broad Run Corner. "This time of year, the changing leaves are spectacular. And before you know it, the holidays will be here."

For many folks, the traditional kickoff to the holiday season is a trip to Broad Run Corner. In between experiencing the cheese house, the Swiss Heritage Winery and the stunning fall foliage enveloping the expansive deck at Hans' Place, visitors can check everyone off their holiday gift list. They can pick up a few other things to make the sea-son extra merry and bright as well, including two new reds.

One is a malbec, and the other is a tempranillo," Schindler said. "The malbec has floral notes, violet and black tea notes. It's Argentina's most popular wine, and we're making it American style. It's still a dry red, but ours has a touch of sweetness for those folks who typically drink sweet wines but are transitioning over to drier styles."
Typically, malbecs are aged in French oak barrels, but Broad Run Corner aged its take in stainless steel for an uncompromising flavor profile. Its new tempranillo, on the other hand, is aged in American oak casks.

Broad Run Corner is truly a place to find one-of-a-kind gifts.
"You can find décor — doilies, table runners, tablecloths — that will fit the farmhouse look, the Victorian look, the contemporary look and the shabby chic look," said Cindy Festi, manager of Broad Run Corner.
"There's a boutique, where you will find tops, wraps, jackets, sweaters, and accessories like crossbody and shoulder bags, scarves and hats, and gloves and socks."
There's more to catch the eye.

"Don't miss the 'Life is Too Short Not to Sparkle' line," Festi said. "We also have jewelry that will make you smile and put a twinkle in your eye.

"There are stocking stuffers galore, like kitchen gadgets, homemade lotions and soaps, jellies, mustards, sauces, crackers, chips, and candy. Of course, we also feature our award-winning wines and cheeses. Wine without cheese is like a hug without a squeeze.

Wine and cheese go great together, especially topped with a bow around the holidays. Broad Run Corner makes it easy to check off everyone on your gift list, expertly pairing premade gift boxes and deftly bringing together made-to-order gift boxes."

There's always more in store. From one season to the next, there's live music every Saturday night. When the fall turns into winter, the music moves inside just in time to ring in the new year with a buffet.

Make a day of Broad Run Corner, 6011 Old Route 39 NW, Dover. The phone number is 330-343-4108. Hours are Mon-day through Saturday from 9 a.m. to 6 p.m. Hans' Place is open Monday through Thurs-day from 10 a.m. to 8 p.m. and Friday and Saturday from 10 a.m. to 10 p.m. Sample BroadRunCheese.com and make your night at SwissHeritageWines.com.