Master Ship Builder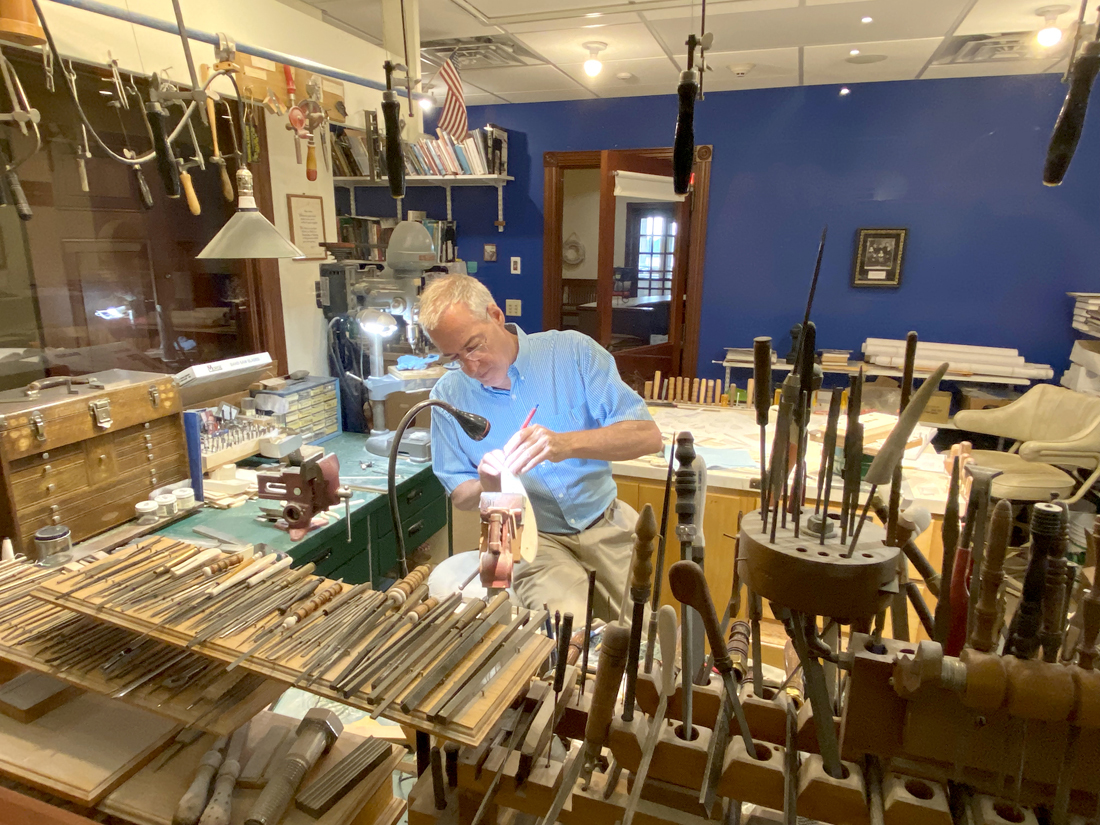 Listening to David Warther talk about the variety of finely crafted ivory ships at the David Warther Carvings Museum is likely to give visitors several insights into a new world. First is Warther is incredibly knowledgeable about the 90 ivory vesselsthat create the aura in the five museum showrooms. Second is the detail in these ivory sculptures is incredible, and Warther has been blessed with a unique gift. Third is Warther, a fifth-generation carver, is passionate about not just crafting these sculptures, but also learning the history of each and sharing it with the public.
His carved ships are built out of antique ivory, ebony wood and abalone pearl, and his collection takes visitors on the history of ships from 3000 B.C. to today.

Recently, Warther completed ship number 90, and "Young America" joined the fleet of 90 ivory ships at the local non-profit museum on state Route 39 between Sugarcreek and Walnut Creek.

According to Warther, the clipper ship, "Young America," left Delaware Bay, setting sail across the Atlantic Ocean. It never arrived in Europe.

"Back then, before wireless, you knew your ship was gone when it didn't show up when it was supposed to show up," Warther said. "This was an old ship bound for Russia with a load of oil. It would often be months later that word would return that the ship was lost, and almost always the entire crew would go down with the ship because they would struggle every moment to save the ship rather than getting exposed to a horrible death in a lifeboat."

Warther never worried about making anything special for his 90th ship and admittedly doesn't plan on making number 100 anything grandiose. He simply bides his time as the organizations release blueprints from new finds that sunk to the bottom of the ocean or were even buried.

He started working on "Young America" in May 2020 and put the finishing touches on it in June 2021. It was one of the lengthier works of art he has produced. Like most of the ships he creates that are dated after 1492, this one is 1/16th-scale inch to foot.

As a member of the Institute of Nautical Archaeology, Warther is privy to the progress of many of the ships lost at sea or in battle over the centuries, and with today's technology, more ships are being located and rescued, and the blueprints are being presented, blueprints Warther can obtain and use in his ivory sculptures, which rotate on wooden stands on red velvet tables bathed in light that accentuates all of those minute details.

Warther said he is constantly exploring underwater archaeology in hopes of discovering a major find to carve. He also makes sure he is using ivory from the tusks of elephants that have died natural deaths, something he remains adamant about.

For his 90th ship, he was armed with eight blueprints that laid scattered all over the floor as he began investing time in architecting this most recent effort. He said he poured over the blueprints, trying to narrow down which he would like to use, and the choice came down to "Young America" and another ship named "Red Jacket."
"It was a toss-up, so I decided to go with 'Young America' and figured I'd do 'Red Jacket' for my next ship," Warther said.

"Red Jacket" will have to wait again because Warther, who makes specialty musical instrument parts as his real paying gig, will now turn his attention to another vessel for which he has waited patiently. Ship number 91 holds a dear spot in Warther's heart. He is currently working on the "HMS Mary Rose," a British ship he has been waiting on seemingly forever.

"While I was working on 'Young America,' the blueprints became available for a ship I'd been working to get for 37 years," Warther said. "'Mary Rose' was one of King Henry VIII's ships from the 1500s and was a big part of his fleet."

He said "Mary Rose" came off the sea-bed in the 1970s, and in 1983 he contacted the Mary Rose Foundation in hopes of securing the blueprints for the warship. That year the director of the foundation told Warther to give him 20 years because this was a major undertaking in England. Warther continued to check on the blue-prints, beginning 20 years ago and moving forward, and the prints finally became available in August 2020.

"I've had to wait patiently, but it's worth it," Warther said.

While "Red Jacket" was slated for 91, when "HMS Mary Rose" became available, he knew it would have to wait.

Warther said the warship was known for its tall castles, which were what sent it to its watery grave when it capsized in a battle with the French and took on water as it entered the battle. Because of the weight, it went over, sank straight down, taking all 500 crew members with it.

It was a long wait, but a wait Warther is certain was worth it.

In the meantime, as he works diligently on carving "Mary Rose," 90 other ivory carvings are waiting to tell their story at the museum.

David Warther Carvings Museum is open year round outside of a three-week span when Warther goes on vacation in the winter. To learn more about the museum and to find the hours, visit www.warther.org.