Producing Good Fruit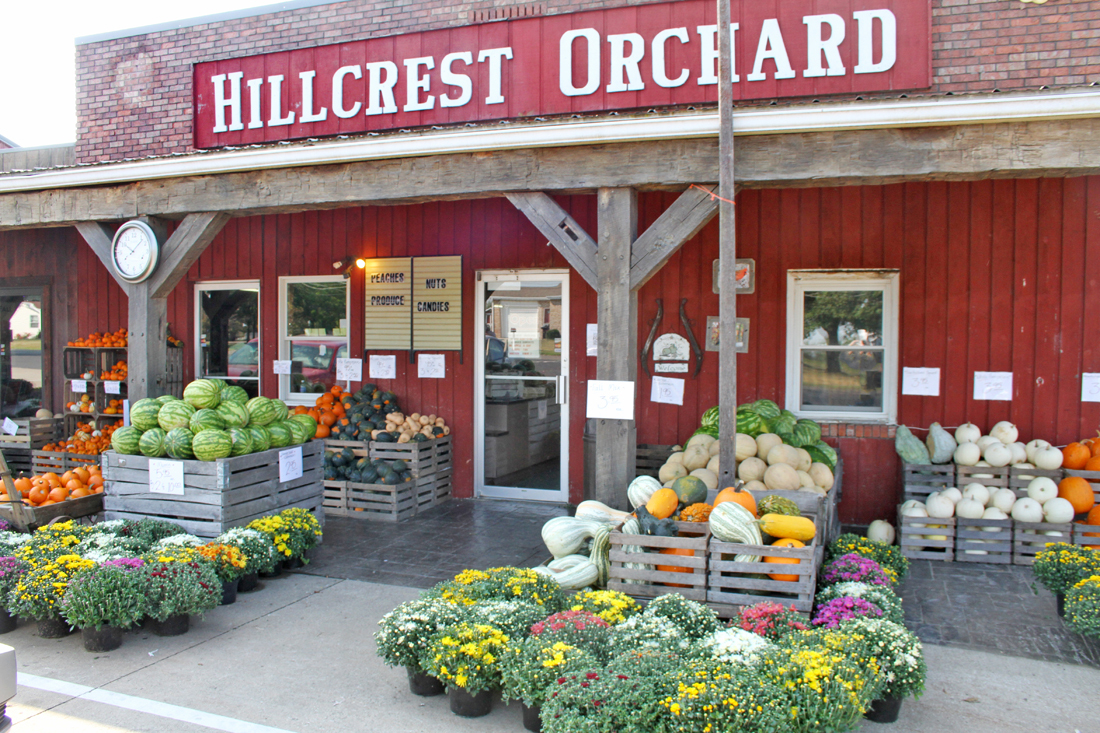 Randy L. McKee
The next time you bite into a fresh, juicy apple or peach, you should know you are enjoying the actual fruits of someone's labor — someone like Merle Hershberger and his wife, Lela, owners of Hillcrest Orchard in Walnut Creek.

The first fruit trees were planted here by Merle Hershberger's ancestors in 1927, and the orchard has been producing fresh fruits for locals and visitors ever since.
"After my mother and father were married, my father, Jake Hershberger, bought the orchard from his father-in-law, Lester Troyer, in 1968, the year I was born," Merle Hershberger said. "You could say I was born to run Hillcrest Orchard."

In fact, Hershberger and all his six siblings grew up working the family orchard that has grown from 35 acres in 1927 to 80 acres today.

"Ten acres are devoted to peach trees, and the rest is apple trees," Hershberger said. "All of our fruit is then sold at our family market, Hillcrest Orchard of Walnut Creek, along with items like unpasteurized cider, other local produce, nuts, candy, honey, jams and jellies, meats and cheeses, and fall seasonal decor. It's a great place to visit."
But just what does it take to get that fruit from the tree to the market? The Hershberger family would say it's a lot of hard work, faith, devotion and a little bit of luck.
Just this year, the family has planted more than 7,000 new trees at Hillcrest Orchard, and most of the work is now done by Merle and Lela Hershberger's five children, Jonadam, Mark, Matt, Josh and Grace, along with Merle's brother, Dwayne, and their father, Jake, who, at 83 years old, still does his fair share.

"There's a lot of work on the farm to keep everyone busy," Hershberger said.

"We're either planting new trees, spraying, pruning, mowing, harvesting or cleaning up depending on the time of year."

And you can pick your own apples at Hillcrest Orchard from Friday, Sept. 1 through Monday, Oct. 30. Choose from Hillcrest's 22 varieties of apples and 12 varieties of peaches, with new varieties always being introduced.

"There's a lot of good programming going on to develop new varieties of apples," Hershberger said. "We pay close attention to what's new and make sure to include it at Hillcrest."

Hillcrest doesn't start its own trees. Fruit trees are purchased from farms and nurseries mainly in New York state.

"Once the trees are planted here, it takes about three years before crops can be harvested," Hershberger said. "Sometimes fruit can be harvested earlier, but usually the tree needs to become more established to bear fruit, and that is most often year three."

The Hershberger family, along with part-time employees needed in the fall harvesting season, keep Hillcrest Orchard thriving.

"My favorite part is that there's always something different going on," Hershberger said, "and working with my family every day. It's hard work, but we all feel very blessed to do this and provide our community with the true fruits of our labors."

The life of a farmer means that even after all that hard work, there's still one thing that remains out of their control — and that's the weather.

"The two things that can reduce or potentially destroy a harvest are a frost of below 30 degrees in spring and a hail-storm," Hershberger said. "Drought is also dangerous, but we don't worry much about that here in Ohio. At the end of the day, we know we've done all we can do, and the rest is out of our hands. Either way, we are thankful."

Hershberger said some Hillcrest Orchard customers have been coming there since his father was running the farm and enjoy seeing Merle and his family now operating the family business.

"This community has always been very supportive of my family, and peo-ple enjoy seeing my children and even grandchildren working here," Hershberger said. "Hillcrest Orchard is a happy place to visit."

Hillcrest Orchard of Walnut Creek Ltd. is located at 2474 Walnut St. (Township Road 444), Walnut Creek. For business hours and more information, call 330-893-9906.