Rediscover the simple life at Yoder's Amish Home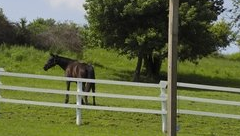 Yoder's Amish Home is the perfect place to begin any visit to Amish Country. This 116-acre farm provides visitors a close-up view of a way of life they may only glimpse as they drive past the homes and farms dotting the hills of Holmes and surrounding counties.

An educational and interactive visitor center, Yoder's Amish Home began more than 25 years ago when Eli and Gloria Yoder purchased the neglected farm in 1972. At the time of its purchase, the farm had been a rental property for several years. Gloria remembers that one of the farm's two homes was being used as a chicken coop. In time, the couple decided to use the farm as a way to educate visitors to the area about the Amish way of life.

The two had an ideal background for this venture. As a child, Eli had lived in an Old Order Amish home until the age of 21. Gloria was the only "English" child in her school near Mt. Hope. The two were neighbors- growing up only a half mile from each other. With their past rooted in this culture and community, they thought it would be a great idea to share their heritage with the visitors that come from all over the world. Their inspiration may have been a result of some early visits to the Lancaster, Pennsylvania area, where tourists learn about the Amish way of life.

Twenty years ago, when they started their venture, there were few places for guests to find reliable information about the Amish lifestyle. Today, although there may be several venues, Yoder's Amish Home is unique because of its insistence on authenticity. Their low-key approach focuses on the interaction between guests and the guides- many of whom are Amish. Guided tours of the 10-room present day home and an 1866 Amish home allows guests to compare past and present Amish life. The original bank-style barn is full of livestock, including sheep, a goat, draft horses, a standard-bred buggy horse, a donkey and many smaller critters such as chickens, ducks, rabbits, and, of course, cats and dogs and their offspring.

Trent Yoder, Eli and Gloria's son, is the farm manager. He is responsible for finding helpers to work on the farm. He also bales hay and oversees the gardens and food production that keep the farm sustainable. Employees at Yoder's Amish Home are intimately familiar with the Amish lifestyle. Some, such as the young women who bake and can fruit and garden produce in the farm kitchen, come to work from their own Amish homes. Buggy drivers are also usually Amish. Others, such as the tour guides, may be Mennonite, or have grown up in Amish homes. Both guests and hosts enjoy the opportunity to talk about their lives and learn from one another. Buggy rides and hayrides offer the perfect chance for conversation and provide a relaxed atmosphere for the inevitable question and answer session. The picnic tables at the edge of the lawn are a favorite spot for visitors to linger and savor the peaceful atmosphere- sometimes for hours after they complete the tour.

There are unique attractions at the farm that vary with the seasons. In the springtime, children will enjoy seeing (and maybe even holding) new puppies and kittens. They might see a baby colt or newly hatched chicks. The small garden will be spaded up and lettuce and onions planted. A bit later, "the patch" will be started to provide the kitchen with produce for canning. Flowers will be set out in the typical "plain folks" way, to add color and beauty to garden plots. During the summer, crops will be harvested and animals will be let out to graze. Come fall, helpers will begin the big job of apple butter stirring- a task anyone can help with. In late winter, a chance to experience old-time butchering, as it was practiced years ago and is still often done on some local Amish farms today, is offered. While most city folks like to forget the origins of their dinner, older folks like a chance to remember a bygone era- a time when farm and food came together in this annual ritual.

The Yoders have added an Amish school on the property, to educate visitors about the school system that serves the area. Inside, the walls are decorated in typical fashion and textbooks give a glimpse of the lessons learned in area schools. In the summer, young women who are teachers in local Amish schools play host to visitors to the schoolhouse. At other times, the guides are women who may have taught in such schools in the past.

The gift shop at Yoder's Amish Home is sure to provide a souvenir of the day- whether it's an Amish doll, handwoven basket, or tasty baked goods or jams and jellies cooked in the farm kitchen. Don't forget to look for the apple butter! Yoder noted that some years ago it was difficult to find local crafts for the gift shop. Fortunately, that has changed in recent years as local crafters discover from visitors how much their skills and wares are valued.

Find this tranquil educational farm at 6050 Township Road 515, located between Walnut Creek and Trail, (the mailing address is Millersburg, Ohio). Yoder's Amish Home is open from mid-April through the end of October, six days a week, including holidays, and is always closed on Sunday. Contact them by phone at 330-893-2541, or visit the Web site at www.yodersamishhome.com.