Rising from the ashes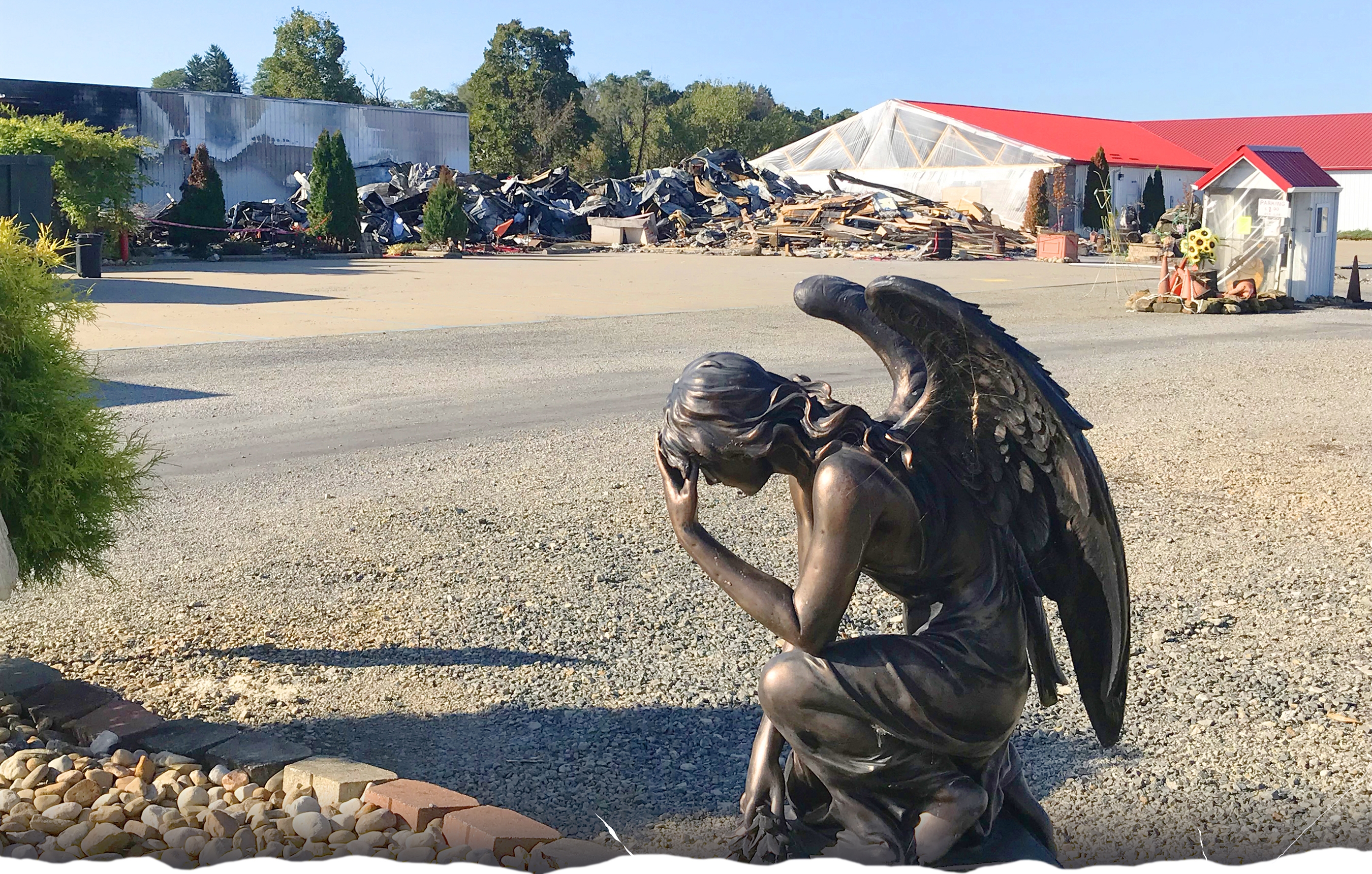 Dave Mast
Nearly all of the market's previous vendors will return along with several new vendors after the rebuild and expansion.
When an August 2019 fire decimated the 55,000-square-foot Walnut Creek Amish Flea Market, locals and customers from across Ohio and beyond were heartbroken. "Mother Nature dealt us a pretty hefty blow," said Ashley Spears, manager of the complex. "A lightning strike started the fire, which was contained to the front part of the building by the fire doors. However, smoke and water damage destroyed the rest of the building."
With the 2019 season a total loss, the team is gearing up for a fresh, grand reopening in 2020. "While navigating the devastation has been tough on everyone involved, we're excited to rebuild and relaunch for the 2020 season," Spears said. "The community support has been overwhelming, and our dedicated vendors are committed to coming back."
In fact, Spears said, nearly all of the market's previous vendors will return along with several new vendors after the expansion. "Although we suffered great loss from the fire, we're looking at it as an opportunity to reinvent ourselves," Spears said. "We're redesigning the interior of the market to allow for an even better shopping experience. Our selection was outstanding, and now it's going to be just a little bit better."
As is the way with most flea markets, Walnut Creek Amish Flea Market features a little bit of everything — from vintage, to collectible, to brand new and everything in between.
"People on the hunt for a fabulous find will definitely find it here," Spears said. "But those who want to save on brand-new electronics and other goods will also be able to score a bargain."
And with more than 60 vendors, the opportunities to do exactly that are plentiful. You'll find locally made goods like soaps, lotions and lip balms, home-improvement products, crafts, furniture, jewelry, candles, clothing and so much more.
"The quality and variety of products we offer in beautiful Amish Country brings customers in from all over the world."
"We're known for our giveaways," she said. "Our monthly giveaways are prize packages that often include food, lodging and area attractions. We give big, and there's no purchase necessary to win. On our Facebook page, winning is as easy as liking and sharing a post."
Every weekend, live entertainment delights visitors, and during the holidays, family-friendly events like a visit from Santa or the Easter Bunny encourage families to stop and stay a while. Pets are always welcome, and the best way to keep up with what's happening at the market on any given day is to like them on Facebook and Instagram or visit the website.
With a bus-friendly parking lot, tour groups are encouraged to visit the market with no reservation needed. Spears said they give incentives to guides and drivers to encourage them to bring their groups by.
Walnut Creek Amish Flea Market is as famous for its delectable eats as it is for its fabulous finds. Grandma Schrock's kitchen is hosted by an Amish woman who puts a delicious spin on country favorites like noodles, mashed potatoes and gravy, and chicken. "She makes tasty soups and a number of other items from scratch," Spears said.
Sugar Cookies Coffee Shop is where you'll find homemade bakery and aromatic brews. Mainstreet Fudge boasts a 40-flavor popcorn assortment along with fudge and homemade, hand-dipped ice cream.
And because the expanse of the market exists on one floor, it's easy for anyone of any age to navigate. A color-coded, numbered and named map makes it even easier. "We offer club carts to shuttle people to and from the back of the parking lot and are happy to help our guests load and unload their purchases," Spears said.

Visit Walnut Creek Amish Flea Market for their reopening in 2020. Be sure to follow them on Facebook and Instagram, visit their website, or email info@wcfleamarket.com for updates, progress reports and for their official reopening date in 2020. The market is located at 1900 OH-39 in Sugarcreek. Parking is just $1. The phone number is 330-852-0181. Visit the website at WalnutCreekAmishFleaMarket.com. For hours and more information, visit the website.