Service with style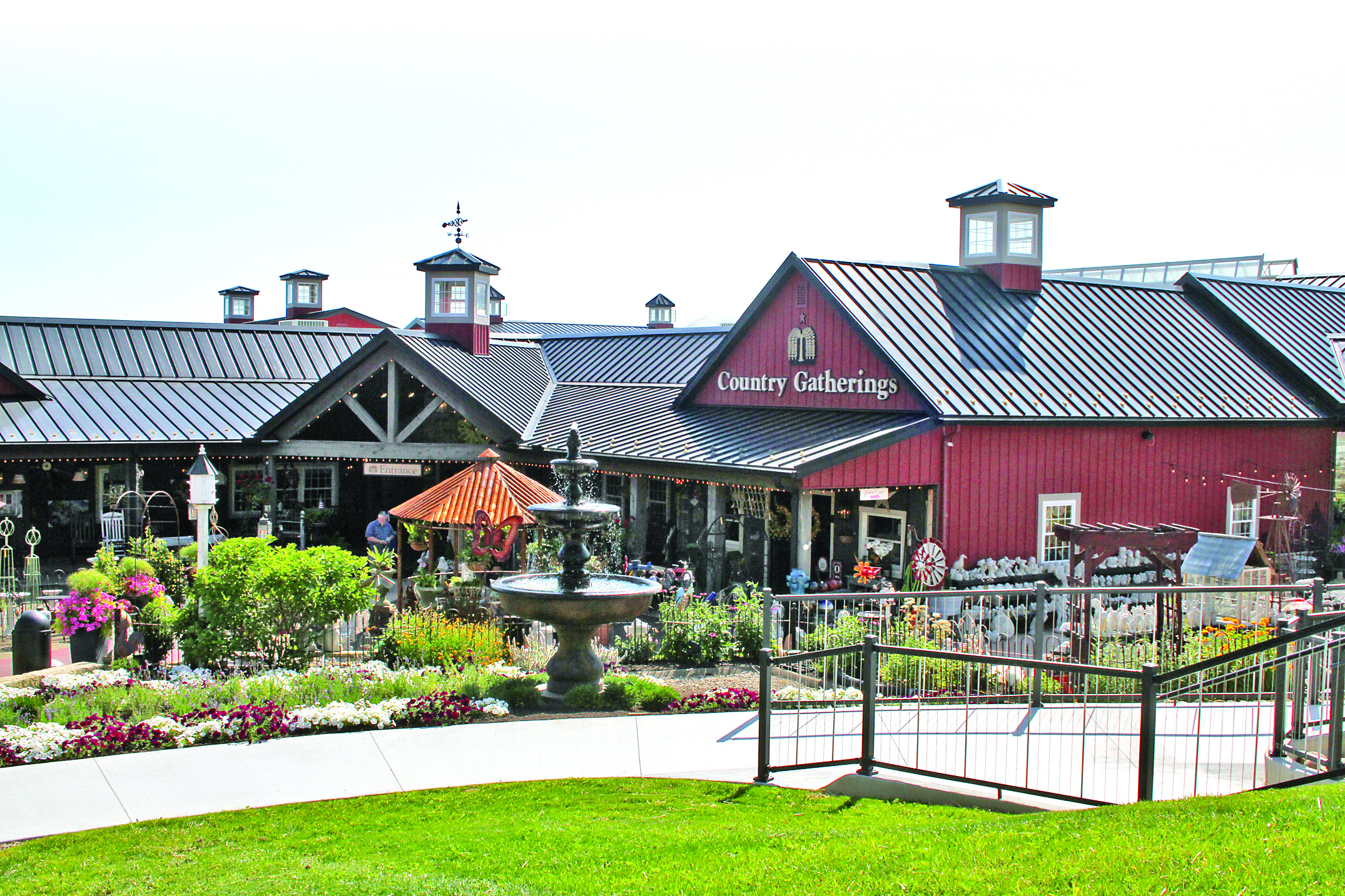 Randy L. McKee photo
Located across the parking lot from the more traditional Village Gift Barn, Country Gatherings features primitive, vintage and handmade décor.
Shopping should be as much about the experience as it is about the merchandise. Sure, you can pick up a new dress at the local mall or buy a garden bench at the nearest big-box home center, but the selection is likely to be cookie-cutter and the service lacking — turning what should be a pleasant outing into a chore.

That never happens at Olde Berlin Village Gift Shoppes, where more than 40,000 square feet of retail space, expert design advice, personalized service, amenities for the entire family and periodic special events await visitors from near and far.
Affectionately known as the Corner by locals because of its proximity to State Routes 39 and 62, Olde Berlin Village Gift Shoppes uses the tagline, "Never Ordinary. We Promise." True to the mantra, each of the three distinct stores — Village Gift Barn, Country Gatherings and The Gardens — is a destination within a destination.
Village Gift Barn, which debuted as a one-floor shop in June 2000, now features three floors of home décor, such as Magnolia Home, and wide-ranging fashion merchandise for women, men and children. These include Pandora and Alex and Ani jewelry and clothes that run the gamut from funky to formal to plus-size.
Village Gift Barn resides in a 1900s dairy barn that was owned and lovingly restored in 1988 by John Yoder and Steve Schlabach. Steve Schlabach now co-owns Olde Berlin Village Gift Shoppes with his wife, Ruth. As the business grew to include Country Gatherings and, eventually, The Gardens, the Schlabachs expanded and renovated the structure to meet the demands of the approximately four million visitors who travel to the Corner annually, making it Ohio's second most popular tourist destination.
Located across the parking lot from the more traditional Village Gift Barn, Country Gatherings features primitive, vintage and handmade décor. Shoppers are drawn to the store's Americana offerings, including many pieces that are locally crafted. Hutches, tables, cupboards and beds are showcased among rugs, linens, reproduction lighting and other appointments. The shop's Annie Sloan Chalk Paint and Trollbeads entice many visitors.
Debuting in 2016, The Gardens is the newest addition to the Corner. Physically connected to Country Gatherings for ease of shopping, The Gardens is the region's only complete garden center. Here, shoppers delight in unique garden items, many of which are locally made. These include unusual pottery, figurines, statuary fountains and birdbaths. Fairy garden enthusiasts swoon over the shop's large selection of miniature plants, ready-made fairy gardens and fairy-garden accessories for those who wish to design and assemble their own vignettes.
Ruth Schlabach keeps the inventory interesting at all three spots by searching for unique items that aren't available at big-box stores or malls. She ensures customers return by offering personalized service.
"We have a designer on staff at Village Gift Barn," she said. "Say you want to change out a room. We love when you bring photos and we can help you right on the spot, or, if you'd rather, we can come out to your house and work with you. We also have wonderful people at Country Gatherings who will help you design a piece of furniture if you want something different than what we have on the floor."
A "Fairy Garden Queen" leads fairy-garden workshops at The Gardens, she added.
Marketing director Brittany Yoder, Schlabach's niece who has worked at Olde Berlin Village Gift Shoppes since the age of 13, said the Berlin destination is about more than finding treasures at different price points.
"Our Amish buggy photo booth really draws people," she said, encouraging visitors to share their photos on social media using the hashtag #BerlinVillageBuggy. "We have outdoor furniture around the plaza, so people can relax. We get food trucks for special events and other days. Families come here because kids can roam safely. We have a huge parking lot, so people know they can park, shop our plaza, walk through Berlin and come back."
Schlabach and Yoder promise more special events in 2019 than ever before. Returning for 2019 will be fan favorites such as the annual warehouse sale held Thursday, Friday, and Saturday the week of Berlin Fall Festival, the Fall Fashion Show held each September, and the annual Christmas Open House which kicks off the holiday season each November. In addition to these widely popular events, in the Spring and Summer they offer Food Truck Fridays on the first and third Friday of each month as well as more events throughout the year. ω
Olde Berlin Village Gift Shoppes is located at 4755 State Route 39, in Berlin. Hours are 9 a.m. to 6 p.m., Monday through Thursday plus Saturday; and 9 a.m. to 7 p.m. on Friday. The phone number is 330-893-2648 and the websites are VillageGiftBarn.com and ShopCountryGatherings.com.