Sheiyah Market: The former Berlin Village Gift Barn gets a facelift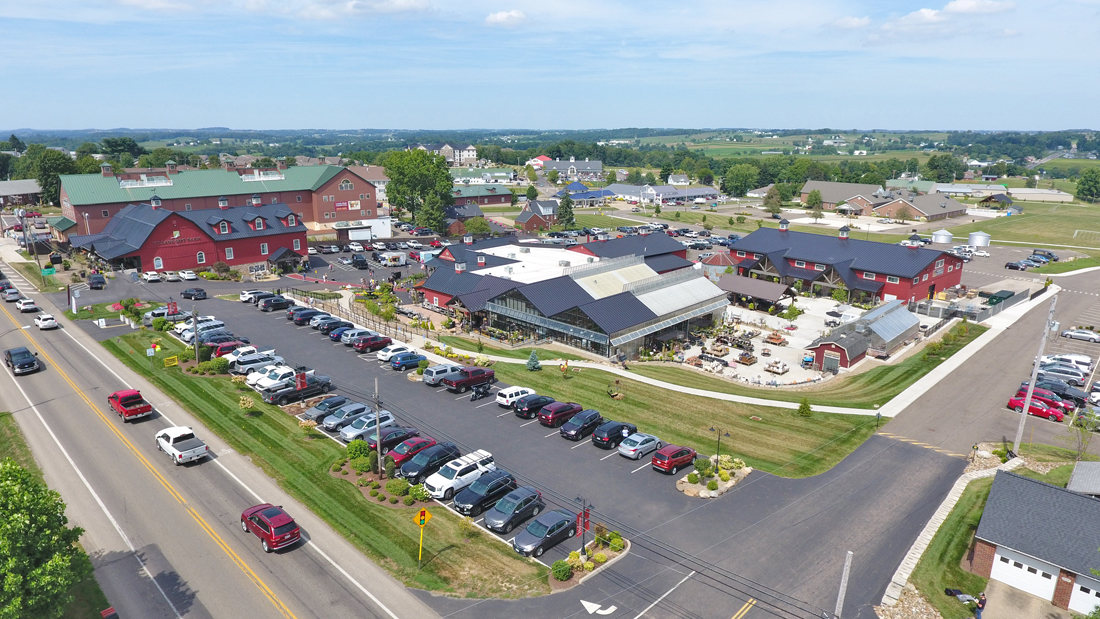 Last fall, when Ruth Schlabach sat down with her team to plan the 2020 20th anniversary festivities for her beloved Village Gift Barn, she decided the time was right for change.
"We were preparing to celebrate 20 years of the Village Gift Barn and also rebrand the Old Berlin Village Shoppes campus under a new name," Schlabach said. "When the pandemic hit, we decided to postpone the anni-versary celebration, but made the deci-sion to continue with the rebranding to give hope of continued business." After many hours of contemplation, Ruth said the name "Sheiyah," which is the Pennsylvania Dutch word for barn. "It definitely fit our culture and is the perfect conversation starter with customers," Schlabach said.
With a little more input and some tweaking, Schlabach and her team settled on Sheiyah Market as the new name for the campus on which Village Gift Barn, Country Gatherings and The Gardens at Country Gatherings live. "The name paves the way for future businesses to join us here," Schlabach said. "We're excited about the change, and even more so about what's to come in the future."
"Our focus is on continuing to create an experience for locals and visitors to the area," she continued.
"Along with our new campus name, we've also made some exciting addi-tions to the property to encourage our guests to not only shop with us, but also linger so they can savor the beauty of our area. We wanted to give them more."
Schlabach said she and her team have put into place a number of differ-ent engagement stations that encour-age guests to slow down and immerse themselves in the Amish Country experience. In addition to fabulous shopping at the Village Gift Barn, Country Gatherings and The Gardens at Country Gatherings, you can now pop into the new coffee shop — Buggy Brew Coffee Co. — and enjoy a steaming cup of coffee roasted by Red Mug Coffee Co.

Outdoors, you'll find a traditional Amish buggy serving as the perfect backdrop to selfies and family photos, as well as a photo booth. A new courtyard has been beauti-fully landscaped and includes a fireplace and couches for the ultimate in relaxation.

A winding walking trail, which Schlabach said will take about 45 minutes to traverse, meanders around the campus and through some neighboring properties. "People can bring their pets and enjoy the trail," she said. "Kids are welcome, too."
Explore the Sheiyah Market Campus

Village Gift Barn, which turned 20 this year, boasts 45,000 square feet of retail space and includes a boutique with clothing for women, a huge home décor and home furnishings area, a kitchen area, and a distinctive jewelry department that features Pandora and Brighton. Here you'll find transitional furnishings and accent pieces — enough to outfit an entire home, or simply fill in where you need to accessorize.
"We make it a point to bring in unique, hard-to-find items you won't discover at other stores in the area," Schlabach said.
An enormous children's section, with clothing and toys, completes the offerings.
Country Gatherings offers fine country goods, from vintage to primitive to modern farmhouse. In addition to home décor and furnishings, you'll also find one-of-a-kind, handmade goods. Area rugs are another fabulous find.
The Gardens at Country Gatherings boasts a year-round greenhouse packed with succulents, exotic plants and distinctive house plants. It's the happy place for many a regular shopper.
at Country Gatherings, you can now pop into the new coffee shop — Buggy Brew Coffee Co. — and enjoy a steaming cup of coffee roasted by Red Mug Coffee Co.

Outdoors, you'll find a traditional Amish buggy serving as the perfect backdrop to selfies and family photos, as well as a photo booth. A new courtyard has been beautifully landscaped and includes a fireplace and couches for the ultimate in relaxation.

Christmas is a favorite time of year for most Sheiyah Market shoppers. Plan your visit to coincide with the annual Christmas Open House on Thursday, Nov. 12 through Saturday, Nov. 14. For details, check the campus website and social media.

The freshly anointed Sheiyah Market is located at 4755 State Route 39 in Berlin. Hours are 9 a.m. to 6 p.m. Monday through Thursday and Saturday and 9 a.m. to 7 p.m. on Friday. The phone number is 330-893-1174 and the website is https://villagegift-barn.com