Showtime... at Ohio Star Theater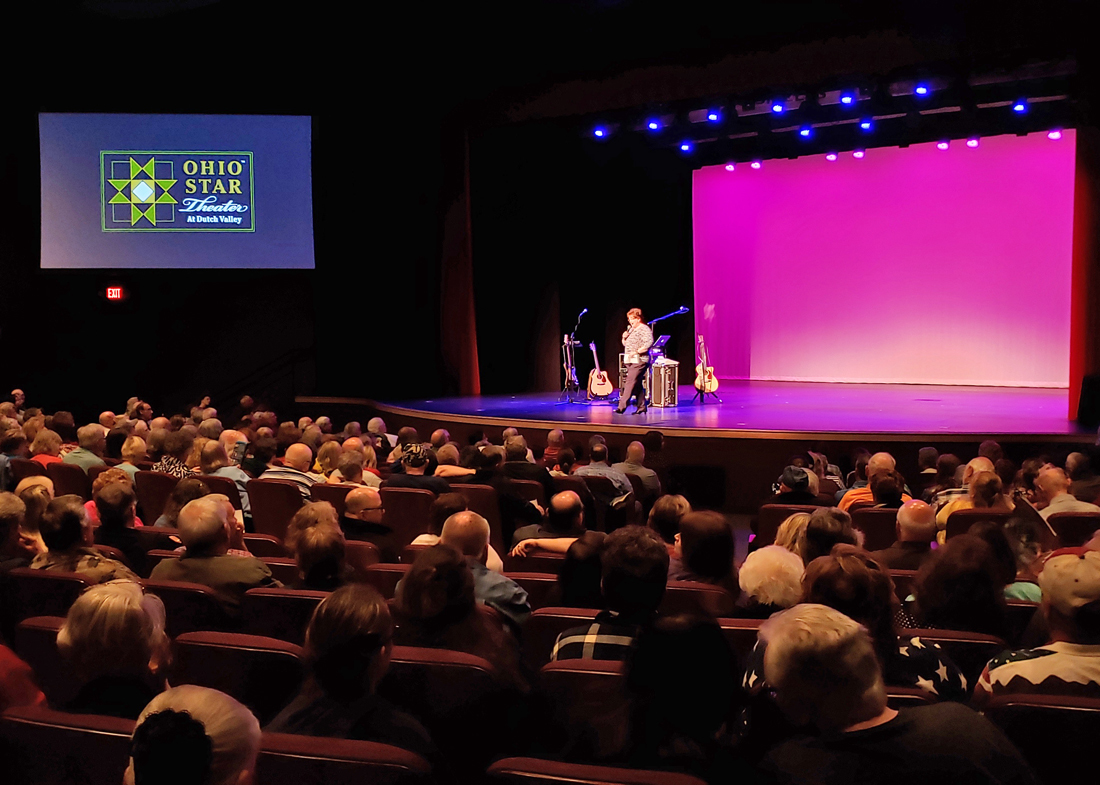 A wholesome, family appropriate theater production may provide the ideal grand finale to a busy day of shop-ping, dining and sightseeing.

"Theater has become an anticipated part of the Amish Country experience," said Kriss Ott, general manager of the Ohio Star Theater, in Sugarcreek. "People want something fun to do during the evenings, and our concerts and stage productions give them not just entertainment, but another activity to make lasting memories of fun times with the entire family."

Because the Ohio Star Theater is owned and operated by the Dutchman Hospitality Group, your theater experience can be packaged with dining and lodging options that provide convenient arrangements at discounted prices, Ott suggested.

"Discounted tickets are available for guests of Carlisle Inn in Walnut Creek or in Sugarcreek — right here on the same campus as the theater," she said. "We also can package with our restaurant, where you can enjoy a meal like it's Thanksgiving every day. Dinners include a full salad bar and a hot buffet with dessert, rolls and beverages. You get priority seating as a theater guest that assures you can get into your seats on time, even if there is a long line at the door. And you get all that at a discounted rate."
The Ohio Star Theater's 2022 season includes the venue's usual vast variety of stage acts and productions, Ott promised. "We recognize that everyone has different tastes," Ott said. "You may enjoy Southern gospel and somebody else may like rock and roll. We do a lot of tribute bands and for 2022 we've booked some really great shows, including some unique things that we haven't done — like acrobatic performances."

Particularly popular, she said, are the Amish-themed Blue Gate musicals.

"Guests return year after year to see productions like 'Josiah for President,' and our holiday plays, which will be 'Our Christmas Dinner' this year," Ott said.

"We're bringing back Ernie Haase and Signature Sound for a fan retreat in June. That's always like a family reunion for many people."

This year's performances will be enhanced by the theater's new 20 x 40-foot LED wall.

One thing that sets Ohio Star Theater apart from some other venues, Ott emphasized, is the focus on family-friendly shows.

"At our performances, you never need to be concerned about whether the show will be inappropriate if I bring Mom or the kids," she said.

Following the final curtain, you may want to unwind and rest up for the next day's Amish Country experience at one of the Carlisle Inns, where rooms are avail-able for just about any size party and just about any budget.

"We have king rooms, double queens, suites and adjoining rooms to accommodate families and larger groups," Ott said.

"We have deluxe accommodations with fireplaces and Jacuzzis to make your visit extra special."
You can learn more about Ohio Star Theater's 2022 season and reserve your seats and package deals by visiting DHGroup.com/theater or by calling 855-344-7547. Ohio Star Theater is located at 1387 Old State Route 39, in Sugarcreek.