Take a Hike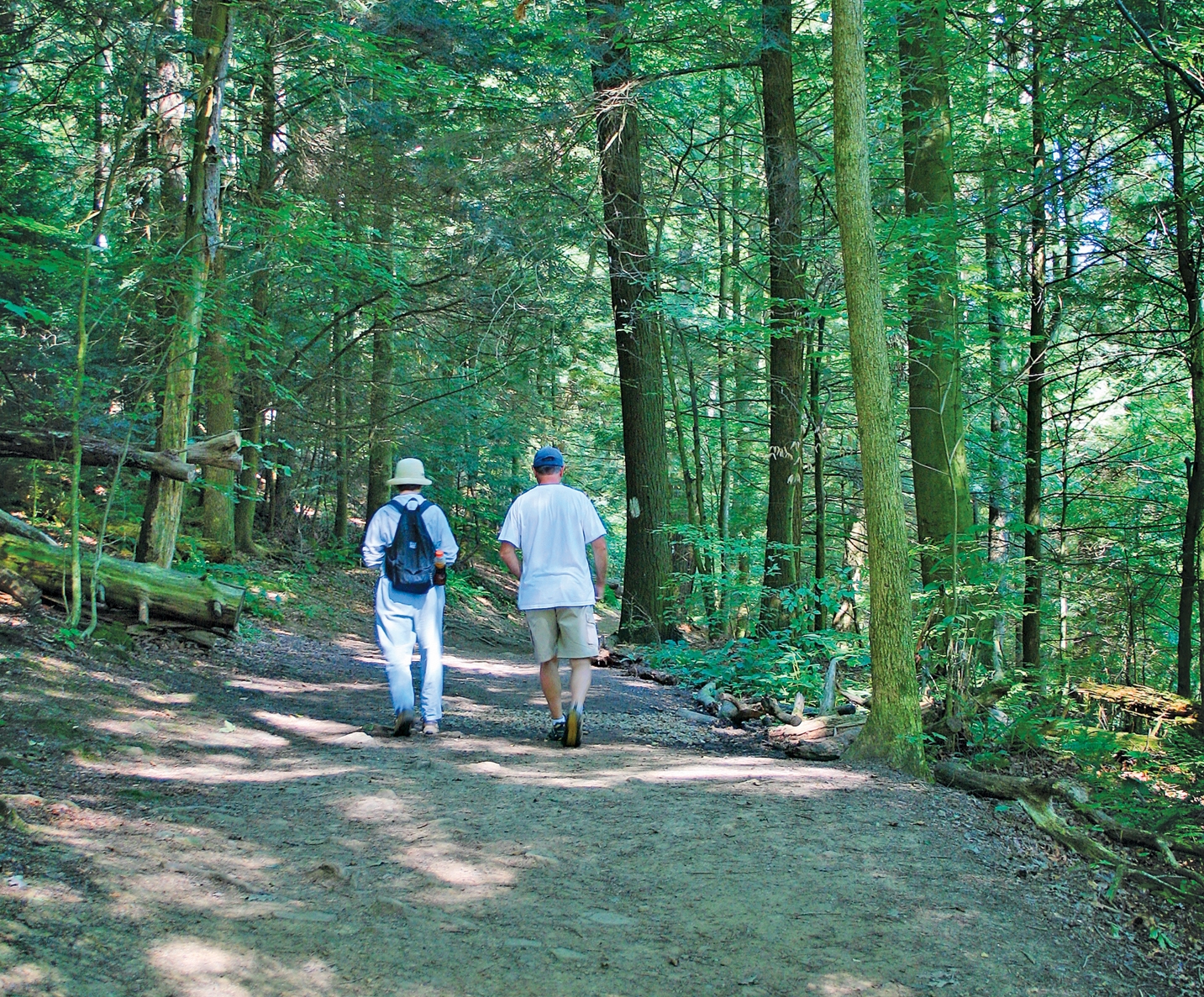 Randy L. McKee
You can see Ohio's Amish Country as you never have before if you visit the many parks, preserves and centers that are so prevalent to the area.
Ohio's Amish Country is home to a variety of nature preserves and centers that provide a habitat where the native plants and animals of the region can thrive. Fortunately for visitors, these preserves are open to the public for hiking, hunting, fishing and simply watching nature and her birds, flowers, trees and animals. These natural settings serve as living classrooms for students and researchers and can provide a respite from the hectic world.
The natural beauty of the region is never more apparent than when we take the time to soak in the great outdoors where sometimes the only footprints on the paths are from the wildlife that shares the rolling hills, grassy prairies and old growth forests of this beautiful and picturesque part of Ohio.
Day 1
You can truly get away from it all when you visit Brown Family Environmental Center in Gambier and wander through the butterfly garden or look for tiny tadpoles that will eventually become small toads. Native Americans once used the preserve as a hunting area with temporary residences. Shawnee, Wyandot and Huron wandered through the area, leaving a variety of artifacts that help us to understand the way they lived. You can follow in their footsteps and imagine an Ohio of long ago while enjoying the sights, sounds and smells of the natural landscape.
You can really get away from it all at Mohican State Park and the adjacent State Forest, located in the heart of Mohican Country. Cell phone use is limited in this wilderness that includes 1,110 acres with five miles of the scenic Clear Fork Branch of the Mohican River running through it. Visitors can enjoy fishing, hiking, picnicking, camping, cottages and a resort lodge and never worry about the office calling while you vacation. The Mohican Memorial State Forest surrounds the park with 4,795 acres. Hunting, hiking and bridle trails are available to the forest visitor. Mohican State Park is located in southern Ashland County bordered by state routes 3 and 97, close to Loudonville.
Clear Fork Gorge is situated along the north bluff of the Clear Fork of the Mohican State Scenic River. The eight-acre white pine-hemlock forest is one of the best remaining woodlands of its kind in Ohio. Huge native white pines and eastern hemlocks grow on the steep sides of the gorge wall much as they would have before the area was even settled by Europeans. Birders will enjoy the rare nesting warblers and lovers of native plants can observe one of the more interesting species in the round-leaved orchid. Located in Ashland County, within Mohican State Forest, approximately a quarter mile north of the fire tower off state Route 97 where parking is available.
Day 2
Learn, explore, wonder and connect at Secrest Arboretum, located on the campus of the Ohio Agricultural Research and Development Center at Wooster. For more than 100 years, the arboretum has grown into an outdoor laboratory with display gardens that illustrate the use of style; color and texture that create a sustainable landscape much to the delight of visitors. Group and self-tours are available and admission is free.
The Killbuck Marsh State Wildlife Area is located just outside of Shreve. With more than 5,600 acres, it is the largest inland marsh in Ohio, with 50 percent of the area under water during parts of the year. First-time visitors will probably need a map to get around the area that sits in a glacial outwash valley. Hunting, trapping and fishing are permitted and an abundance of wildlife is present year-round. Springtime brings an influx of waterfowl and migratory birds that are a delight to nature lovers.
Ninety-nine acres of Wayne County are recognized as a national landmark. Brown's Lake Bog State Nature Preserve is one of just a few sites in Ohio, which contain an open kettle-hole lake surrounded by a floating sphagnum moss mat. Just two miles west of Shreve, the preserve lies in the Glaciated Allegheny Plateau region. The bog and lake are glacial relicts that include hills called kames. Conditions in and around the bog allow the boreal plant community to thrive. Plants including round-leaved sundew, large cranberry, grass-pink orchid and marsh five-finger are a delight to naturalists and novices alike.

Day 3

Hop on the Holmes County Rails to Trails at Millersburg, Fredericksburg or Killbuck and immerse yourself in the natural landscape of Ohio's Amish Country, where the sights and sounds of civilization are quieted in this peaceful corridor that can accommodate walkers, runners, skaters and cyclists. The trail is wheelchair accessible. An adjoining trail is used for equestrian travel and buggies are permitted. The 29-mile trail now has 15 miles open and goes all the way from Fredericksburg on the north end to Killbuck at the south. Not only does the trail promote nature but fitness as well.

Make your way into Coshocton County to the largest public wildlife area in Ohio, with more than 20,000 acres at the Woodbury Wildlife Area at Warsaw. Activities include hunting, fishing, bird watching, hiking, picnicking and primitive camping. Woodbury also features a Class A shooting range and a walk-through archery trail for sportsmen and women looking to improve their skills.

Day 4

The Wilderness Center is a scenic drive to Wilmot. The nonprofit nature center and land trust serves as an educational center for more than 15,000 students each year. Six well-maintained trails give hikers the opportunity to see old growth forest, meadows, prairie, wetlands, Fox and Sugar Creeks, Wilderness Lake and a pond where visitors can climb the three-story Kiwanis tower. You can wander through nature for hours on the nearly 620-acre preserve that features an interpretive building, astronomy educational building, gift shop, picnic shelters and a multitude of planned speakers and events throughout the year.
Dundee Falls might be the region's best kept secret. Only the locals really know where it is located on an unknown road between Beach City and Wilmot. West of the Dundee Falls/Beach City Wildlife Area on the edge of the unglaciated Appalachian Plateau, this virtually undisturbed place is home to the Canada goose, cottontail rabbit, pheasant, muskrat and raccoon. Deer, fox, squirrel, woodcock and most of Ohio's other furbearer species are common. Beaver are present and have created excellent habitat for many mammals, birds, fish, frogs and turtles. A great variety of nesting and migrant birds can be found throughout the varied habitats of the area that includes an upper and lower waterfall that is stunning any time of year.
The 303-acre Norma Johnson Conservation Center is just three miles west of Dover and six miles east of Sugarcreek on state Route 39 in Tuscarawas County. The preserve allows visitors to enjoy nature on more than six miles of walking trails. Numerous educational programs are offered to benefit the community and encourage a love of nature and the environment. The popular butterfly exhibit returns again in July to allow visitors a chance to see native Ohio species up close like never before. The center is a personal retreat for those wishing to connect or reconnect with nature, the region's most precious asset.