The Ashery takes steps to deliver goods right to your front door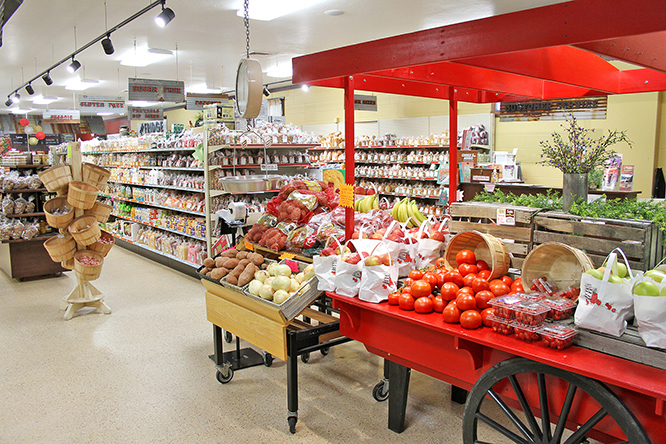 Randy L. McKee
For decades, Ashery Country Store Bulk Foods has offered a huge selection of crisp seasonal fruits and vegetables, fresh meats, cheese, the store's own homemade snacks, baking goods, spices and dry goods that have kept the shelves stocked for many homes.
The down-home atmosphere has delighted customers who continue to make the Ashery a priority when visiting Amish Country.
This fall, owner Curt Yoder is taking the Ashery's game to the next level. Beginning in early November, the Ashery started providing its list of incredible food to shoppers online. With the simple click of a few buttons, shoppers can fill their carts with whatever products tickle their fancy.
Click … homemade noodles. Click … gluten-free cereal. Click … homemade soup-starter. The list goes on, and the Ashery will supply online shoppers with over 500 items of the store's biggest sellers.
Packing your cupboard with high-quality food for the coming winter months has never been easier.
"We'd been talking about this for five years," Yoder said. "Other things took priority, but when the pandemic hit, we realized how many people would utilize online shopping, and we made sure shoppers can order online in the same tasteful way we do everything else at the Ashery."
Every item ordered online will be handpicked off the Ashery shelves, providing the same quality shoppers get in the store. The prices for every item will be the same as the in-store price, and shoppers will only pay a shipping fee to have the freshest, tastiest foods delivered right to their home.
"We have selected our top-500 items for the online shopping experience, and we will add more," said Jason Schrock, Ashery buyer. "We kept our prices the same as in the store and added the shipping because we wanted to be transparent."
Not only will shoppers receive their fresh food, the Ashery will send out one of 40 picturesque postcards with each order. By ordering enough online, a patron might collect them all.
Shopping has never been simpler, and while convenient, Yoder said online shopping will not include one thing.
"We can't ship the personal attention and pleasant, down-home conversation people get when visiting the store in-person," Yoder said, "but we can make sure that we ship the same quality and freshness people have come to expect."

The annual Winter Sale Jan. 25-30, will give shoppers a chance to find some great in-store savings. You can find more information on these sales and more on the Ashery website.
In addition, the Ashery free calendar give-away for 2021 stsrted Nov. 16. Anyone shopping in-store will receive a free Ashery calendar, full of bright, colorful photos of Amish Country in and around the Ashery.
Ashery Country Store Bulk Foods is located at 8922 state Route 241, two miles north of Mount Hope. Call the store at 330-359-5615. While the Ashery will send out email blasts promoting the big event, more information can be found on their website at www.asherycountrystore.com.