The cool side of summer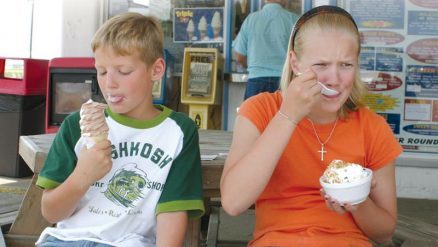 John Mast photo
You remember the phrase as a child, "I scream, you scream, we all scream for ICE CREAM!"

As the warm summer months are upon us, I have come to realize that I have bought into the idea of the "ice cream social."
Never having been one of those who could sit down and put away an entire half-gallon of the creamy treat, I have become quite fond of eating destination ice cream. What is that?
Destination ice cream tastes way better than your standard ice cream because you went out of your way to go somewhere specific, with someone special, just to enjoy that particular establishment's version of ice cream.
Unfortunately for my waistline, my taste and my family have succumbed to this idea of social proliferation. So I dedicate this article to identify these wonderful destinations in and around Amish Country that we so often frequent on nights when we get bored, hungry or both and just want to do something fun together.

Mudd Valley Creamery
I had to mention this one first for a couple of reasons. One, they advertise in Ohio's Amish Country, but throw that reason out immediately. These guys are first on the list because their ice cream is ridiculously good! Located at Walnut Creek Cheese on the flats just east of town on State Route 39, Mudd Valley Creamery has their own special variety of soft serve that just melts in your mouth (doesn't most ice cream do that?) as you inhale it.
My first experience with Mudd Valley was when my wife brought home an ice cream birthday cake. It was so good it became the cake of choice around our house for following birthdays. As good as that was, nothing beats the stuff right out of the bin. It comes out in these long wide streams before it is scooped up and into the cone or sundae cup of your choice.

My last visit (three days ago) I managed to down a cheeseburger, chips and a special sundae called "The Buckeye." This sundae started with Mudd Valley chocolate ice cream in the bottom, covered with peanut butter, followed by vanilla ice cream, then hot fudge, then crumbled Reese's peanut butter cups, and topped off with one buckeye from Coblentz Chocolates. This thing was huge, and tasty. Did I mention it cost under five dollars? See if your local Cold Stone can match that!

Speaking of Coblentz Chocolates, it's just up the road in Walnut Creek, as are Der Dutchman Restaurant, Carlisle Gifts, P. Graham Dunn's satellite store and the Amish Country Theater. So pick up a few items, some chocolates for later, eat a great lunch and enjoy the ice cream!

Walnut Creek Cheese also has a great deli where you can find fresh sandwiches and cheeseburgers, chicken sandwiches and the like. They also offer the best potato salad and a few great varieties of chicken salad including Buffalo and Caesar. Add to the sheer delight of the ice cream that they also have a great facility where there is plenty of room to sit down and enjoy your food and you're golden! So for a meal with dessert or just a snack with friends, Walnut Creek Cheese is a great destination right here in Holmes County.

My personal Mudd Valley favorite: Small vanilla sundae with hot fudge and peanut butter, whipped cream and peanuts.

Guerne Heights Drive In
Here's another favorite. If you're coming from Wooster, this one's easy pickin's. Coming east on US 250, you'll run right into it not far past the Wooster Post of the State Highway Patrol. The drive-in is located between Wooster and Apple Creek. Coming from Holmes County, just head up County Road 201 through Fredericksburg and straight up until you hit Rt. 250. Hang a left, and you're practically there. It's about a 20-25 minute trip from Berlin (depending on how many buggies you encounter). It'll be worth your time.

Guerne Heights Drive-In is one of those throwback dari-ettes that unfortunately are becoming rare these days.

They have the standard screen windows that they open to take your order, then call it out when it's ready. It's more of a burger and fries joint than the variety you may find elsewhere, but the food is good.

As for the ice cream? That's the reason Guerne is a destination on this list. Their ice cream is just flat-out tasty! It is smooth and creamy and I can't say I have tasted anything like it anywhere else.

Be sure to ask what the flavor of the day is. They almost always have a special third flavor to accompany everyone's favorites of chocolate and vanilla. I've seen peach, blueberry, black cherry, strawberry, orange, mint and I'm sure there are many more. After a recent stop on Mother's Day, my dad told me he always gets the third flavor, "because it's always good."
Speaking of Mother's Day, I'll take this chance to put in a plug for the OARDC (Ohio Agricultural Research and Development Center). It's just up the road from the Guerne Drive-In, and we were taking a walk through their gardens. It's beautiful and relaxing, and if you need some landscaping ideas or want to take some photos it makes for an enjoyable and entertaining time.

Back to the drive-in. They have reconfigured some things to make more room for you to sit, both inside and outside, so you can enjoy your creamy treasure.

My personal Guerne Heights Drive-In favorite: Small chocolate and vanilla twist cone.

Dalton Dari-ette
Third on my list of ice cream destinations is the Dalton Dari-ette, located immediately off of US 30 just as it passes through the Dalton city limits. To find it, you head east out of Wooster on Rt. 30 or north from Mt. Eaton on State Route 94.
Similar to Guerne, this is a throwback to the glory days of drive-in eateries.

Featuring picnic tables in a large, grassy area that is great for kids or pets, they even give you a number and display it when your food is ready. As the sign in the window states, the food is all prepared when you order, so it's hot and ready for your hungry tastebuds. The prices are very reasonable and the food is good.

Although possibly not gaining the accolades of the first two on the list, the ice cream at Dalton is also special. Offering soft serve, their specialty (as far as I'm concerned) has always been the milkshake. They are a good-sized, reasonably priced treat that fits you just right after your meal.

The Dalton Dari-ette seems to be a favorite of my father-in-law when they get out the convertible for an afternoon ride. He'll say they're riding up to Dalton for a milkshake!

If you have some time on your hands, the Dalton Dari-ette is not far from two other favorite stops, Lehman's and P. Graham Dunn. Both attractions are located in the Kidron area, not far from Dalton.

My personal Dalton Dari-ette favorite: Small vanilla milkshake.

Granted, these are not the only places around where you can get something good to satisfy your ice cream fix. But they are all special locations as destinations where we enjoy taking our family and friends, and sharing some good ice cream and experiences together . . . quite often.

So enjoy your time in Amish Country and be sure to experience some of that good local fellowship that comes through a trip (or trips) to these ice cream destinations!

When you visit Ohio's Amish Country, check out these great ice cream destinations!

Mudd Valley Creamery
Great, creamy sweetness in a dish or cone at the Mudd Valley Creamery, located in Walnut Creek Cheese's Walnut Creek location.

2641 State Route 39, Walnut Creek, OH 44687
(330) 852-2888 • www.walnutcreekcheese.com

Troyer Country Market
Located just east of Berlin at the crossroad of CR 77 and SR 39 by Hiland High School, Troyer's sweet sensations will tickle tastebuds.

5201 County Road 77, Millersburg, OH 44654
(330) 893-3786 • www.troyerscountrymarket.com

Guerne Heights Drive-In
East of Wooster on SR 250, this local favorite is open all year long. We always say you can't drive by without stopping!

3004 Dover Road, Wooster, OH 44691
(330) 262-1422 • www.guerneheightsdrivein.com

Hartzler Family Dairy
Known for their mooing cow commercials and famous dairy products, this place is a favorite of Cleveland radio personality Bruce Hooley.

5454 Cleveland Road., Wooster, OH 44691
(330) 345-8190 • www.hartzlerfamilydairy.com

Dalton Dari-ette
Located at the crossroads of US 30 in Dalton, it's a good old-fashioned dari-ette. And as they say, it's not fast food, and it's worth it!

240 Mill Street South, Dalton, Ohio 44618
(330) 828-2563 • www.daltondariette.com

Kremeland
Oh, yes, the building itself is worth a look. The coolest looking dairy around is a favorite after-ballgame stop for victory celebrations.

514 North Main Street, Navarre, OH 44662
(330) 852-2888 • www.kremeland.net

Winesburg Dari-ette
Another old-fashioned dari-ette, a great place to stop after a ballgame or while traveling along US 62 at the junction of SR 515.

2459 US Route 62, Dundee OH 44624
(330) 359-2820

Dairy Queen, Berlin
Checking out the shops in Berlin and need a treat? Located just east of town, DQ is always good, and fill up your gas tank, too!

4714 State Route 39, Millersburg, OH 44654
(330) 893-0414 • www.dairyqueen.com