The Warmth of Winter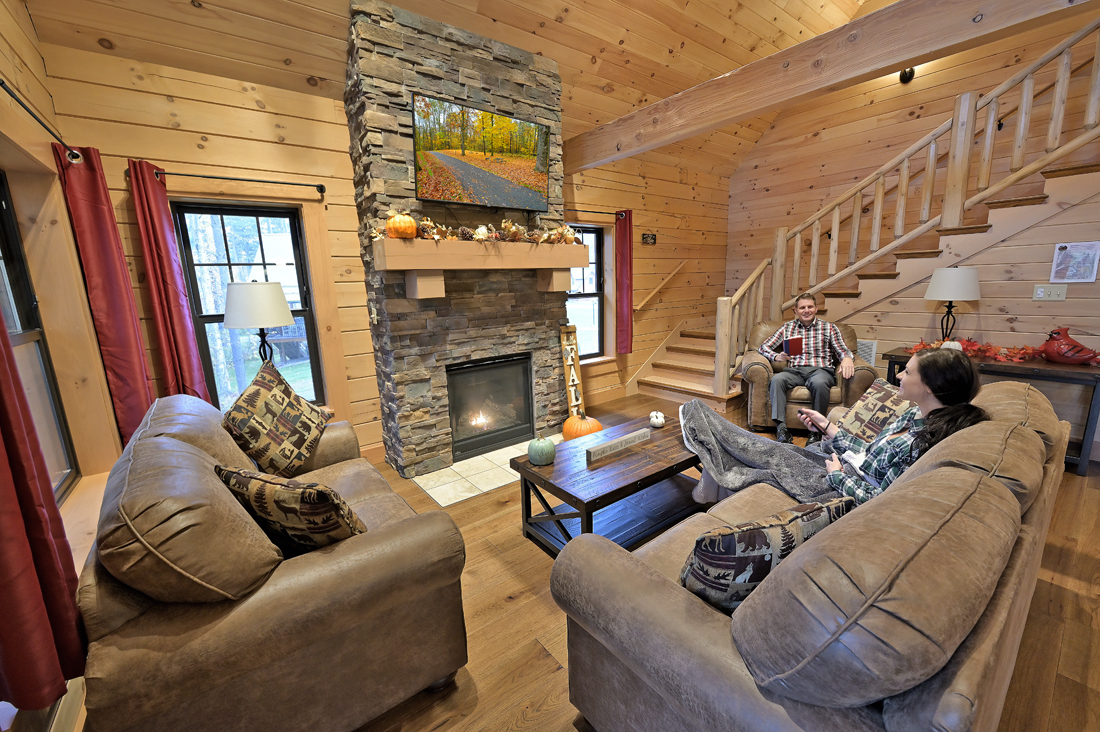 Northeast Ohio winters needn't be so bone-chilling frigid. Not when you can warm up and enjoy a cup of steaming coffee or hot cocoa before the fireplace in a cozy log cabin.

Ten new vacation cabins at Pleasant Hill Lake Park in Perrysville are available all year round and provide just about everything you need for a relaxing week in nature, said Adria Bergeron, director of marketing and communication for the Muskingum Watershed Conservancy District, which manages the cabins.

"The cabins, which just opened in May 2020, are log homes with full kitchens, gas fireplaces and hot tubs out on the deck," Bergeron said. "There are two different sizes to accommodate either six or eight people, and they come with all the furnishings and accessories you need for a carefree stay, including bedding and linens and pots and pans, so you can feel like you are escaping home without having to spare any of the comforts of home."

They also include Wi-Fi and satellite TV, but for guests who prefer to shut off the electronic devices and enjoy a respite into nature, Pleasant Hill Lake offers activities like swimming, boating, and fishing — along with nearby hiking trails. In the winter, bring your gear and enjoy cross country skiing.
"Pleasant Hill Lake is an 850-acre lake with an unlimited horsepower motor limit, so vacationers can enjoy jet skiing and many other boating activities," Bergeron said. "Many guests enjoy kayaking and paddleboarding. Along with a swimming beach, kids love the WhoaZone inflatable water park. We have ample recreational opportunities both in the summer and in the winter seasons."

Cabins can be rented by the week during the summer, but that restriction is lifted after Labor Day.

"Many couples take advantage of romantic weekend getaways during the winter season," Bergeron said. "Reservations for cabins can be made up to 340 days in advance, and it is recommended that they are booked early — especially during the summer months. They tend to fill up very quickly."

Pleasant Hill Lake is one of eight picturesque lakes contained within the conservancy district — Ohio's largest geographical destination for families to share the thrill of the great outdoors, Bergeron said.

"Our rangers patrol all of the properties to make sure everybody is safe, and our five largest parks have naturalists who present compelling programs to interest guests of all ages," she said. "It's a wonderful way to get the kids out to explore and engage with nature."

Along with Pleasant Hill Lake, cabins are available all year round at Atwood Lake Park, and campgrounds are available at eight of the watershed's lakes, including Pleasant Hill Lake.

"Most of our campgrounds offer full hookups with 50 amp power service and concrete pads, and our restroom and shower facilities have been modernized," Bergeron said.

You can reserve a cabin, find detailed maps of the Muskingum Watershed Conservancy District's lakes or learn more about MWCD activities by visiting MWCD.org or by calling the district headquarters in New Philadelphia at 877-363-8500.