Top 100 Event in America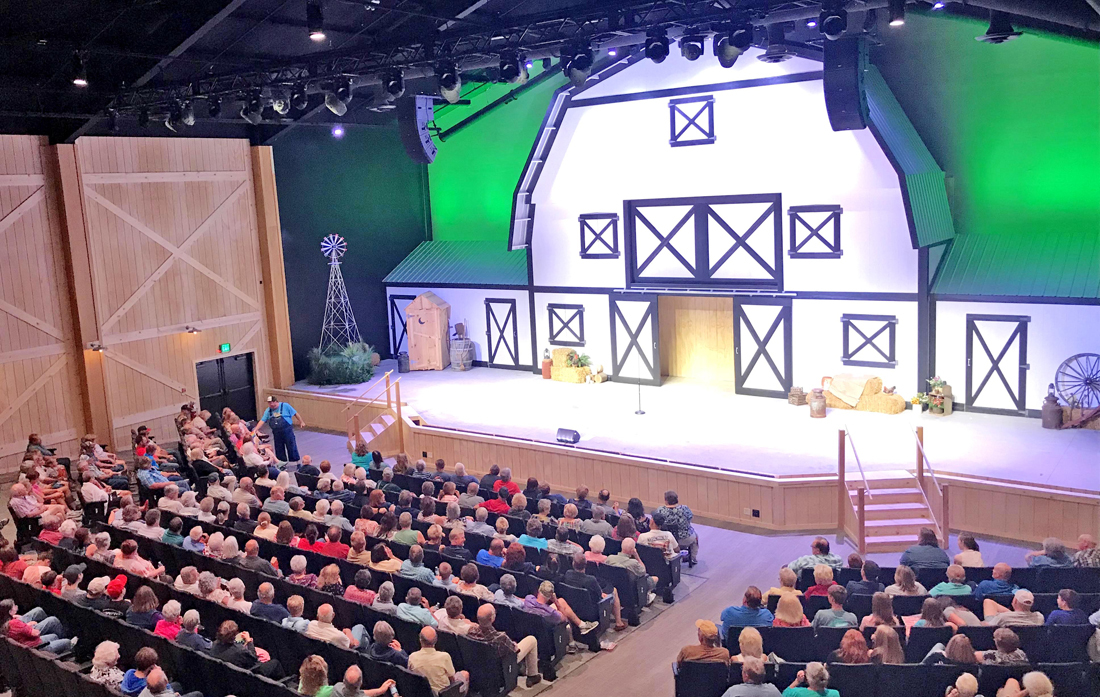 If you've ever been to Pigeon Forge or Branson, or caught a show on a popular cruise line, you know how entertaining professional productions can be. But now you don't have to book an expensive flight, hotel, or cruise to enjoy the same quality performances that thrill audiences in America's top entertainment cities.
They're right here in Ohio.
About The Shows
The Amish Country Theater is an award-winning theater production featuring hilarious family-friendly variety shows that have been voted a Top 100 Event in America by the American Bus Association™. You'll be entertained by their high caliber cast featuring internationally-acclaimed ventriloquist Ken Groves, whose comedy has taken him around the world including 14 national television appearances. You'll meet the country bumpkin "Lynyrd" whose humor and antics are as unpredictable as an Ohio spring. You'll hoot and holler with the hilarious Amish comedy duo "The Beachy Boys" and Granny Fannie as they per-form their famous parody songs. The shows are performed in a brand new 600-seat theater with state of the art lighting, video, and sound design that rivals any professional production you'll see between New York and Branson.

Two New Acts in 2022
From the Magic Castle in Hollywood California, Comedy Magician Gary Morton is a Must-See! Crowds love his charm, are wowed by his magic, and won't forget his humor. Haley Joy Harris comes to Amish Country straight from Branson Missouri. Her voice is second-to-none and her music is nothing but fun! Haley will dazzle you with her vocals and get your toes-a- tappin' to her original music.
National Recognition and Groups
The Amish Country Theater has received critical acclaim from state-wide publications, and has recently received national attention from the largest motorcoach association in the country. The American Bus Association announced the Amish Country Theater was voted a Top 100 Event In North America for group travel. The theater has quickly become one of the most popular destinations for groups in Ohio's Amish Country. Groups enjoy priority seating and pricing, meet and greets with the cast, and an avail-able Amish-style meal before or after the show.
Berlin Encore Hotel
The Berlin Encore Hotel & Suites is a brand-new 81-room hotel attached to the Amish Country Theater. The hotel features an inspiring 20-foot-high atrium-style lobby complete with soft seating, rustic decor, exposed beams, fireplaces, and plenty of room to relax and enjoy live music and entertainment in the lobby. The hotel itself stands seven stories high with unmistakable curb appeal, remarkable guest rooms, luxury suites, and a gorgeous countryside view.

Get Your Tickets Now
Amish Country Theater's production is performed every Tuesday, Thursday, Friday, and Saturday beginning May through October. Christmas shows run November and December. Save $5 per person when you stay at the Berlin Encore Hotel! Tickets may be purchased by calling the box office at 888-988-7469 or by visiting AmishCountry Theater.com. The website also features an up-to-date schedule and matinee show time availability.

The Amish Country Theater is located at 4365 State Route 39 Berlin, OH 44610. For directions, ticket information, show times and more, visit AmishCountryTheater. com or call 888-988-7469.