Troyer Country Market: A True Amish Destination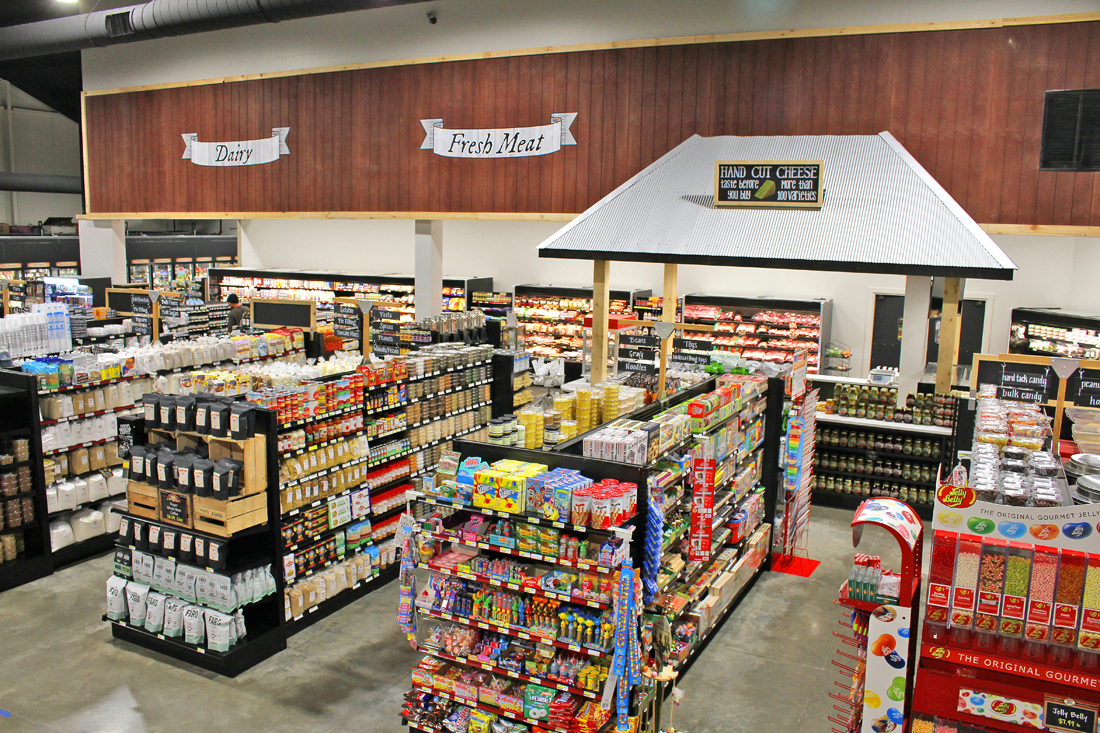 Randy L. McKee photo
A visit to Troyer Market is a must for visitors who want a genuine Amish Country experience. Few places can offer the authentic taste of Holmes County quite like Troyer Market. From the first moments you arrive, the feeling is enticing.
A true destination, it has always been more than a market. Now more than ever, Troyer Market is drawing a crowd.
"We're remodeling our market to make it an even better shopping experience with even more variety for our visitors to choose from," manager Dave Vogt said.
The immense selection of high-quality foods under one roof is already second-to-none in Amish Country or anywhere else. Troyer Market has long had a reputation for stand-out service. The shopping experience starts before visitors step through the doors.
On the porch, most any time of year, locally grown seasonal produce greets visitors. Candy onions, asparagus and strawberries in the spring make way for green beans, cucumbers and tomatoes in the summer. In the fall, visitors have their pick of peppers, pumpkins and squash.
Visitors will see more locally grown seasonal produce from the start. Now that the remodel is finished, Troyer Market is rolling out the welcome mat in a big way.
"We've put in a new grand timber-frame entrance onto our porch to welcome visitors," Vogt said.
And the newest addition at Troyer Market, Katie's Café, will entice visitors to stay a little longer.
Troyer Market has always drawn visitors eager to experience the authentic taste of Holmes County and take a bit of the flavor home with them.
And if that isn't reason enough for you to do the same, here are 10 more.
10 great reasons to visit Troyer Country Market:
10 Try Before You Buy
With a wide variety of delectable samples like cheese balls and relishes to try with cinnamon-and-honey graham pretzels, visitors can try before they buy.
9 Amish Wedding Jar Goods
Visitors can enjoy the full line of Amish Wedding jarred foods. "Our traditional Amish jarred goods are not only delicious but healthy as well," Vogt said. "We also have a full line of no-sugar-added items alongside our famous jarred pickles, peaches and, of course, our ever-popular pickled baby beets."
8 Jams, Jellies & Fruit Butters
Troyer Market carries more than 100 varieties of jams, jellies and fruit butter. Each recipe was perfected over time, preserved from one generation to the next. The secret keeps visitors coming back for more.
7 Fresh Produce
Troyer Market carries produce from top growers, purchased locally in Holmes County and across the U.S., including juicy peaches and strawberries from the Carolinas and a variety of delicious apples from New York.
6 Meat & Cheese
In the deli, you can find the finest, tastiest meats and cheeses. Visitors in search of authentic Amish cheese will find it in abundance at Troyer Market. Be sure to take home some of Troyer Market's signature off-the-bone ham along with Troyer's Swiss cheese.We also have a fresh meat department for your convenience where we stock a great selection of quality beef, pork and chicken.
5 Katie's Cafe
With the addition of Katie's Café, visitors don't need to wait until they get home to enjoy their homemade favorites from Troyer Market.
4 Bulk Items & Snacks
There's an abundant selection of bulk foods like candies and nuts. Visitors also can pour a wide variety of bulk olive oils. New to bulk are their popular jerky and beef sticks.
3 Do-It-Yourself Fun!
Visitors can enjoy the novelty of filling tubs and bottles themselves, making their "own" peanut butter and honey. Be sure to leave time to try the Pinabar. The self-serve machine cores your pineapple right before your eyes. It's a family favorite and makes an ideal souvenir.
2 Homemade Ice Cream
Along with Troyer's handmade soft-serve ice cream, all 32 flavors of ice cream, including its top sellers, chocolate peanut butter, butter pecan and buggy tracks, are hand-dipped and delicious.
1 Troyer's Own baked goods
Troyer Market has a large selection of fresh baked goods, now expanded to include their own delicious in-house baked breads, tarts, coffee cakes and rolls.

Visit Troyer Market at 5201 County Road 77 in Millersburg on the corner of CR 77 and State Route 39, about a quarter mile east of Berlin. Hours are Monday through Thursday and Saturday from 8 a.m. to 6 p.m., Friday from 8 a.m. to 7 p.m. or online at TroyersCountryMarket.com, 330-893-3786.