Visit the town that doesn't exist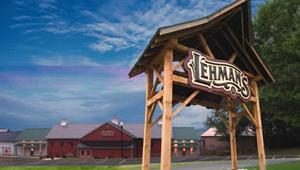 Ohio's Amish Country
11970
Kidron, a tiny village tucked away in the idyllic farm country of northeastern Ohio, was never legally incorporated and therefore doesn't exist. Which is why Lehman's is often difficult to find using today's technology [see adjacent article].

Don't tell that to the hundreds of Amish and Mennonites who live here. In fact, this part of Ohio (not Lancaster, PA, as many believe) is home to the world's largest Amish settlement.

For over 100 years, Kidron has been the area's market place, social gathering spot and supply depot. When "horseless carriages" came in, the hitching rail stayed. Even after the railroad left town in the 1930s, Kidron remained a vibrant center for the community.

Decades of serving the Amish, a religious group that believes in simple living without electricity or other modern innovations, has left its mark on Lehman's, located on Kidron's town square since 1955. Non-electric appliances, hand tools, hand-cranked house wares and oil lamps pack the store in Kidron, as well as one of the country's largest displays of wood cooking and heating stoves.

Over the years, multiple expansions have turned this tiny general store into a rambling maze of interesting rooms, chock full of museum quality antiques and thousands of products you thought they quite making years ago. Today, folks from all over the world visit Lehman's to marvel at the gleaming oil lamps, learn about grain mills and cheese making supplies, stock up on hand tools and gardening supplies, and learn how to live sustainably. The store stocks everything you need to live without electricity, for heat, food, light and water. And there are not one, not two, not three, but four reconstructed pre-Civil war era buildings inside the store!

Serving the Amish hasn't always been easy, according to founder Jay Lehman. Usually a different bishop oversees the practices of each Amish clan. As a result, even families that live on neighboring farms may follow widely varying customs.

For example, Lehman carries old-fashioned cast "sad irons" for one group and the convenient gas-heated iron for another. In the same vein, he carries both hand-powered and gasoline-engine washing machines (plus washboards, of course, for those stubborn stains).

"The Amish have shown us that non-electric products can give us the ability to complete a task more efficiently than commonly accepted modern methods," said Lehman, who founded the store in 1955. "The Amish have led us to preserve many traditional tools, artifacts and value systems.

"By using old-fashioned goods like we sell, the Amish have succeeded in farming where modern farmers have failed. Amish families have prospered in peace and self-reliance for generations. They know how to make a good living on small tracts of land. They cherish lifelong bonds with family and community. Amish families eagerly support and help one another through good times and bad. Crime is rare in this close-knit community," said Lehman.

Lehman's prints a huge catalog for the Amish and the self-sufficient in other areas of the world. There are entire sections devoted to canning supplies, cook stoves, cheese and butter making supplies, garden tools and non-electric appliances like gas refrigerators.

Maybe that's why national publications such as The New York Times, Wall Street Journal and USA Today have featured Lehman's in various articles. Today, even Hollywood comes calling to Kidron. Where else can a set designer find hundreds of historically accurate, but brand new pieces for their movies? Cold Mountain, Gangs of New York, Pirates of the Caribbean, War of the Worlds, Next – all have featured merchandise from Lehman's.

For a free catalog, give Lehman's a call at 1-888-438-5346 or visit our website. The Kidron store is open Monday through Saturday, from 8 a.m. to 5:30 p.m. and Thursday till 8 p.m. Like most locally owned stores in the area, it is closed on Sunday. Lehman's is located in Kidron, four miles south of US Rt. 30 between Wooster and Massillon. While the mailing address remains Kidron, OH, the mapping address (for your GPS, or any on-line mapping system) is 4779 Kidron Road, Dalton, OH 44618. Because Kidron doesn't exist.


To find Lehman's using your GPS or on-line mapping system, type in 4779 Kidron Road, Dalton, OH. Because Kidron was never legally incorporated, there are no street addresses in Kidron, only box numbers. The mailing address for Lehman's is PO Box 270, Kidron, OH 44636. Many small towns in Wayne and Holmes counties have the same problem. Lehman's offices and warehouses are located at 289 Kurzen Road North, Dalton, OH 44618, just north of US Rt. 30.