Visiting Amish Country: from area visitors bureaus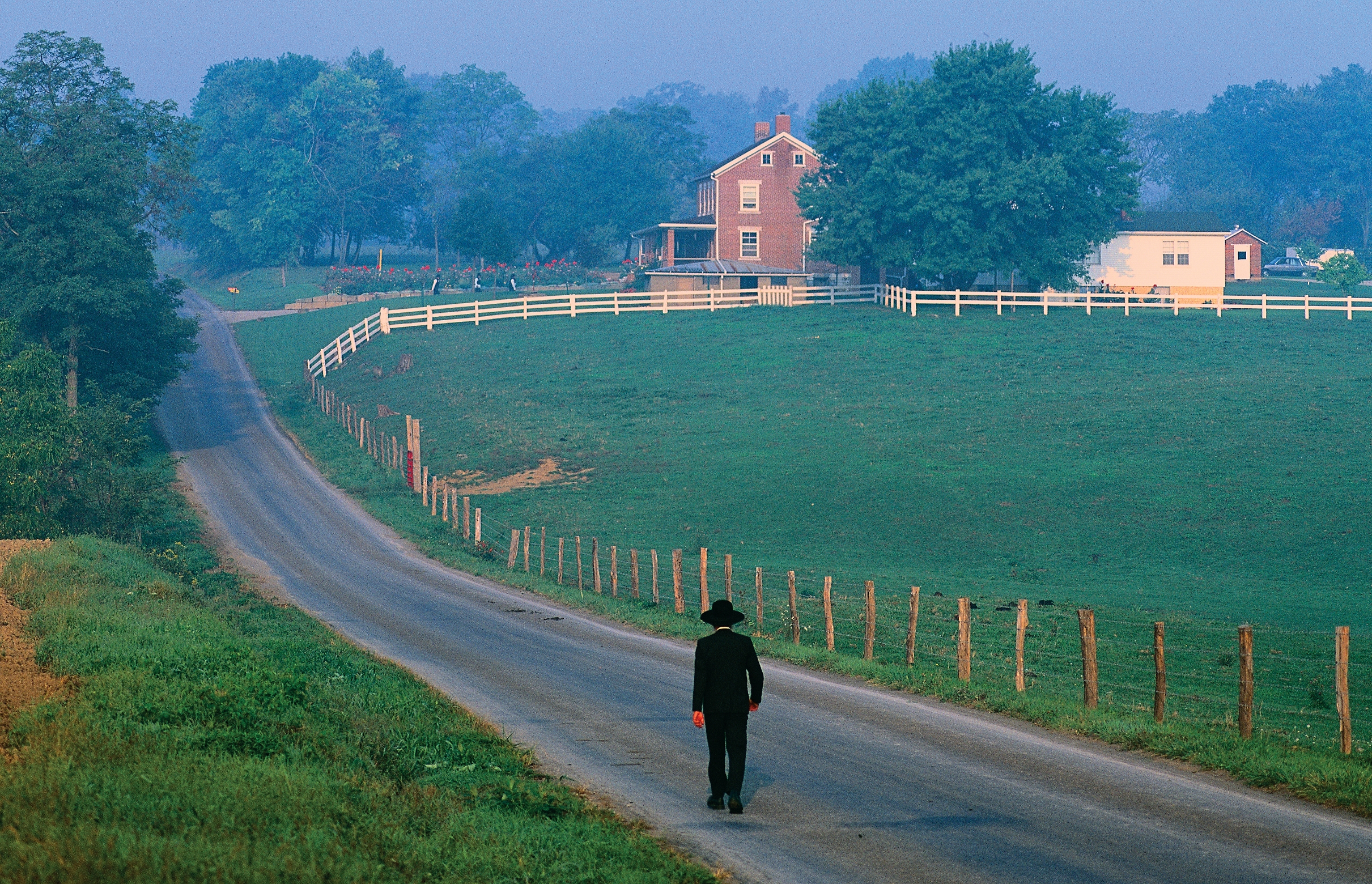 The holiday season is always an exciting time to visit Amish Country. But there also are plenty of fun family activities that lead up to the holiday season — and lots of things to get you out of the house during the winter season as well.
Here's a look at some compelling indoor and outdoor activities to make your holidays cheerful and your wintertime enticing.
Coshocton County
Many of Coshocton County's Christmastime activities center around the festivities at Historic Roscoe Village, a restored 1830s canal town. Among the most popular activities are the evening candle-lighting ceremonies, which will take place this year on Saturdays, Dec. 7 and 14, said Mindy Brems, office manager of the Coshocton Visitors Bureau.
"It's a nice family way to get into the spirit of Christmas," Brems said. "They close the streets of the village to traffic, and the people congregate around a locally cut Christmas tree, singing carols, listening to a storyteller and enjoying complimentary hot-mulled cider and cookies."
While the candle-lighting ceremony ushers in the Christmas season for many families, Roscoe's annual Apple Butter Stirrin' is an annual autumn highlight. The festival, which will take place Friday through Sunday, Oct. 18-20, recaptures the flavor of an old-time harvest celebration. Highlighting the 49-year-old festival is the making of homemade apple butter in large copper kettles over crackling wood fires. The festival includes handmade crafts and exhibits, demonstrations, outdoor stage entertainment, and various activities. In addition, the Monticello III Canal Boat will make its final runs of the season.
During the same weekend on Friday and Saturday, Oct. 18-19, guests may have the opportunity to meet some very old Roscoe residents during the Spirit of Roscoe lantern tour.
The glorious sounds of Christmas will resonate through the air at Coshocton High School on Sunday, Dec. 8 at 3 p.m. as the Coshocton Community Choir presents its annual Christmas Festival Concert. The choir, now in its 49th season, includes more than 200 singers and musicians from Central Ohio. Musical selections span the centuries with classics from each era being performed by the 100-voice adult choir, the 70-voice children's choir and the 60-voice teen choir.
A spectacular way to enjoy the last sights of autumn may be the annual self-driving Fall Farm and Foliage Tour, to take place on Saturday, Oct. 19 from 10 a.m. to 5 p.m. Maps of the mystery tour can be picked up at the Animal Boutique and Villas across from Wal-Mart on Airport Road in Coshocton.
"If you're looking for a post-holiday getaway to break up the winter, Coshocton County has six unique wineries, a brewery and a distillery all within a short drive of one another in East Central Ohio," Brems said. "Or you can spend some outdoor time on the Coshocton Crow Geotrail, using your GPS device to locate 13 geocaches."
Holmes County
In Holmes County, you're invited to celebrate the Christmas season in a sweet way, whether you're a chocolate lover, a cookie connoisseur or both.
On Saturday, Nov. 16 from 10 a.m. to 5 p.m., Historic Downtown Millersburg will host its annual Christmas Open House & Chocolate Walk. Participants purchase an empty box, then tour downtown shops where free pieces of mouth-watering Coblentz chocolate can be obtained. You will go home with much more than a $15 box of chocolate for sure, said Judy Lamp, executive director of Historic Downtown Millersburg.
The annual Christmas Cookie Tour of Inns — one of the most popular holiday events for kids — will be held Saturday and Sunday, Dec. 14-15. The self-guided tour of some of the finest inns and shops that Holmes County has to offer features a sampling of the area's finest vendors and bakeries, along with a carefully selected signature cookie at each inn on the tour.
Meanwhile, in Millersburg, the historic 28-room Victorian House mansion and museum will be the venue for seasonal magic starting from Halloween and extending through the Christmas season. Perhaps the area's most famous gathering places for spirits of the past, the mansion will host a ghost walk on Saturday, Oct. 26, during Millersburg's annual Boo in the Burg and Ohio Wine Tasting. After meeting some of the mansion's famous residents, Boo in the Burg offers further tours of historic buildings, with secrets dating back more than 100 years.
Then you might calm your nerves by sampling delicious Ohio wines and live music.
The Victorian House is always festively decorated for the Christmas season — but be sure to come back after the holidays to see the stately home in its everyday splendor.
While you wait for the holidays, you may want to enjoy the beauty of the fall season with a leisurely drive through the countryside. Lamp said the National Geographic's book, "Four Seasons of Travel," ranks Holmes County as one of the world's top-10 places to see autumn leaves.
Stark County
Stark County may be best known as the host of the Pro Football Hall of Fame in Canton. But the county offers many other interesting activities and events for tourists of all ages.
Stark County also has plenty of indoor learning activities such as the McKinley Presidential Library and Museum and the National First Ladies Library in Canton. The McKinley Library is a presidential history museum but also a kid-friendly interactive science and history museum. Discover World, within the museum, takes guests back to the time of the dinosaur.
Stark County also has plentiful shopping destinations, like Hartville Marketplace and Flea Market, with more than 120 stores. Hartville Hardware is the largest independently owned home center.
Evenings in Stark County can be filled with new wineries and breweries, where visitors can enjoy dinner, snacks and relaxing beverages before taking in an artsy film or a concert at Canton's historic Palace Theatre.
Tuscarawas County
An old-fashioned train ride may be just the vehicle to transport you and your family from the vivid colors of autumn to the magical visions of Christmastime.
Relaxing train rides through the fall foliage depart the Dennison Railroad Depot Museum on Saturday and Sunday, Oct. 19-20.
Then, during the weekends of Dec. 6-8 and 13-15, the Dennison Depot will be the starting point for a magical journey to the North Pole. The Polar Express, a family-focused re-enactment of the award-winning book and movie, is a train ride that features visits with festive elves who entertain passengers with songs and delicious hot chocolate served by Mrs. Claus.
Do you believe?
Once you've arrived in the Christmas season, you may want to tour the Reeves Victorian Home and Carriage House Museum in Dover. The Reeves family left more than 90 percent of the original furnishings of the home to the Dover Historical Society. During the holidays, all 17 rooms of the home are decorated for the holiday season, said Teai Warner, visitor service coordinator for the Tuscarawas County Convention & Visitors Bureau.

Christmas tours led by knowledgeable guides will be offered Monday, Nov. 11 through Sunday, Dec. 22 — with the exception of Thanksgiving Day — and Friday, Dec. 27 through Monday, Dec. 30.
To experience tours with a different type of spirit, you can join a lantern-led ghost tour of Historic Zoar Village on Friday and Saturday, Oct. 25 and 26. A costumed guide will reveal haunted tales of Zoar from past and present. Meanwhile, on the same evenings, you can meet the ghosts of Fort Laurens in Bolivar. Guests will hear haunting tales of the ghosts of American and British soldiers who haunt the grounds.
"Tuscarawas County also offers a lot to do in the wintertime when the holidays are finished," Warner said. "You can hike the towpath trails, and we also have many interesting indoor winter activities as well."
Wayne County
When the chilly weather convinces more people to seek indoor entertainment, Wayne County's larger small towns like Wooster and Orrville provide plenty of venues, said Marty Starkey, executive director of the Wayne County Convention and Visitors Bureau.
"We have a blend of small-town charm and increasing nightlife activities," Starkey said. "After spending the day in the country, visitors can come back to the excitement of newer upscale restaurants in downtown Wooster and Orrville. More and more young people are starting to come here, which creates a more active and lively environment."
In Wooster, Christmas season begins when Santa Claus climbs from the rooftops with the assistance of the fire department's aerial ladders during the annual Window Wonderland, to be held this year on Friday, Nov. 22. The event, hosted by Main Street Wooster, converts downtown storefronts into artistic depictions of past Christmases. Santa's arrival is prefaced by the lighting of a Christmas tree in the public square.
"Window Wonderland has become a family tradition," Starkey said. "People who used to come as kids are now bringing their kids."
Also downtown, Starkey said, Wooster's annual Downtown Churches Walking Tour will be Friday, Dec. 6 from 6-8 p.m. to reflect the true meaning of the season. The free tour highlights the churches' history, music and architecture.
Leading up to the holiday season, Wayne County will host a variety of local festivals. For example, Kidron's annual Red Beet Festival will be held on Saturday, Oct. 19 from 10 a.m. to 3:30 p.m. at Sonnenberg Village in Kidron.
"Everything there is made from beets, including beet ice cream," Starkey said.
The Kidron Community Historical Society encourages you to mark your calendar so you won't miss a beet.
For more information about what awaits you in Ohio's Amish Country be sure to contact these helpful visitor centers:
Coshocton Visitors Bureau
Mindy Brems
740-622-4877
Holmes County Chamber of Commerce
Tiffany Gerber
330-674-3975
Visit Canton
Tonja Marshall
330-454-1439
Tuscarawas County Convention and Visitors Bureau
Dee Grossman
330-602-2420
Wayne County Convention and Visitors Bureau
Marty Starkey
330-264-1800