Welcome to Hartville Kitchen Restaurant & Bakery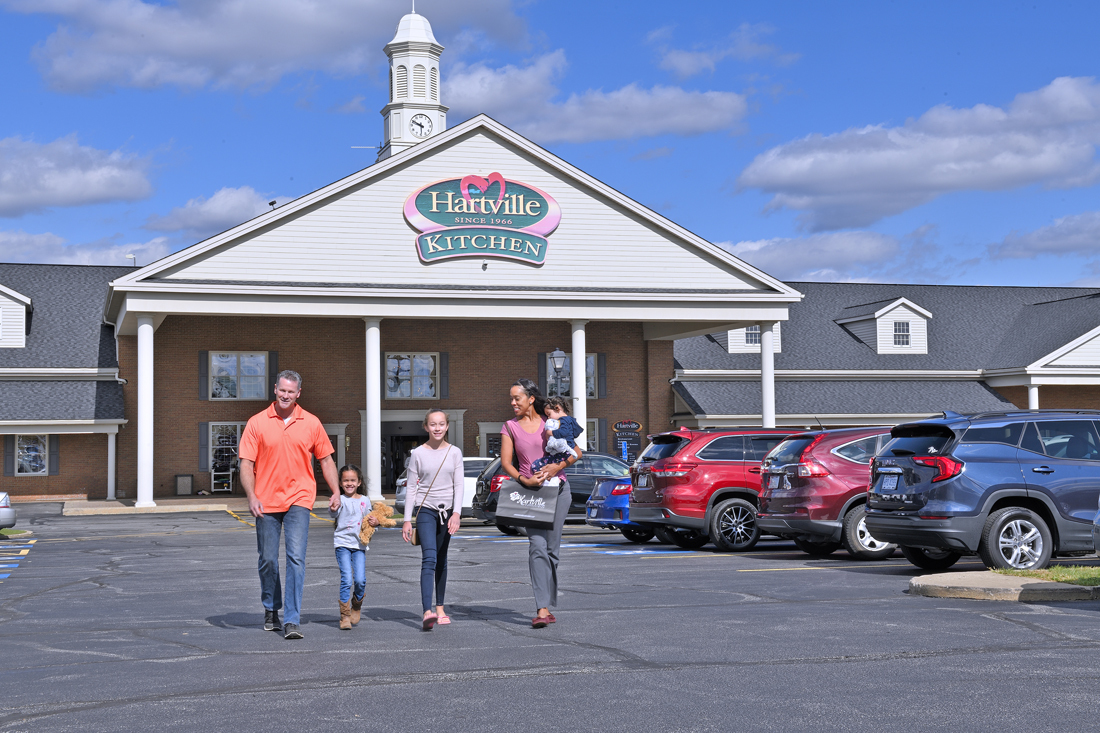 One of my favorite places to visit on the Experience Hartville campus is the Hartville Kitchen Restaurant, Bakery & Shops. No matter if you're a man or woman, child, teen or grown-up, there is, without question, something for you to discover here. And once you've finished exploring every corner of the acres-large property, you'll want to bring your appetite straight to the Hartville Kitchen, where comfort food is dished up in heaping portions — and everything is made from scratch.
"We even make our own salad dressings," said Christa Kozy, marketing and group tours coordinator for the family-owned property. "Our homestyle cooking is widely appreciated because it's so fresh and delicious. We even peel all of the potatoes by hand for our mashed potatoes. And although our portions are huge, our prices are very affordable."
So affordable, in fact, that the most expensive entrée on the menu, the salmon, which comes with three sides and fresh-baked rolls, is just $14.99. But the most popular item by far is the fresh Gerber chicken, from the Holmes County-based farm. Kozy said the sweet potato casserole, also made from scratch, is another crowd fave.
Because the restaurant seats over 400, it's naturally designed for social distancing. Hartville Kitchen also boasts eight banquet rooms, where dinner concerts take place throughout the year.
"People love to stay at the Comfort Suites next door, enjoy dinner and a show, then spend the night so they can explore everything our campus has to offer the next day," Kozy smiled.
You can find more information about the current concert line-up on the website, HartvilleKitchen.com, or on Facebook and Instagram.
Front and center when you arrive is the expansive Bakery, where fresh-baked goodies can be purchased to enjoy at home. Think homemade pies, cakes, rolls and cookies and you get the idea. You can even purchase a bottle or two of the Kitchen's salad dressing to take home with you.
Whether before or after your meal, a visit to The Shops at Hartville Kitchen (formerly Hartville Collectibles) is an absolute must. A juxtaposition to the flea market out back and the mammoth hardware store on campus, The Shops at Hartville Kitchen boast an elevated level of shopping that includes a chic fashion boutique, jewelry like Brighton, accessories like Vera Bradley, a Hallmark store, a candy store, a home décor shop, and a second-level children's shop that Kozy describes as intentionally low tech.
"We feature heirloom-quality toys and games that get kids to put down the electronics and engage their brains," Kozy noted. "We also have a children's play area that's been hand-painted to resemble Noah's Ark. Parents are welcome to bring their kids here while they browse the shops."
Look for books and puzzles, crafting kits, games and immersive toys — hard-to-find and ideal for gifting.
At the candy shop, with bulk candies that include sugar-free varieties and roasted nuts, it's nearly impossible not to grab a delicious pound or two of sweet treats from the darling candy lady behind the cases.
Newer to the offerings in The Shops at Hartville Kitchen is a fabulous oil and vinegar tasting room called Hartville Cucina. Kozy enthusiastically suggests a visit here with your special someone for date night, where the two of you can enjoy sampling gourmet olive oils and balsamic vinegars from Italy and Spain along with aromatic flavored vinegars. There are 38 different oil and vinegar varieties, so you can choose the ones that appeal, then take them home to prepare a dinner for two.
"People visit our campus to make memories," Kozy smiled. "Whether you're here for dinner and a show, to purchase a quality gift for someone you love, or you want to mix and match different parts of our campus to create an experience that's unique to you, there's always something new to love about us."w
Every building on the Experience Hartville campus is accessible and includes elevators. Hartville Kitchen and The Shops at Hartville Kitchen are located at 1015 Edison Street, NW, in Hartville. Hours for the restaurant are Monday, Tuesday, Thursday, Friday and Saturday, 11 a.m.-8 p.m. The shops are open the same days from