A giant milestone: Dutchman Hospitality turns 50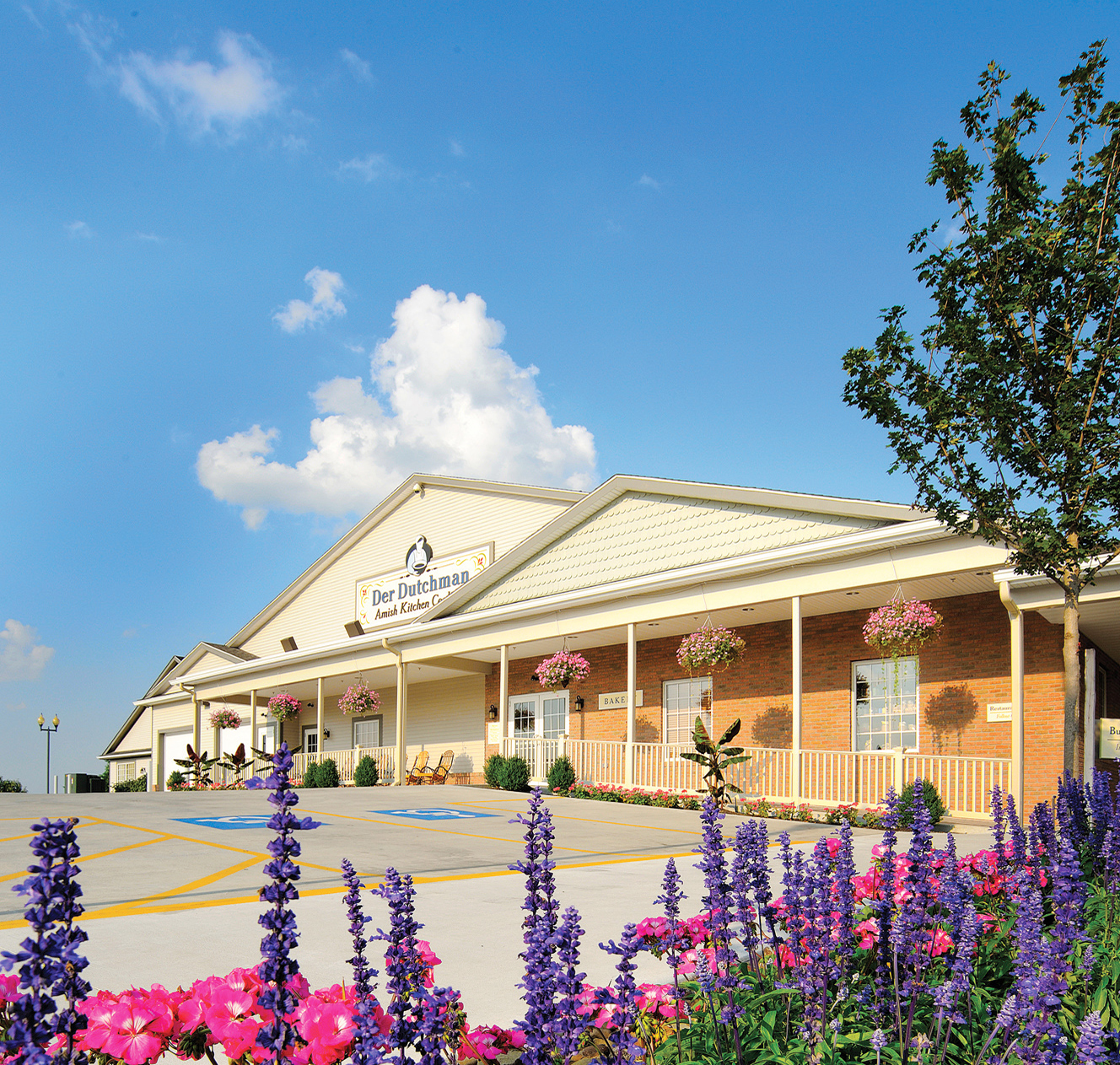 For locals and visitors alike, the name Dutchman Hospitality embodies the ultimate in quintessential Amish Country destinations. The company's campuses in Walnut Creek and Sugarcreek and properties in Berlin, Bellville, Plain City and Sarasota, Florida serve as regular reminders that a simple vision launched 50 years ago has fostered an industry that not only touches virtually every resident in the area, but also has largely been responsible for reshaping the economic climate in Holmes County and the surrounding areas.
Where once a sleepy community lived, Emanuel Mullet, Dan Lehman, and Bob and Sue Miller decided to purchase a 75-seat restaurant in Walnut Creek, named Der Dutchman back in 1969.
It was a risk.
"Nobody thought it would fly," said Vicki VanNatta, public relations coordinator for Dutchman Hospitality. "There were no tourists visiting the area back then, but over the years that restaurant morphed into so much more."
That might be an understatement coming from the girl who began as a dishwasher at Der Dutchman and, over the years, worked her way up. But it's a succinct way of encapsulating all that Dutchman Hospitality represents.
Once the restaurant took hold, a second restaurant was launched in Sugarcreek. Both dining locations were ultimately followed by gift shops and inns with the Carlisle Inn Walnut Creek boasting 52 rooms and the Carlisle Inn Sugarcreek boasting 69 and the new Carlisle Inn Sarasota with 100 guest rooms. The Sugarcreek campus also has grown to include a marketplace, gift shop, and theater and serves as the headquarters for the company's line of wholesale foods.
In total, Dutchman Hospitality employs about 1,500 people, but its reach, VanNatta said, goes way beyond that number. "Not only do the families we employ depend on Dutchman for their livelihoods, the company has also had a lot to do with creating tourism in our area," she said. "Think of all of the businesses that have sprung up as a result of the 5 million people who now come to our area. So many people have been able to realize their dreams because of Dutchman Hospitality's launch of Der Dutchman all those years ago. Today, Dutchman Hospitality employs people of all ages, and that's really very special."
Bob and Sue Miller and Dr. Dan and Mary Miller are the owners of Dutchman
Hospitality. Their quiet, unassuming guidance and beautiful attention to detail continue to draw people to the area from all parts of the globe.
"They are such good stewards of the properties they own," VanNatta said. "It's really one of my favorite things about the company. They have created exceptionally beautiful experiences for the people who come here."
VanNatta isn't the only one with sweet memories of her time with the company. Current president Mike Palmer said, "The highlight of my time with Dutchman Hospitality has been working with the wonderful staff members who make it possible to serve over 1 million people each year at our restaurants, shops, inns and theater."
"A lot of changes have happened over the last 50 years. From the start we have tried to emulate the cooking and baking traditions of our Amish and Mennonite heritage. This includes making dishes from scratch and using local produce as much as possible. It has been a very satisfying experience," owners and board members Dr. Dan and Mary Miller said.
"What we treasure most are the testimonials from customers as they express gratitude for their experience, whether enjoying the food, lodging or gifts we sell," Bob and Sue Miller said. "We are blessed to be among the original founders of DHG and continue to offer service to others based on Christian values and principles."

To learn more about all that Dutchman Hospitality has to offer, visit the website at DHGroup.com. There you can find information on booking a stay, attending a show and more. The Facebook page contains regular updates about shows and other exciting events. To reach Der Dutchman restaurant, call 330-893-2981.