Berlin is Back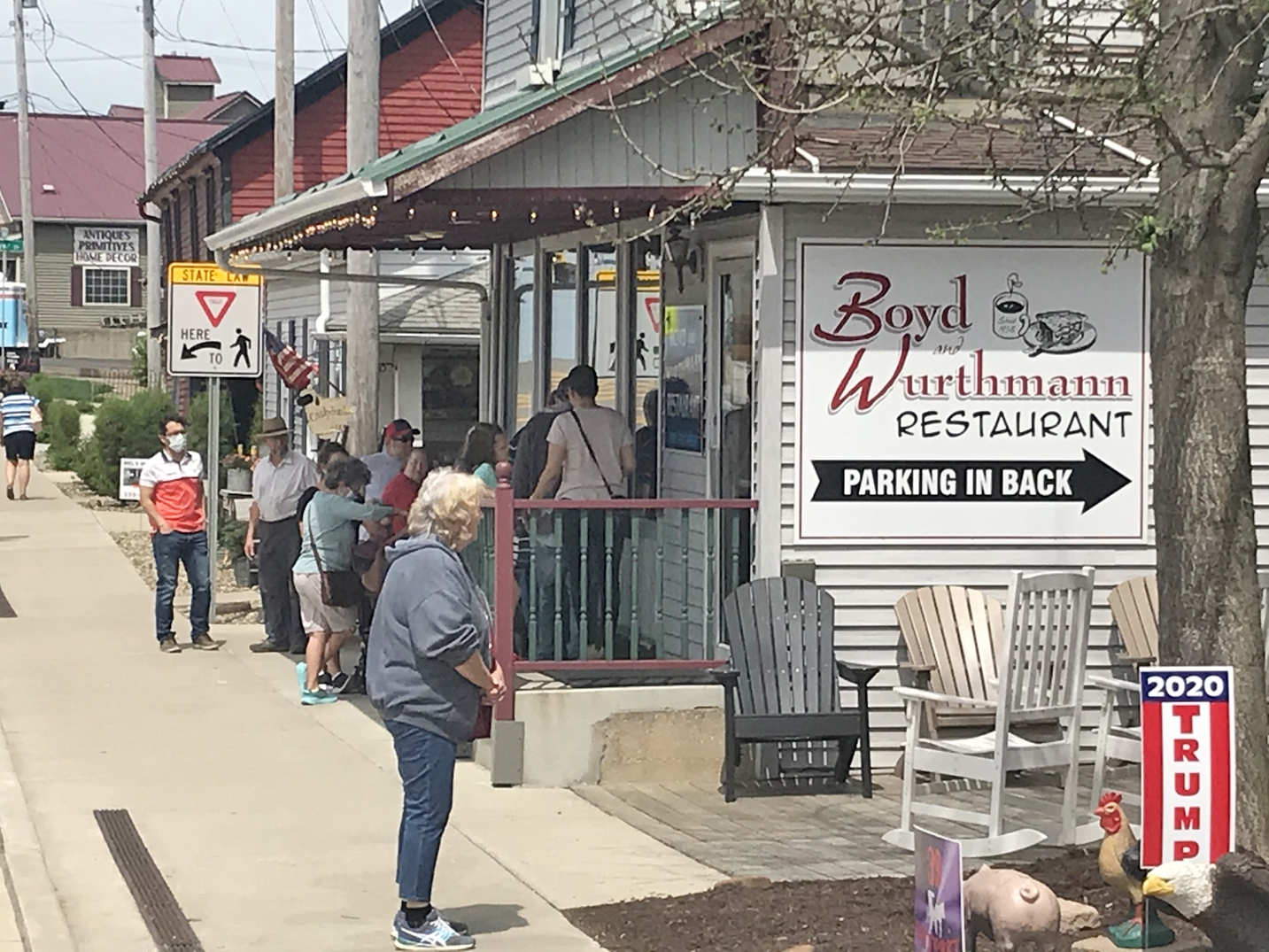 Dave Mast
Hope springs eternal in a community that is built on faith, family and resolve to deal with whatever trials might come.
Social distancing and isolation are buzzwords that nobody wants to hear any more during the COVID-19 pandemic. Amish Country is ready to create some new buzz words for a world ready to move beyond coronavirus.
"We are ready to roll out our new promotion, 'Cool, clean, crisp air,'" said Doug Burgess, president of the Berlin Main Street Merchants, located in the heart of Amish Country. "That sums up what people can experience here in Amish Country. People who come here can expect those qualities wherever they go."
Downtown Berlin may have been fairly dormant during the past three months at a time when it is usually humming with activity, but you can't keep a good town down.
With Holmes County being one of Ohio's top-drawing tourist destinations, the tourism industry nearly drew to a halt during spring.
Large venues like the Mt. Hope Auction Barn and Harvest Ridge Expo Center in Millersburg also have been devastated by the lack of events they were able to host.
As May moves into June, Amish Country is looking to put those things in the rearview mirror.
Holmes County Harvest Ridge board member Kerry Taylor said that while the expo center has lost an approximate $100,000 in revenue during the past three months, many of those shows can and will be pushed into fall months.
However, hope springs eternal in a community that is built on faith, family and resolve to deal with whatever trials might come.
"This is Holmes County, where people continue to find ways to get things done and done well," Taylor said.
Take for instance Berlin, where the Berlin Main Street Merchants have already seen a monumental turnaround in fortunes as people have returned in hoards, albeit hoards branding masks and staying separated as much as possible.
The members and board of BMSM have worked together to define what they want to see happen. Burgess said all Berlin events from here on out are currently in place and ready to roll.
They've also created better distancing opportunities. Kaufman Lawn Furniture donated a dozen picnic tables that have been spread throughout the downtown area, where people can sit and dine outside.
The other change is the Music on the Square venue. Each Friday during peak months sees the pavilion hosting a new band on the square in Berlin during the evening. To make up for lost time, Music on the Square will see performances taking place each Friday and Saturday from July 3 through the end of October.
With a new website set to promote its events and its businesses and hours, and with every business in town now reopened, Berlin is kick-starting the recovery of its economy.
"We are encouraging our businesses to do everything they possibly can to promote their business," Burgess said. "We want them to bring something to the table to create that experience that we haven't been able to do for the past couple of months."
Whether visitors come for a day, a few days or even longer, Burgess said the way things take place in tourism have been altered by the pandemic and the BMSM needs to adapt.
"The day-tripper mentality has changed," Burgess said. "Our 50-year-old and above travelers that make up a large portion of our visitors who would spend the night are going to stop in for the day, then head home for safety reasons."
That has forced area lodging businesses to adapt and change the way they do things. Burgess said the Berlin Grande Hotel, where he is general manager, has always been clean, like all of the lodgings around the area usually are.
Even so, they have taken even greater precautions to create a safe haven, and the BMSM are going to promote that heavily.
"We have done so many new things to make everyone feel so safe," Burgess said.
Those safety precautions include full-time staff wiping things down consistently, restructured dining areas and many other things that benefit visitors who are staying the night.
Burgess said it is all about recreating the special feeling of what a visit to Amish Country entails.
The hope that a quick rebound will surface is high for all of Amish Country's tourism-based entities.
"I feel as though we are going to rebound from this very quickly," Burgess said of the Berlin area. "I think the reason is our willingness to work together, because we are in this together."
Across the road from the Berlin Grande is Comfort Suites, where Holmes County Chamber of Commerce and Tourism Bureau President Kent Miller is the general manager. Burgess said while many see them as competitors, they work hand in hand with all of the other lodging sites to promote Berlin as a destination rather than promoting just their own place.
"We have a great relationship, and we work together," Burgess said. "It starts from the chamber. It goes to the Berlin Main Street Merchants. It goes to Millersburg and Winesburg and all of these other burgs around us. We all have the same common goal. We want to create that Amish Country experience that brings people back because they enjoy our community."
"We weathered this storm, and things have changed in a lot of ways, but we are going to bounce back quickly," Burgess said. "Let's focus on the good. We have a lot to be happy about in Holmes County. We can feel blessed, and we want people who visit here to share that feeling. We love the idea of providing a place where people can come, take a deep breath and slow down in life."
Cool, clean, crisp air is something many people would welcome right now. Throw in some quality hospitality with some down-home friendliness, and Amish Country just might be the relaxing and refreshing trip people need to feel alive again after months of loneliness and solitude.
For more on the BMSM, visit its page on Facebook, and for more on Amish Country, visit www.oacountry.com.