Heritage brings a unique experience at Sugarcreek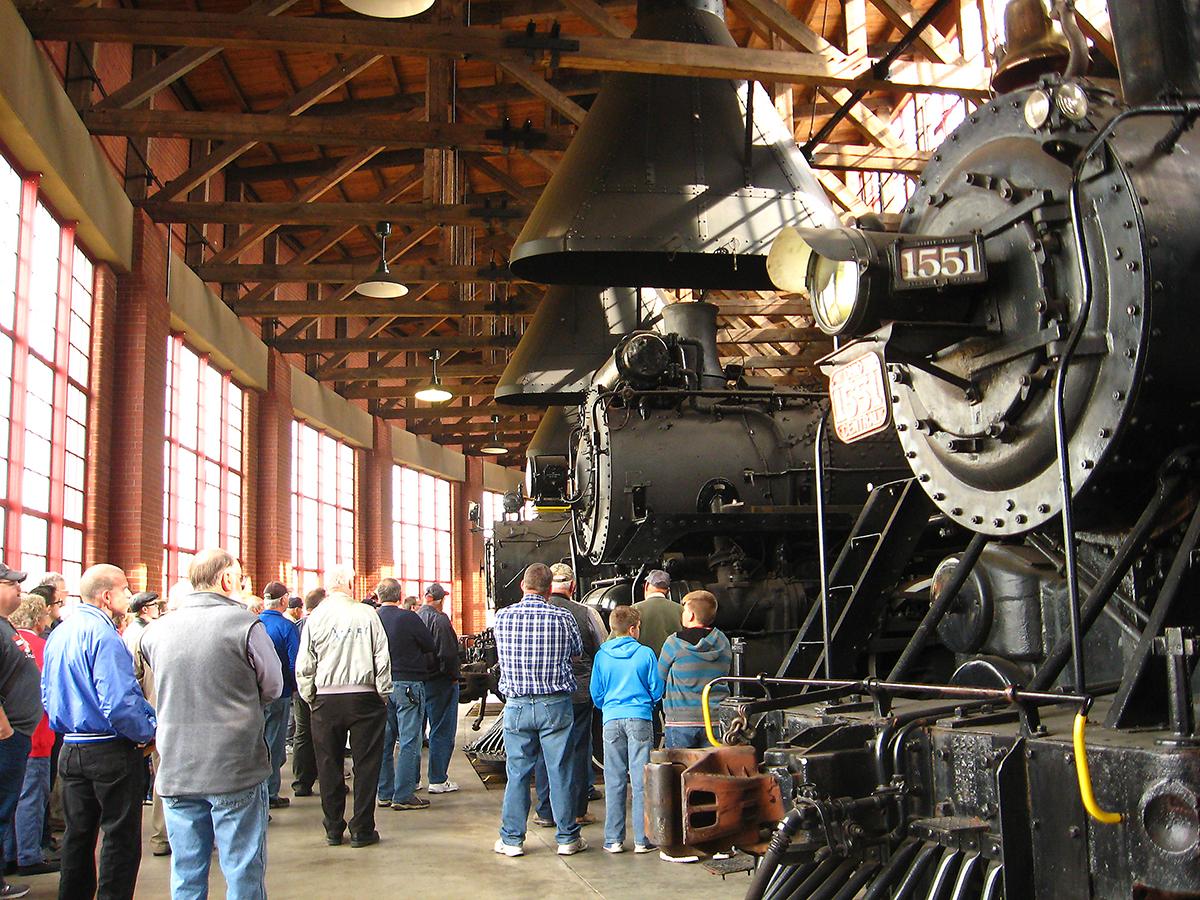 Submitted
The Age of Steam Roundhouse contains the largest private collection of steam locomotives in the world, with 22 on hand for viewing.
Spending the summer in Europe may seem like a lofty travel goal, with foods, cheeses and wines to be sampled at every stop. Happily, some of the best examples of each are nearby, in an exploration of Ohio's Amish Country, at a far slower pace and gentler budget.
Here are the best of experiences waiting for your family to discover, and Sugarcreek, the gateway to Amish Country, is the open door to all of it. Surrounded and intersected by rolling hills and dotted with familiar buggies, wagons and laundry drying in the open air, Sugarcreek is a place unlike any other to be found.
Sugarcreek is still deeply connected to the Swiss settlers who laid out its streets and plots of land more than 200 years ago. They saw a bit of home and the chance to carve out farms, which brought comfort and something familiar about the countryside.
Sugarcreek remains well known as "The Little Switzerland of Ohio," and her bracketed architecture and postcard-perfect backdrops make the claim more than just a clever phrase.
Downtown, there's something remarkable everywhere you look. The world's largest cuckoo clock, certified in the "Guinness Book of World Records" at over 23 feet high, brings out handmade, animated Swiss characters every half hour to announce the time to frequently gathered crowds. More than 50 years old, the clock took 12 years to build for a nearby restaurant, and has been a downtown centerpiece since 2013 after extensive restoration.
Surrounding this remarkable bit of Amish Country history are shops filled with quilts and fabric creations, along with an Amish bakery and coffee shop. Antiques, works by local artists, toys and collectibles and a giant stash of vinyl records will keep your family browsing for hours looking for just the right memory to take home.

The Alpine Hills Museum, where, you can have a try at an alphorn, learn how to yodel, immerse yourself in Amish culture, and browse three stories of exhibits is a short walk away from an extensive collection of decanters and German steins, offered for sale and displayed in a collection which is the largest of its kind in the United States.
Just across the street from the museum is a brick sculpture, which brings the story of the surrounding area to life. Created with brick manufactured in Sugarcreek by the Belden Brick Company, the 13 panels span more than 80 feet and have been a key Sugarcreek landmark since 2013.

The Age of Steam Roundhouse contains the largest private collection of steam locomotives in the world, with 22 on hand for viewing. The massive 18 stall brick roundhouse, with a 115-foot turntable is the first full sized working roundhouse built in the United States since 1951. Among so many lights, bells, whistles and railroad memorabilia, it's easy to leave a stress filled life behind and delve into the slower world of your grandparents.

The Ohio Star Theater, in Sugarcreek, offers musicals, high drama and some of the most in-demand entertainers in the country, year-round. The theater is next door to a luxurious hotel and one of the largest rib-sticking Amish buffet restaurants in Ohio.

Strike out from your comfortable Sugarcreek base on a tour of one of the greatest of U.S. wine regions. Five wineries are nearby and offer more than 90 varieties of rich, bottled bliss. With so many choices, you're sure to find just the right wine to suit your own palate after sampling from numerous possibilities. Ohio's many wines are second to none and all are reached via the rolling hills of Sugarcreek.

Come to Sugarcreek for the peaceful, charming tree lined streets and architecture. Come learn about the Amish way of life at the region's gateway. Come be entertained, surprised, well fed, well rested and restored with fresh, country air.

Relax in Sugarcreek, a place quite unlike any other to be found.

Visit Sugarcreek online at www.villageofsugarcreek.com or call 330-852-4113. Reach them via email at contactus@villageofsugarcreek.com for more information.