It's a fresh experience at Troyer Country Market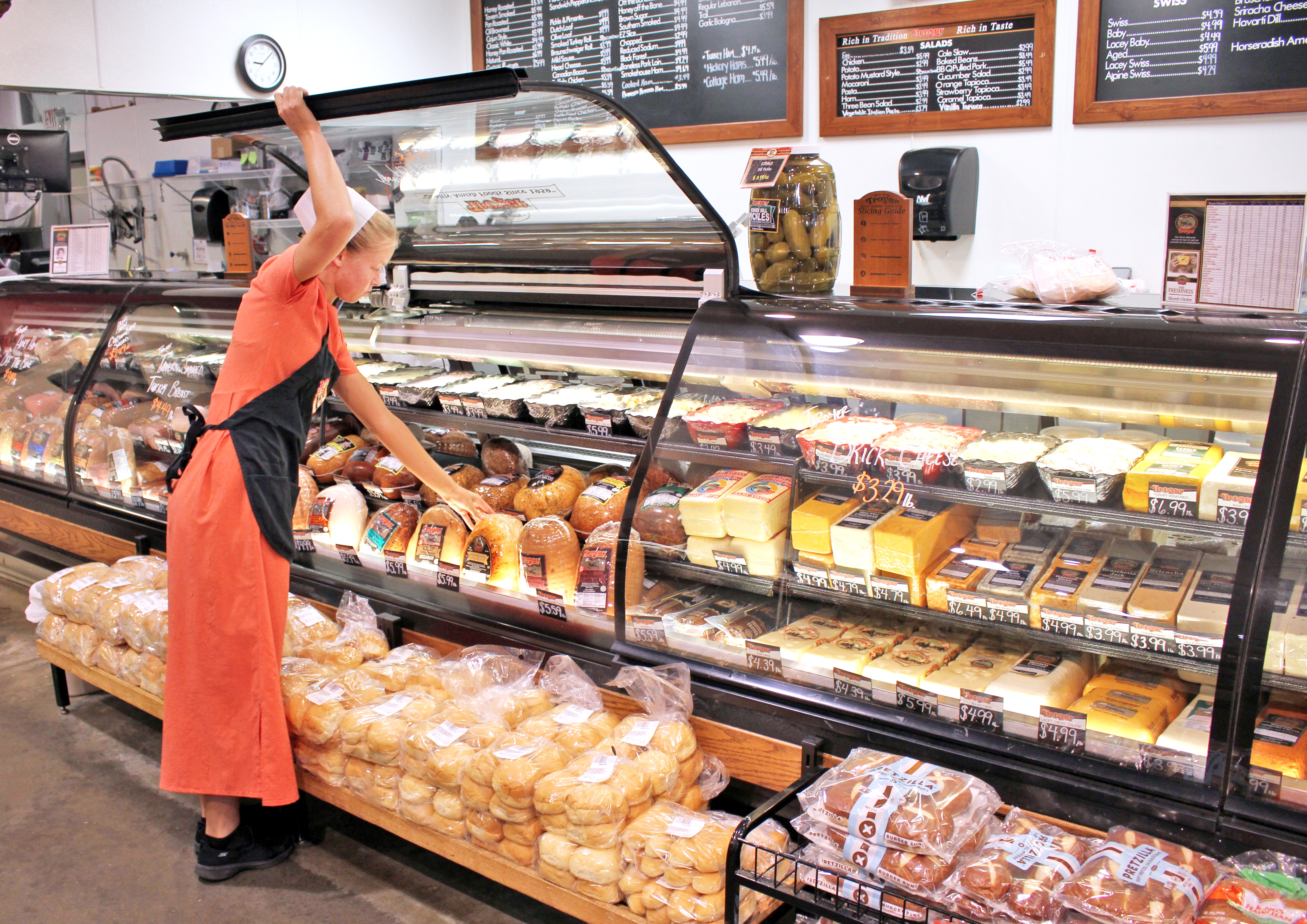 Randy L. McKee
The full deli is packed with the finest and tastiest meats and cheeses.
A visit to Troyer Country Market is a must for visitors who want to have a genuine Amish Country experience. Few places offer the true taste of Holmes County like Troyer does. From the moment you arrive, the enticing atmosphere is evident.
"We display a lot of our locally grown produce and other items right on our front porch," said Dave Vogt, Troyer Country Market manager. "Our fun and unique shopping experience begins even before you walk through the entrance."
Locally grown seasonal produce like candy onions, asparagus and strawberries in spring; green beans, cucumbers and tomatoes in summer; and peppers, pumpkins and squash in the fall greet visitors before they even step inside the spacious market.
Troyer Country Market is known as an Amish Country destination for tourists who have come to expect quality, excellent customer service and the ability to take a bit of Holmes County home with them.
The market is a cross section of all the fantastic foods Amish Country has to offer — all under one roof.
Here are 10 great reasons to visit Troyer Country Market:
10. Try before you buy
With a wide variety of delectable samples of local snacks available, like cheese balls, dips and relishes, and cinnamon and honey graham pretzels, visitors can try before they buy.
9. Homemade soups
Troyer Country Market's homemade soups are made right at the store — from scratch. Soups are offered in three sizes. So if you want a small portion for lunch or a 5-pound container for a family dinner, they have it. "We make a wide variety of flavors of soup like cheeseburger, chili, chicken noodle, and ham and potato, as well as a few new varieties, which include stuffed pepper, a mushroom chowder and a soup called cowboy soup, which has hamburger, bacon, black beans, corn and cheese," Vogt said. "So when you stop into Troyer Country Market, make sure to pick up some of our delicious soups for a meal or to compliment a family dinner."
8. Jams, jellies & fruit butters
Troyer Country Market also carries an ample assortment of more than 100 types of jams, jellies and fruit butters. These favorites have been lovingly perfected over time and keep people coming back.
7. Fresh produce
Troyer Country Market also has a full line of produce items purchased from top growers, both locally and across the U.S. From juicy peaches and delicious fresh strawberries from the Carolinas to a wide variety of apples from New York, freshness and taste abound.
6. Meat & cheese
The full deli is packed with the finest and tastiest meats and cheeses. Visitors in search of authentic Amish cheese will find plenty to choose from at Troyer Country Market. The award-winning deli meats, fresh cheese and a very large variety of homemade cheese balls, including a few new ones, are sure to satisfy. Don't forget to take home some Troyer's Swiss cheese as well as the market's signature off-the-bone ham.
5. Dips
"Here at Troyer Country Market, we make our own homemade from scratch dip, spreads and cheeseballs," Vogt said. They start with an assortment of "made from scratch" cheeseballs in flavors of chocolate chip, ranch, cheddar, salsa and the most popular flavor, a dried beef cheeseball. While you're there, you'll also want to pick up some homemade mild salsa, as well as cinnamon spread. All their choices go together with your favorite bread or cracker and will truly be a hit at any family gathering.
4. Fresh baked goods
Home-baked goods are a part of what makes Amish Country so special, and Troyer Country Market has them. Among the array of locally baked breads, cookies and pies are the perennial Amish favorite — fry pies.
3. Bulk items & snacks
Troyer Country Market is well known for its abundant selection of bulk food items, like candies and nuts. Vogt said he favors the market's Backroad Country snacks, including kettle corn, caramel puffcorn, pork rinds and veggie chips.
2. Do-it-yourself fun
Visitors enjoy the novelty of making their own peanut butter or filling their own honey bottles. "While you're in the bulk section, be sure to leave time to grind your own natural peanut butter in our grinders," Vogt said. "It's always a favorite activity for the family." The finished product makes an ideal souvenir.
1. Homemade ice cream
Once you have experienced all of the tempting foods, be sure to try Troyer's homemade ice cream, which is made right on site. There are 32 delicious flavors of hand dipped to choose from, along with soft-serve ice cream. Chocolate Peanut Butter, Butter Pecan and Buggy Tracks (vanilla ice cream, fudge and peanut butter cups) are the top-three sellers.

Troyer Country Market is located at 5201 County Road 77, Millersburg, on the corner of CR 77 and State Route 39, about a quarter mile east of Berlin. Hours are Monday through Thursday, 8 a.m. to 6 p.m.; Friday, 8 a.m. to 7 p.m.; and Saturday, 8 a.m. to 6 p.m. The phone number is 330-893-3786. Visit the website at TroyersCountryMarket.com.