Polish pottery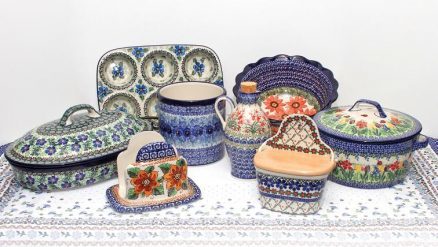 Randy L. McKee photo
Providing heirloom-quality treasures to pass down from generation to generation is the passion of Eleanor Gray, owner of The Pottery Niche near Charm. While serving in the military in Germany, Gray's daughter discovered unique, decorative and functional pieces of art and introduced her mother to the wonderful world of Polish pottery. After selling the pottery at an area flea market for a number of months, then out of her own basement, Gray opened The Pottery Niche in 2004 and has never looked back.
"This pottery is truly something special," Gray said. "Each unique piece is created by highly accomplished artists who skillfully craft and paint each unit by hand. The time and talent put into these creations is amazing and difficult to find these days. I feel honored to offer these special treasures to the community."
When Gray introduced Holmes County and the surrounding communities to Polish pottery back in 2003, people were initially struck by its beauty but soon realized that the durability of the pottery is what also makes it special. Suitable for everyday use, Polish pottery is nontoxic, microwaveable, cadmium and lead free, very easy to clean and oven and dishwasher safe.

"These characteristics are hard to find in handmade pottery," said Gray. "Some say that it's the white stoneware clay found in the Bobr River basin in the southwestern region of Poland that makes it so durable. It has been around for centuries and has lasting qualities that make it sturdy enough for everyday use in the modern world of microwaves and dishwashers, while still maintaining it's original luster."

Artists in the town of Boleslawiec in southwest Poland have been using the Bobr clay and creating this pottery since the 17th century. Gray's daughter knew her mother would be drawn to its old-world beauty and charm.

"I've always loved antiques and heirlooms and appreciate the artistry, history and superior quality of these pieces," Gray said. "They are perfect for collectors, anyone looking for a special gift, or for those who simply want to update their dinner and serving ware."

And that's the real beauty of Polish pottery. With everything available, from decorative trays, bowls, cookie jars and seasonal pieces to more functional dinnerware, you can mix and match pieces and designs for an individual look.

The standard color in all of the thousands of patterns of the pottery is cobalt blue. After that, many patterns include various shades of blues, greens and other colors depending on the season and the artist creating the piece.

"Each design is first created by the artist drawing it on paper," Gray said. "Much of the painting is done freehand, but for repetitive areas, like around the rim of a bowl, the design is hand cut from a sea sponge, which is then used as a stamp to apply the design. It is a time-consuming process and unique to each artist."

The artist continues to remain true to the original method of creating the pottery.

"Artists have been doing it this way for centuries and the process remains basically the same," Gray said. "This attention to detail, respect for the process and history of the art is what drew me to Polish pottery and keeps me excited about it today."

And Gray is also excited about the new holiday pieces arriving regularly at the shop, including pumpkins, Santas and snowmen, cookie jars and so many other festive pieces. A visit to The Pottery Niche on the property of Gray's own home also offers beautiful views of the countryside as you explore this unique world of Polish pottery.

"I've always been drawn to old-world charm," Gray said. "This pottery honors that tradition of beauty and quality while at the same time providing functional pieces that will remain in families for generations. We are celebrating the finest of the Old World today."

The Pottery Niche is located at 3371 Township Road 154, off state Route 557 near Charm. For more information call 330-893-2694, or check the website www.ThePotteryNiche.com.