Take a hike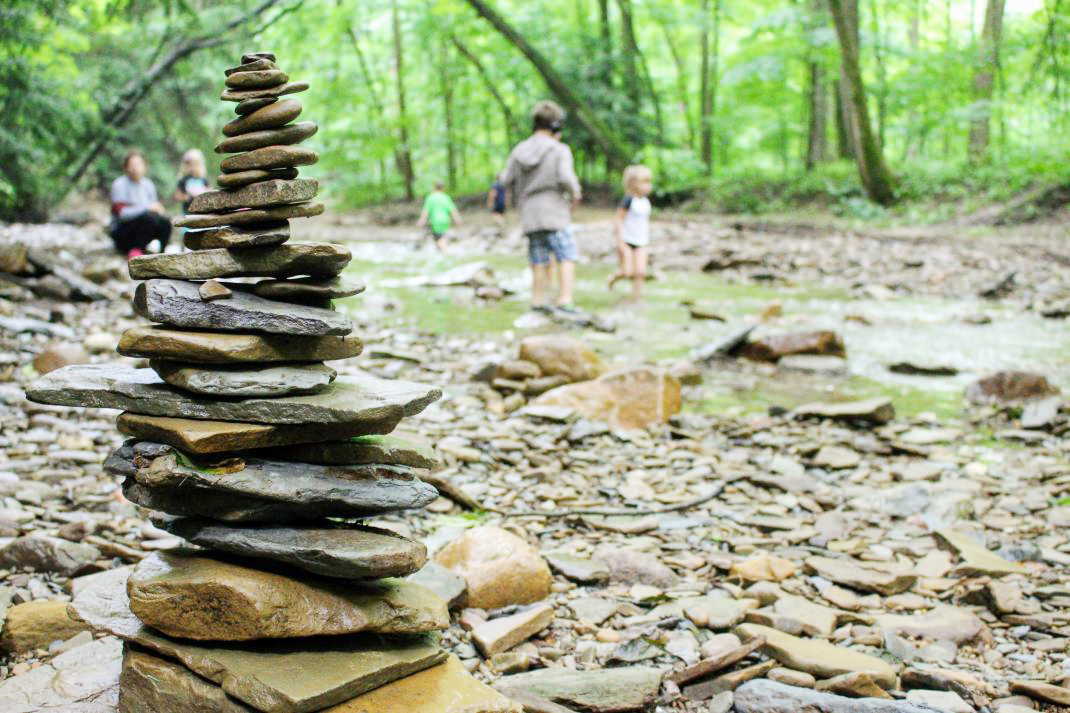 A long walk through the wilderness can be enlightening, even therapeutic for some. But enjoying the outdoors doesn't necessarily require complete isolation. And while a challenging hike can be great, what most of us need is a respite from the hustle and bustle. Not every outing needs to be a test of physical endurance to be enjoyable. For many—especially those with children—easy, fun hikes are an option.
Many Ohio Amish Country hiking destinations provide interesting diversions while allowing hikers to immerse themselves among rolling and wooded hills, steep ravines and winding paths. With a decent pair of shoes, a little water for the journey, walkers, runners and bikers can experience some of Ohio's many miles of trails.
Wooster Memorial Park in Wayne County has more than 10 miles of winding foot trails, six of which are primitive on 442 acres. The park, located at 5197 Silver Road in Wooster, is just off U.S. Route 250, five miles west of town and includes scenic overlooks, the Rathborn Run, a tributary of the Little Killbuck Creek, picnic pavilions and public restrooms. Wooster Memorial Park is for foot traffic only. No bikes, horses or motorized vehicles are permitted.
Another Wayne County gem, Johnson Woods State Nature Preserve, is located in Marshallville just four miles north of Orrville. This 205-acre tract of woodland is one of the state's best-preserved old-growth forests. Its trees have seen 400 years of American history; some were already 30 years old when the pilgrims landed at Plymouth Rock in 1620.
Today the oldest trees in Johnson Woods reach 5 feet in diameter and tower 120 feet above the hikers below.
Part of the park's beauty also comes from the plants and animals that live below the ancient oaks. The area is home to numerous birds including pileated woodpeckers, Acadian flycatchers and scarlet tanagers. Vernal pools also provide an important habitat to native amphibious species.
The park's flora and fauna can be observed from the comfort of a 1-mile, wheelchair-accessible boardwalk dotted with informative plaques. These additions make Johnson Woods a more accessible spot for families with young children.
The Holmes County Trail continues to be a vital part of the region in numerous ways. While it provides a safe avenue of travel for walkers, runners, cyclists and Amish buggy traffic, it has brought visitors another reason to come to the county.
The fact the trail is now a destination has not escaped Holmes County Park District director Jen Halverson.
"People are beginning the recognize this great gem within our county, this big asset we have, not only for our transportation and recreational needs, but this has become a tourist attraction, and I really think we are only going to see that grow with the completion of the piece that we opened up from Glenmont to Brinkhaven," Halverson said. "I think we will see even more people utilizing the trail with longer distance routes who spend the night in Millersburg or stop in Killbuck or Fredericksburg for pizza and take advantage of the many different options they have along the trail. The economic impact has been tremendous, and I think it is only going to grow as the Ohio to Erie Trail gets closer to completion."
While many people have taken advantage of the trail to bike from Cincinnati to Cleveland, Halverson said she has talked to numerous people who are utilizing the trail as they bike across the nation.
The Mohican Valley Trail runs for nearly 5 miles along an abandoned right-of-way of the old Penn Central Railroad on the eastern edge of Knox County, between Brinkhaven and Danville. The trail features the Bridge of Dreams in Brinkhaven, a 370-foot covered bridge over the Mohican River. The span is the second longest covered bridge in Ohio and the third in the country.
In Danville, walkers, hikers and bikers can carry on west along the Kokosing Gap Trail or east on the Holmes County Trail. All three trails are also components of the Ohio to Erie Trail. The planned 320-mile route, of which over 240 miles are complete and open for use, will eventually span Ohio from the shores of Lake Erie in Cleveland to the Ohio River in Cincinnati. There is paving underway to extend this trail several miles further east from the eastern endpoint.
Although less suitable for families seeking paved trails, the Killbuck Marsh Wildlife Area offers a similarly unique landscape to explore. The 5,671-acre area sits in a glacial outwash valley, over half of which is flooded at some point in the year.
In Tuscarawas County, visitors can enjoy the Canal Lands Towpath Trail between Fort Laurens in Bolivar and the Canal Lands trail head at Zoar, a part of the Ohio and Erie Towpath Trail as well as historic Schoenbrunn Village and Camp Tuscazoar.
The Norma Johnson Center between Dover and Sugarcreek has something for hikers of all skill levels within the 303 acres in the Brandywine Valley.
"There are three marked trails for your hiking enjoyment with different levels of difficulty," said Norma Johnson Center director Marsha Freeland, who has been with the organization since 2005.
Designated signs have been newly installed on Conservation Trail while others will be installed, weather permitting, in the near future.
"This project has been a long time coming, and we are so excited to put the signs on the trail," Freeland said.

Ohio's Amish Country offers even more hiking and biking opportunities for residents and visitors. Some great online resources to help you plan ahead include the www.traillink.com and the www.ohioanderiecanalway.com websites.