The Village of Sugacreek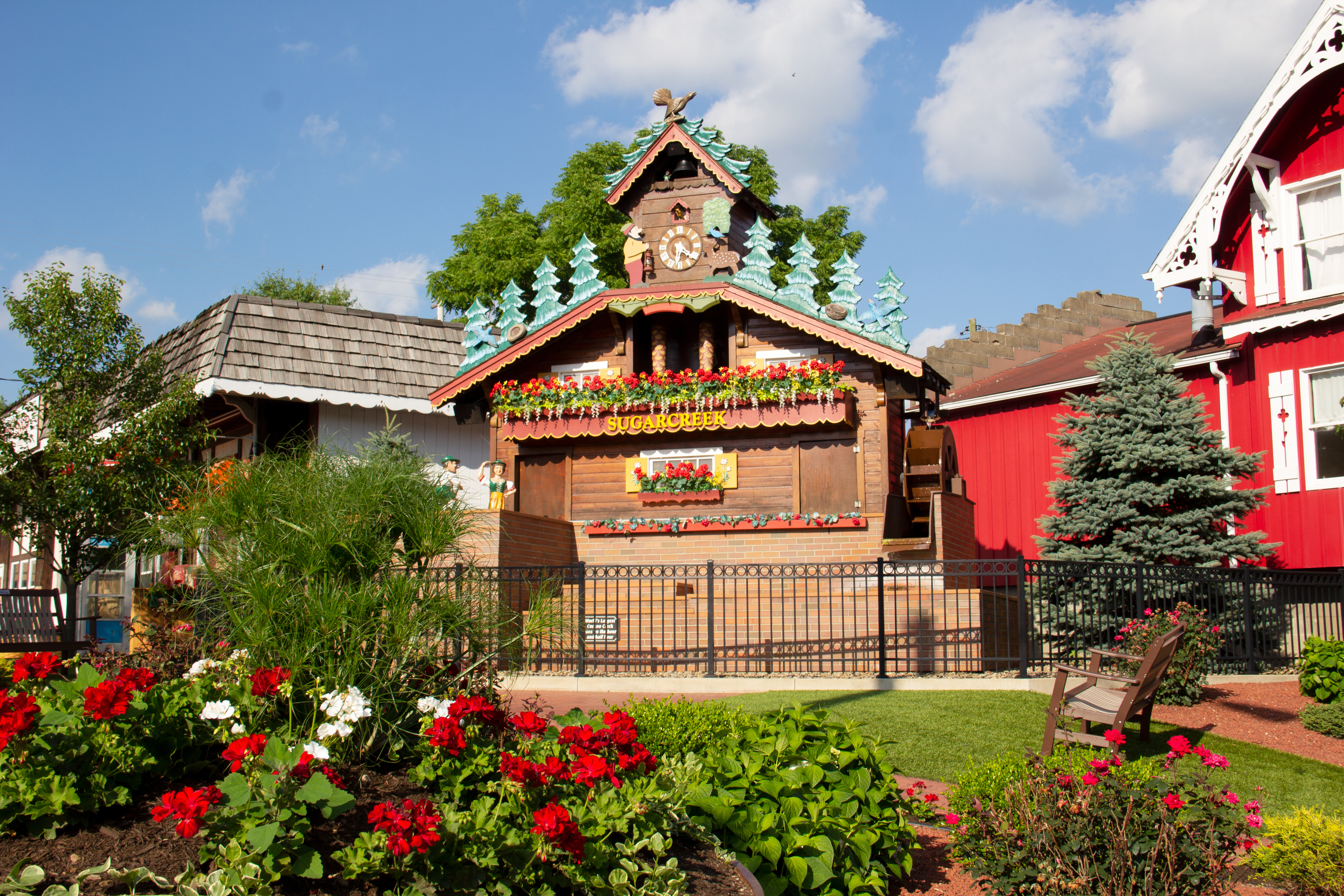 Christine Quickel
Take a trip down tree-lined streets to the corner of Main and Broadway to see the World's largest Cuckoo Clock.
The village of Sugarcreek offers unique opportunities for daytrips with the kids, weekend getaways with friends or extended stays with the whole family. Located in the rolling, postcard-worthy hills of western Tuscarawas County, the village has a rich history that lends to its reputation as the Little Switzerland of Ohio and has much to offer visitors four seasons of the year.
Having been settled by Swiss and German immigrants in the 19th century, Sugarcreek and the surrounding area became home to the burgeoning Swiss cheese business that grew when families with the copper kettles they brought from home pooled their resources to market their unique product in the region. To this day, the industry remains a familial and fraternal one that exemplifies the character of the community.
On Friday and Saturday, June 7-8, summer will cruise into Sugarcreek with the 29th Annual Fabulous 50s Fling. The car show draws thousands of locals and guests who enjoy classic cars, delicious food and live entertainment focusing on the tune of the 1950s.
Residents and visitors celebrate the community's heritage each year with the Swiss Festival every fall. For more than 60 years, Sugarcreek invites visitors from near and far to enjoy all things Swiss from their delicious homemade apple fritters, to their Swiss-style wine and the cheese along with Swiss music, games and entertainment that appeal to visitors of every age.
The 67th Annual Swiss Festival will be held on Friday and Saturday, Sept. 27-28. The charming Alpine-influenced scenery and a melodic background of happy polka tunes have made the Swiss Festival a favorite tourist event since 1953. The festival includes many unique events, including the traditional Steintossen - or throwing of the stone - alphorn playing and the popular Grand Parade - featuring many participants in Swiss costume.
Sugarcreek boasts a vibrant downtown dotted with independently owned businesses including a bakery, art and crafts, a bulk food store and a bookstore surrounded by neighborhoods that have seen generations of residents.
Take a trip down tree-lined streets to the corner of Main and Broadway to see the World's Largest Cuckoo Clock. Built in 1972, the clock's first home was in Wilmot but finally made its way to Sugarcreek in May 2012 thanks to the effort of a Walnut Creek resident who believed it would be well-received.
The clock was painstakingly restored by Sugarcreek Main Street volunteers and was reanimated in November that same year. Every 30 minutes, a three-foot-tall couple on tracks dances the polka to Bavarian music played by a five-piece animated band that draws visitors from all over who are surprised and delighted with its nostalgic charm.
"The village welcomes visitors with its charming, small town atmosphere and Swiss style architecture," Christine Quickel, the marketing administrator for the village said. "Sugarcreek's love of the arts is evident everywhere you look from the large Brick Wall sculpture in the square of Swiss Village to the numerous arts and craft studios."
The Alpine Hills Historical Museum and Information Center is a three-story museum in downtown Sugarcreek that highlights the history of the town's Swiss and Amish heritage. Exhibits and audiovisual presentations detail old-time methods of cheesemaking and woodworking as well as life on a traditional Amish farm. Visits can also view vintage clothing and firefighting gear also on display. Admission is free, with donations accepted. The museum is open seasonally from April-October.
Sugarcreek is for families who want small town charm along with a cultural experience at a slower pace that allows them to leave the rush of day-to-day life behind for a quiet, respite in the country.
"Sugarcreek is the sort of place that is great to visit year-round," Quickel said. "Its unique blend of Swiss and Amish culture makes it a one of a kind destination and we have many family friendly attractions."
The Ohio Star Theater at Dutch Valley is a 500-seat playhouse where locals and visitors can enjoy Amish-faith musicals, wholesome, family-friendly comedy along with contemporary Christian, Southern gospel and bluegrass bands who offer year-round entertainment.
Located in the heart of Ohio's Amish County, Sugarcreek is a pleasant drive from a multitude of attractions that make the region a destination for so many travelers. w
See the village of Sugarcreek on the web at VisitSugarcreek.com for more details.