The Village of Sugarcreek: Little Switzerland of Ohio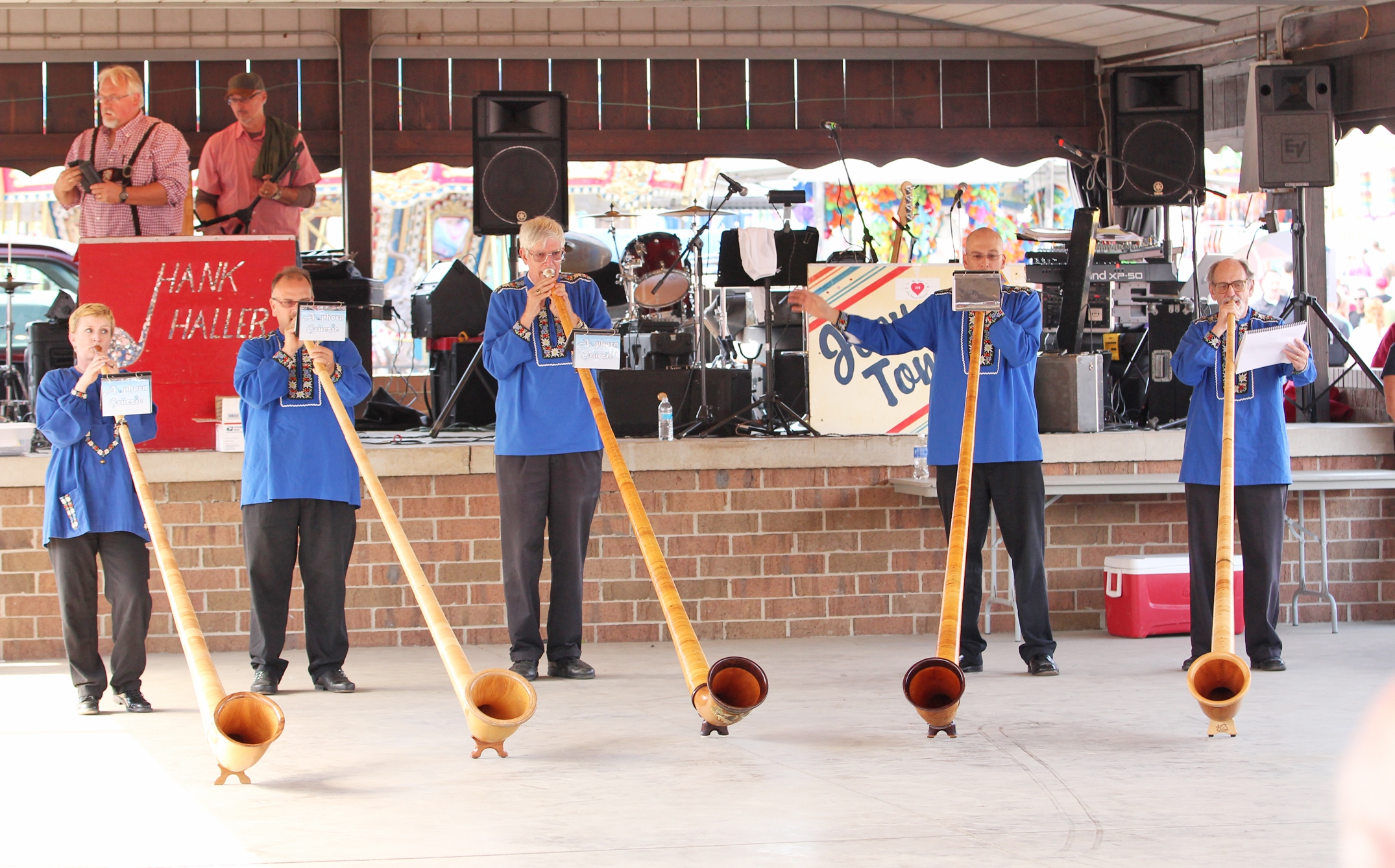 Hannah S. Miller photo
The biggest annual celebration of Sugarcreek's rich culture is the Ohio Swiss Festival, which will be held this year, Wednesday through Saturday, Sept. 25-28.
Guests who visit the quaint village of Sugarcreek are very likely to return home with more than just wonderful memories. That's because the quality furniture, home goods, antiques and local works of art may prove too tempting to leave behind in the village's many charming shops.
"Sugarcreek has six distinctive furniture stores that specialize in designing and delivering custom-made heirloom quality furniture," said Christine Quickel, the village's marketing administrator. "Our local Amish craftspeople provide impressive workmanship and superior designs. There also are many places in Sugarcreek to shop for other types of home décor, from antique stores to gift and decorating shops."
Some shops feature the work of local artists and crafters whose alluring items reflect Sugarcreek's unique blend of Swiss heritage and Amish culture.
"One shop features one-of-a-kind handmade items from local residents, and another offers a collection of local art — anything from stained glass, to painting, to photography," Quickel said.
You'll also find faith-based items and authentic Amish-made quilts.
"Anything you're looking for, you'll find it in Sugarcreek," Quickel said.
That includes a breathtaking backdrop of rolling hills and enthralling attractions, like the World's Largest Cuckoo Clock at the intersection of East Main Street and Broadway Street. The village's most famous attraction, the 24-foot-high clock delights children and adults alike with a musical display that features an animated couple dancing to an oompah band every half-hour.
All around the cuckoo clock, the cheerful sound of polka music fills the air as horse-drawn buggies pass along streets accentuated by hand-painted murals that depict beautiful Swiss scenery. The historical Swiss murals adorn the facing of seven buildings. Across from the cuckoo clock, a 112-foot-long, 13-panel brick wall details the area's history through sculpture.
"The best way to experience Sugarcreek is to immerse yourself in the culture," Quickel said.
Located in the heart of Amish Country, the "Little Switzerland of Ohio" was settled by Amish and other German and Swiss families, the latter of whom made the village famous through their cheese-making skills. The mighty Alps may be conspicuously absent from the horizon, but apart from the missing mountainous vistas, Sugarcreek's visitors might easily imagine themselves touring the streets of a small Swiss town.
History buffs can learn more about Sugarcreek's unique culture by visiting the Alpine Hills Historical Museum, a free three-story exhibition of the village's Swiss and Amish heritage. Exhibits and audiovisual presentations detail old-time methods of cheesemaking and woodworking as well as life on a traditional Amish farm. Vintage clothing and firefighting gear also are on display.
Sugarcreek's newest attraction, Quickel said, is the Age of Steam Roundhouse Museum, which helps to keep alive America's railroad history. The 34-acre site includes 22 steamers, surrounded by a depot, a store house, a coal loader, a wood water tank, an ash pit, a back shop and — the jewel of the site — a working 18-stall brick roundhouse that surrounds a 115-foot turntable.
The biggest annual celebration of Sugarcreek's rich culture is the Ohio Swiss Festival, which will be held this year, Wednesday through Saturday, Sept. 25-28.
Since 1953, the festival has celebrated the heritage of Switzerland with four days of wine and cheese samplings, races, contests, and parades. The festival was created to acknowledge the achievements of the local cheese makers and the other hardworking Swiss families who chose Sugarcreek as their new home.
Festival highlights include the traditional Steintossen — or throwing of the stone — and the playing of the alphorns, the long wooden horns traditionally blown by mountain dwellers of the Alps. Men and women participating in the Steintossen — an Alps tradition that echoes back as far as the 13th century — compete to throw a stone as far as they can.
"If you are spending the night in Sugarcreek, we have multiple lodging options ranging from hotel rooms inside a railroad train car at The Swiss Village Inn to the inviting Jacuzzi and fireplace rooms at the Dutch Host Inn," Quickel said. "Carlisle Inn has an indoor swimming pool and is located next to a large restaurant featuring Amish cuisine."
You can find more information at VisitSugarcreek.com.